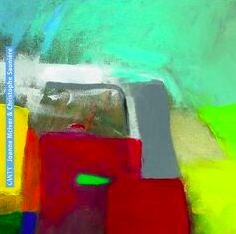 Zangeres Joanne McIver (fluiten/doedelzak) en fluitist/harp-speler Christophe Saunière brengen op 'Canty' een fraaie collectie Schots Keltische liederen. Twee topmusici die de kern raken van Schotse muziek, eigen stukken schrijven en deze met enkele gastmusici voortreffelijk neerzetten.

English version below
Joanne McIver wordt geboren op Isle of Arran. Een eiland aan de westkust van Schotland. Daar leert ze ook doedelzak spelen van haar grootvader. Aan de universiteit van Glasgow studeert ze fluit en musicologie. Daar komt ze de Fransman, in Mauritanië geboren, harpist Christophe Saunière tegen met wie ze een muzikale carriere start. Uiteindelijk verhuist ze naar Parijs en neemt haar debuut-album 'Leaving Arran' op. Christophe Saunière is harpist en componist en klassiek geschoold. Hij speelde in diverse orkesten, onder leiding van o.a. Pierre Boulez, Lorin Maazel en Daniel Barenboim. Hij is een breed georiënteerd musicus die naast orkest-repertoire ook kamermuziek speelde en te vinden was in de Franse punk-rockband Wunderbach en het Engelse The Toy Dolls.

Nu zijn beide musici samen te vinden op hun 7de studio-album 'Canty' in een aaneenschakeling van mooie Schotse melodieën, zoals het openingslied 'Malcolm' dat opvalt door zijn cumulatieve opbouw. In elk couplet komt er een instrument bij, waardoor het lied rijker van kleur wordt. Een prachtige melodie opgedragen aan de grootvader van Joanne McIver. Of de ballade 'Weatherman'. Een ode aan de weermannen die o.l.v. Robert Traill Ormond verbleven op top van de berg Ben Nevis (noord Schotland). Einde 19de eeuw verzamelden zij de weergegevens die elk uur werden gestuurd naar de stad Fort William. In 'Whiskey Galore' horen we de tuba en een bluesy solo op trombone, die weer een heel andere kleur toevoegt aan dit album. Net zoals de accordeon (in 'Wee Rabbie'), contrabas, percussie en achtergrondzang en een voortreffelijk strijkkwartet in het slotnummer 'Coire Fhionn Lochan'. Weer een ode, maar nu aan een klein meer op het geboorte-eiland Arran van Joanne McIver. Het frisse en koude water van het meer krijgt in de muziek de warmte door de vier strijkers. Een schitterende combinatie en een schot in de roos voor een eminente afsluiting.
Mooi? Probeer ook
Trias
English version
Singer Joanne McIver (flute / bagpipe) and flutist / harp player Christophe Saunière recorded a beautiful collection of Scottish Celtic songs on 'Canty'. Two top musicians who touch the heart of Scottish music, write their own pieces and perform them excellently with some guest musicians.
Joanne McIver was born on the Isle of Arran. An island on the western coast of Scotland. She learned to play bagpipes from her grandfather. She studied flute and musicology at the University of Glasgow. There she also met the French harpist Christophe Saunière, who was born in Mauritania. Eventually she moves to Paris and recorded her début album 'Leaving Arran'. Harpist and composer Saunière is classically trained and played in various orchestra's led by Pierre Boulez, Lorin Maazelen and Daniel Barenboim. He is a widely oriented musician who, in addition to classical repertoire, also played chamber music and recorded music with the French punk rock band Wunderbach and the English band The Toy Dolls.
Both musicians can be found together on their 7th studio album 'Canty'. It's a succession of beautiful Scottish melodies such as the opening song 'Malcolm', that stands out for its cumulative structure. In every vers an instrument is added which really opens the music. This song is dedicated to Joanne McIver's grandfather. Or the song 'Weatherman', a ballad and an ode to the weathermen Robert Traill Ormond who stayed on top of mountain Ben Nevis (northern Scotland). At the end of the 19th century he collected with colleagues the weather data that was sent to the city of Fort William every hour. In the song 'Whiskey Galore' we hear the tuba and a wonderful bluesy solo on trombone, which adds a completely different colour to this album. Just like the accordion (in 'Wee Rabbie'), double bass, percussion and background vocals and an excellent string quartet in the closing track 'Coire Fhionn Lochan'. Another ode, but now to a small lake on the island of birth, Arran by Joanne McIver. The fresh and cold water of the lake brings the warmth to the music by the four strings of the quartet. A brilliant combination and a bull's-eye for an outstanding conclusion.
Joanne McIver & Christophe Saunière: 'Canty' (mciversauniere/Xango)
Picture: Calum Saunière