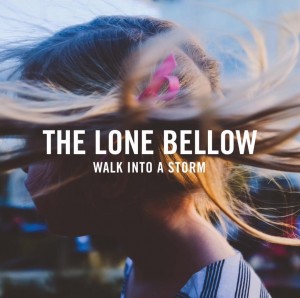 The Lone Bellow is een alternatieve country en folk band uit Brooklyn, New York bestaande uit Zach Williams (gitaar/zang), Kanene Donehey Pipkin (multi-instrumentaliste) en Brian Elmquist (gitaar/zang). Op hun derde  album 'Walk into a storm' creëert dit drie-tal (met enkele gastmusici) een frisse en persoonlijke link tussen tekst en melodie.
English version below
Zo'n drie jaar geleden werd The Lone Bellow opgericht door singer/songwriter Zach Williams die, na een ernstig ongeluk van zijn vrouw, zijn ervaringen opschreef in een dagboek. Als zijn vrienden het dagboek lezen, sporen ze hem aan zijn ervaringen in liedjes om te zetten. Dat doet Williams en geeft aanvankelijk solo-optredens, maar al snel wordt hij begeleid door zijn oude vriend Brian Elmquist en zangeres Kanene Donehey Pipkin. Het trio neemt drie albums op en wordt in 2015 genomineerd voor de beste groep in de categorie Americana Music Award. Niet zo vreemd want The lone Bellow heeft inmiddels een eigen muzikale kleur ontwikkeld. We horen een duidelijke couplet/refrein structuur met gevarieerde gitaarpartijen die zo nu en dan cirkelen tussen folk, rock, pop en country. De muziek beweegt ook op de rand van country-rock met een knipoog naar Little Feat ('Is it ever gonne be easy') met soepele vocalen van Zach Williams. Naast het trio Williams / Elmquist / Pipkin horen we op dit derde album Brian Allen op bas (Robben Ford), daarnaast klinken er drums, piano, orgel en strijkers in 'May you be well' (met een quote van The Verve's 'Bittersweet Symphony'). Eerlijke muziek met een straight voorkomen, en het pure van een jonge Boz Scaggs, voortreffelijk bijgestaan door zangeres Kanene Pipkin (prachtige solo in 'Feather'). 'Walk into a storm' is geproduceerd door Dave Cobb  die we al tegenkwamen bij Dolly Parton en Kris Kristoffersen, en werd in een week tijd opgenomen. Verzorgde muziek, gevarieerd, met oog voor detail, spontaan en onbevangen. Een warm album voor een koude winter!
The Lone Bellow geeft een concert (als trio) in

Paradiso Amsterdam

op 26 januari 2018.
English version
The Lone Bellow is an alternative country and folk band from Brooklyn, New York consisting of Zach Williams (guitar / vocals), Kanene Donehey Pipkin (multi-instrumentalist) and Brian Elmquist (guitar). On their third album 'Walk into a storm' this three (with a few guest musicians) create a fine fresh and personal link between text and melody.
About three years ago, The Lone Bellow was founded by singer / songwriter Zach Williams who, after a serious accident of his wife, wrote down his experiences in a diary. When his friends read the diary, they urge him to turn his experiences into songs. Williams did and initially gives solo performances, but soon he was accompanied by his old friend Brian Elmquist and singer Kanene Donehey Pipkin. The trio recorded three albums and in 2015 they were nominated for the best group in the category Americana Music Award. Yes indeed, because The lone Bellow developed their own musical color with a clear verse / chorus structure and varied guitar parts that occasionally circle between folk, rock, pop and country. The music also moves on the edge of country rock with a nod to the legendary Little Feat ('Is it ever gonne be easy') with smooth vocals by Zach Williams. Besides the trio Williams / Elmquist / Pipkin we hear on their album Brian Allen on bass (Robben Ford), drums, piano, organ and string quartet in 'May you be well' (with a quote from The Verve's 'Bittersweet Symphony'). Fair music with a straight appearance with the pure attitude of a young Boz Scaggs, excellent assisted by singer Kanene Pipkin (beautiful solo in 'Feather'). 'Walk into a storm' was produced by Dave Cobb, which we already encountered with Dolly Parton and Kris Kristoffersen, and was recorded in a week's time. Well-tended music, varied, spontaneous and uninhibited. A warm album for a cold winter!
The Lone Bellow: 'Walk into a storm' (Descendantre Records / Sony)
Picture Eric-Ryan-Anderson
© Mattie Poels.