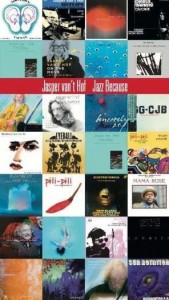 Muziek was nooit ver weg in huize van 't Hof. Vader jazz-trompettist en moeder operazangeres zorgden ervoor dat de kleine Jasper een sympathieke muzikale alleskunner werd. Een pianist en componist die zich beweegt in diverse stijlen zoals bebop, freejazz, groove-jazz, jazzrock, fusion en pop. In de schitterende 4-CD-compilatie-box 'Jazz Because', met uitgebreid boekje geschreven door Hans Riesewijk, vind je een uitgelezen selectie van deze bedreven pianist die op zijn vijfde les kreeg van Harry Bannink, pianist van het orkest van zijn vader die later furore maakte met het werk van Annie MG Schmidt en Wim Sonneveld.
English version below
Jasper van 't Hof is Nederlands grootste en meest veelzijdige pianist die vreemd genoeg weinig bekendheid geniet in zijn geboorteland. Hij wint weliswaar de tweede prijs tijdens het Loosdrecht Jazz Festival maar is toch vooral een grootheid in Duitsland waar hij in 1968 met zijn Assosiation P.C. (met o.a. Pierre Courbois) doorbreekt, Jasper van 't Hof tourt door heel Europa in verschillende bezettingen en maakt veel gebruik van elektronische keyboards. Van 't Hof speelde met Archie Shepp, de Belgische gitaarvirtuoos Philip Catherine en violist Jean-Luc Ponti die na een uitnodiging van Frank Zappa naar de V.S. vertrok. Jasper van 't hof is een muzikaal kameleon met een fenomenale linkerhand met zijn repeterende melodielijnen die de basis vormen voor zijn solospel. Maar ook zijn liggende akkoorden op synthesizers verraden een lyrisch musicus die houdt van sprankelende melodieën die nog verder worden uitgebouwd als hij speelt op kerkorgel en Fender Rhodes. Met zijn groep Pili Pili verbindt hij de Westerse jazz met Afrikaanse invloeden. In deze formatie is o.a. zangeres Angelique Kidjo uit Benin de hoofdfiguur, samen met het Phikelela Sakhula Choir. Op de 4-delige CD-compilatie 'Jazz Because' vinden we Jasper van 't Hof in vele gedaanten zowel in solo-werk (in het speelse 'Axioma'), duo met saxofonist Charlie Mariano, Tony Lakatos en het verfijnde spel van marimba-speler David Friedman, trio met Mariano en percussioniste Marilyn Mazur (die bekendheid kreeg in de band van Miles Davis), maar ook met zijn bands Assosiation P.C., Pili Pili, Pork Pie en zijn Jasper van 't Hof 1/4tet van zijn laatste CD 'No Hard Shoulder' uit 2016 aangevuld met live-opnames van Radio-Bremen en de NDR. Geen chronologische volgorde maar een dwarsdoorsnede van het oeuvre van een bevlogen en innovatieve pianist. Een pianist waar we trots op mogen zijn maar die helaas veel te weinig te horen is in eigen land, maar nu wel breed uitgemeten te horen is op dit prachtige document!
Meer Jasper van 't Hof Klik hier
English version
Music was never far away in the house of the Dutch pianist Jasper van 't Hof. His father was a jazz trumpeter and mother opera singer. Jasper became a pianist and composer who plays in various styles like bebop, freejazz, groove jazz, jazz rock, fusion and pop. In the magnificent 4-CD compilation box 'Jazz Because', with an extensive booklet written by Hans Riesewijk, you will find an outstanding selection of this accomplished pianist who received his fifth lesson from the famous Dutch songwriter Harry Bannink, pianist of his father's orchestra who became famous by writing songs for children's for the writer Annie MG Schmidt and Wim Sonneveld.
More Jasper van 't Hof Click here
Jasper van 't Hof is the most versatile pianist in the Netherlands. He wins the second prize at the Loosdrecht Jazz Festival but het got famous in Germany with his Assosiation P.C. in 1968. (Inter alia Pierre Courbois), touring throughout Europe, Beside the piano he uses all kinds of electronic keyboards. Van 't Hof played with Archie Shepp, the Belgian guitar virtuoso Philip Catherine and violinist Jean-Luc Ponti who went to the U.S.A. after an invitation by Frank Zappa. Jasper van 't hof  is a musical chameleon who has a phenomenal left hand with its repetitive melodies that form the basis of his solo play. But also progressive chords on synthesizers makes him a lyrical musician with sparkling melodies that are further expanded when he playsthe church organ and Fender Rhodes. With his group Pili Pili, he connects Western jazz with African influences with the lovely singer Angelique Kidjo from Benin and the Phikelela Sakhula Choir. On this 4-CD compilation 'Jazz Because' we find Jasper van 't Hof in many combinations; solo (in the playful 'Axioma'), in duo with saxophonist Charlie Mariano, Tony Lakatos and the sophisticated marimba of David Friedman, trio with Mariano and percussionist Marilyn Mazur (who became famous in Miles Davis's band), but also with his bands Assosiation PC, Pili Pili, Pork Pie and also with the Jasper van 't Hof 1 / 4tet on his latetst CD 'No Hard Shoulder' from 2016 supplemented with live recordings of Radio Bremen and the NDR. This compilation is not in chronological order but a cross section of the compositions of an inspired and innovative pianist. A wonderful musician to whom we can be proud, but unfortunately, he almost never plays in our own country!
Jasper van 't Hof: 'Jazz Because' (JARO Medien/Music & Words)
Picture Jasper van 't Hof – © JARO
© Mattie Poels.