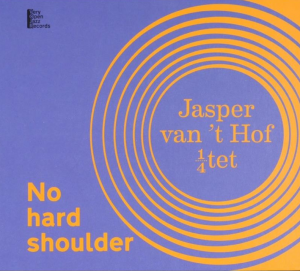 De Nederlands pianist Jasper van 't Hof (1947, Enschede) is een pionier die al jaren zijn eigen muzikale weg gaat. Hij is virtuoos, heeft een eigen stijl en speelde met de groten der jazz. In maart 2016 verscheen zijn nieuwe album 'No Hard Shoulder' met saxofonist Dick de Graaf, bassist Stefan Lievestro en drummer Jamie Peet.
English version below
Jasper van 't Hof is de pianist met de legendarische linkerhand waarmee hij prachtig hypnotiserende ostinate basloopjes speelt. Bovendien gebruikt hij bijzondere harmonieën die niet alleen verrassend helder schakelen in zijn akkoordprogressies maar ook authentieke 'Jasper van 't Hof-akkoorden' zijn. Hij heeft zich via de free-jazz, pop, jazz-rock elektronica en wereldmuziek ontwikkeld tot een herkenbaar pianist en componist met een eigen stijl. Op zijn 19de speelde hij met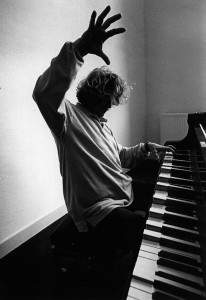 Association P.C. van drummer Pierre Courbois. Na zijn vertrek uit dit collectief kwamen we hem tegen bij de saxofonisten Archie Shepp en Charlie Mariano, de gitaristen Philip Catherine, Jan Akkerman en Larry Coryell en violist Jean-Luc Ponty. Bovendien tourde hij met zangeres Angelique Kidjo uit Benin en nam een CD op met het Zuid-Afrikaanse koor Phikelela Sakhula Choir in samenwerking met zijn groep Pili-Pili. Deze opsomming toont aan wat voor een multi-musicus Jasper van 't Hof is die moeiteloos laveert door diverse stijlen. Op zijn laatste album 'No Hard Shoulder' keert hij terug naar het jazzkwartet in traditionele bezetting van ritme-sectie, piano en saxofoon. Een bezetting die we veel tegenkomen binnen de jazz en geïmproviseerde muziek, maar Van 't Hof voegt een dimensie toe. Dynamische muziek met rijke, niet voor de hand liggende thema's, lyrisch maar ook robuust. verfijnd maar ook krachtig en to-the-point. 'No Hard Shoulder' staat vol eigen composities die gespeeld worden door een enerverend kwartet waar naast Van 't hof ook het ghost-notes drumwerk van Jamie Peets opvalt en de brede doorleefde klank van tenorsaxofonist Dick de Graaf. De hoge notering in de internationale ranglijst van o.a. Down Beat (VS), het Engelse blad Melody Maker of Jazz Podium uit Duitsland heeft door de jaren heen (vreemd genoeg) weinig bijgedragen aan de nationale bekendheid van Jasper van 't Hof. Het wordt tijd dat daar nu eindelijk eens verandering in komt!
Fugawe

Audio clip: Adobe Flash Player (version 9 or above) is required to play this audio clip. Download the latest version here. You also need to have JavaScript enabled in your browser.
Once Upon a Black Grouse

Audio clip: Adobe Flash Player (version 9 or above) is required to play this audio clip. Download the latest version here. You also need to have JavaScript enabled in your browser.
English version
The Dutch pianist Jasper van 't Hof (1947, Enschede) is a pioneer in jazz and improvised music. He is a virtuoso with his own style who played with the masters of jazz. In March 2016 he released his new album 'No Hard Shoulder' with saxophonist Dick de Graaf, bassist Stefan Lievestro and drummer Jamie Peet.
Fugawe

Audio clip: Adobe Flash Player (version 9 or above) is required to play this audio clip. Download the latest version here. You also need to have JavaScript enabled in your browser.
Once Upon a Black Grouse

Audio clip: Adobe Flash Player (version 9 or above) is required to play this audio clip. Download the latest version here. You also need to have JavaScript enabled in your browser.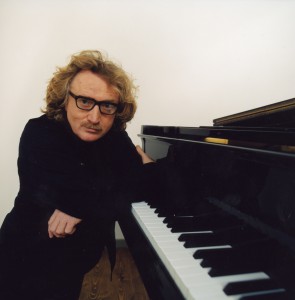 Jasper van't Hof is the pianist with the legendary left hand. He plays the beautifully hypnotic ostinato bass lines. Moreover, he uses special shining harmonies which sounds like authentic 'Jasper van' t Hof-harmonies'. Through free jazz, pop, jazz-rock, world and electronic music he developed into a recognizable pianist and composer with his own style. On his 19th he played with Association P.C. drummer Pierre Courbois. After leaving this collective he played the saxophonists Archie Shepp and Charlie Mariano, the guitarists Philip Catherine, Jan Akkerman and Larry Coryell and violinist Jean-Luc Ponty. Moreover, he toured with singer Angelique Kidjo from Benin and recorded a CD with the South African choir Phikelela Sakhula Choir in collaboration with his group Pili-Pili. This list shows the multi-talent of Jasper van't Hof who easily changes between different styles. On his latest album 'No Hard Shoulder' he returns to the traditional jazz quartet of rhythm section, piano and saxophone, but with a totally different sound. Dynamic music with rich, unpredictable and lyrical music, refined but powerful and to the point. The album is full of original compositions. Exciting are Jamie Peets with his lovely ghost notes drumming and the broad and wide sound of tenor saxophonist Dick de Graaf. Jasper van 't Hof was often high listed in the ranking lists of Downbeat (USA), the British magazine Melody Maker or Jazzpodium from Germany. Now it's time for the Netherlands to recognize this wonderful and innovative pianist and composer!
Jasper van 't Hof 1/4tet: 'No Hard Shoulder' (Painted Dog Records)
© Mattie Poels.