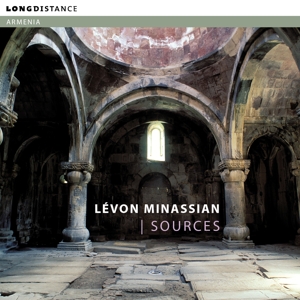 De duduk is een weergaloos mooi instrument uit Armenië. Een dubbelriet blaasinstrument, lijkend op onze hobo, maar dan met een zacht, weemoedig tembre. Lévon Minassian is een meester op de duduk die met zijn nieuwe album 'Sources' enerzijds op zoek gaat naar de traditie maar anderzijds ook nieuwe muzikale wegen verkent.
English version below
Dudukspeler Lévon Minassian treedt in de voetsporen van de legendarische klassiek geschoolde componist en dudukgrootmeester Djivan Gasparyan, die het dudukspel tot grote hoogte ontwikkelde. Hij formeerde zelfs een duduk-kwartet waarmee hij in 1998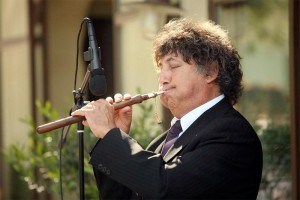 de prachtige CD 'Nazeli' uitbracht. Lévon Minassian wordt geboren in Marseille en speelt aanvankelijk mandoline in een lokale folkband. In zijn tienerjaren maakt hij reizen naar Armenië en leert de duduk spelen van o.a. Djivan Gasparyan. Hij schrijft filmmuziek en werkt samen met Peter Gabriel en de fantastische Corsicaanse band I Muvrini. 'Sources' is de derde CD die hij uitbrengt onder zijn eigen naam. Een gevarieerd album waarop de duduk centraal staat. De impact van dit instrument is enorm. De serene klank en het warme timbre zitten diep geworteld in de Armeense cultuur. Dat wordt nog eens versterkt door een tweede duduk die de 'drone' speelt, een lange toon die door middel van 'circular breathing' eindloos klinkt en als een 'mes door de melodie snijdt'. Minassian wordt in wisselende bezetting bijgestaan door zeven musici op kamanche (strijkinstrument), setar (langhalsluit), tar (snaarinstrument), percussie en piano. Naast traditioneel werk staan er ook een aantal voor duduk-trio geschreven stukken op de CD 'Sources' zoals 'Marmour Artchig' van Khatchadour Avédissian en 'Ambi Daguiz' van de operacomponist Armen Dikranian (1879 – 1950). Zeer invloedrijk was Komitas (Vardapet) voor de Armeense muziek. Een musicoloog en componist die veel veldwerk verrichtte en traditionele Armeense muziek op schrift zette en bewerkte zoals het wonderschone 'Kéle Kéle'. Op 'Sources' treffen we twee vocale stukken, één gezongen door zangeres Roselyne Minassian en één door Lévon Minassian die met het door Djivan Gasparyan geschreven 'Es Kichir Kamin' (De Nachtelijke Wind) ook moeiteloos de luisteraar aan zich weet te binden.
English version
The duduk is a very special double reed wind instrument from Armenia, similar to the oboe, but with a soft, wistful timbre. Lévon Minassian is a master of the duduk who explores the tradition but he's also in search for new musical paths on his new album 'Sources'.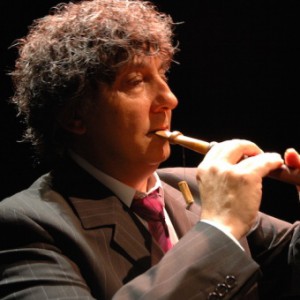 Lévon Minassian is like Djivan Gasparyan (1928) a master on the duduk. Gasparyan developed the duduk performance to a high level. He even formed even a duduk quartet and recorded the legendary album 'Nazeli' in 1998. Lévon Minassian was born in Marseille and played the mandolin in a local folk band. In his teens he went to Armenia and learned how to play duduk inter alia by Djivan Gasparyan. He composed film music and had concerts with Peter Gabriel and the amazing Corsican band I Muvrini. 'Sources' is the third album he released under his own name. A lovely CD on which the duduk is the central instrument. The impact of this great instrument is high. The intensely serene sound with it's warm timbre is deeply rooted in the Armenian culture. This is reinforced by a second duduk which plays the drone, a long, endless tone through 'circular breathing'. Minassian is assisted by seven musicians on kamanche (spike fiddel), setar (long-necked lute), tar (stringed instrument), percussion and piano. Besides traditional work, there are also a number of duduk-trio compositions like 'Marmour Artchig' by Khatchadour Avédissian and 'Ambi Daguiz' by the opera composer Armen Dikranian (1879-1950). Very important and influential for ten Armenina music was Komitas (Vardapet 1869–1935). A composer and musicologist who recorded and written down traditional Armenian music like the wonderful 'Kele Kele'. Besides many instrumental works there are also some vocal pieces on this album. One by singer Roselyne Minassian and the other by Levon Minassian. He sings 'Es Kichir Kamin' (Tonight The Wind) written by Djivan Gasparyan in which he also shows his vocal skills. Wonderful record!
Lévon Minassian: 'Sources' (Long Distance / Harmonia Mundi)
© Mattie Poels.