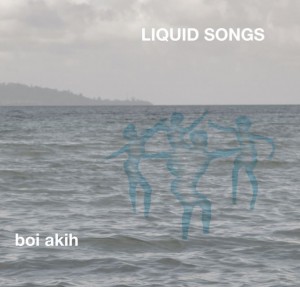 Zelden muziek gehoord waar de suggestie zo'n expliciet onderdeel uitmaakt van de muziek zoals dat gebeurt op de CD 'Liquid Songs', het nieuwe album van Boi Akih. Het duo van zangeres Monica Akihary en gitarist Niels Brouwer, voor de gelegenheid uitgebreid tot innovatief kwartet met (bas)klarinettist Tobias Klein en de Japanse Ryoko Imai op percussie en marimba.
English version below
In het Moluks zijn Liquid Songs (vloeibare liedjes) oude verhalen die naar het heden worden vertaald. Een rijke inspiratiebron voor gitarist Niels Brouwer die acht stukken componeerde voor dit nieuwe Boi Akih album. Composities die bestaan uit een muzikale kern waar, al (live) improviserend naar toe wordt gewerkt. Het resultaat is een rijk klankspectrum waar, vanuit een improvisatie steeds een schitterende door Monica Akihary gezongen melodie ontstaat die langzaam uit een 'mist van klank' hoorbaar wordt. Mystiek, magisch en hier en daar betoverend mooi. Een avontuurlijke werkwijze die op zich niet nieuw is maar toch een gedegen innovativiteit in zich draagt. Zangeres Monica Akihary zingt niet alleen kristalhelder maar ontpopt zich ook als stemkunstenares die haar stem laat piepen, huilen en schuren langs de melodie. Zij zingt in het Engels en het Harukunees, de taal van haar voorouders die nog slechts door enkele duizenden bewoners op het Molukse eiland Haruku wordt gesproken. Ook op 'Liquid Songs' (net zoals de andere albums van Boi Akih) zijn de begeleidingen een weerspiegeling van de harmonieën. Maar het is juist die suggestie die de muziek zo interessant maakt, die je prikkelt om tussen de noten dát te horen wat niet gespeeld wordt. Avontuurlijk, beeldend en schilderachtig. De ongebruikelijke combinatie zang, percussie/marimba, (bas)klarinet en gitaar is daarvoor een prachtige keuze die 'Liquid Songs' laat smelten in wisselende kleurschakeringen.
English version
Rarely heard music where the suggestion is such an explicit part of the music as it does on the album 'Liquid Songs', the new CD by Boi Akih. The duo of singer Monica Akihary and guitarist Niels Brouwer, extended for this album into the innovative quartet (bass) clarinet player Tobias Klein and the Japanese Ryoko Imai on percussion and marimba.
On the Moluccan islands Liquid Songs are old stories translated into the present. A rich inspiration for guitarist Niels Brouwer who composed eight pieces for this new Boi Akih album. Compositions that consist of a musical center, created in a (live) improvising way. The result is a rich sound spectrum. From a broad musical experience a beautiful melody is slowly coming up and wonderful sung by Monica Akihary. Mystical, magical and enchanting. A lovely adventurous process. Monica Akihary has a crystal clear voice: she sings emerging. She's a vocal artist who makes squeak her voice, crying and rubbing alongside the melody. She sings in English and Harukunees, the language of her ancestors, only spoken by a few thousand people on the Moluccan island Haruku. Also on 'Liquid Songs' (as other albums of Boi Akih) the accompaniments are like a reflection of the harmonies. But it is precisely that suggestion that makes the music so interesting and exciting. You have to listen to the notes in between those tones which are not played at all, but in a way vibrating into the music itself. That makes the sound of Boi Akih so adventurous, visual and scenic. The unusual combination voice, percussion/marimba, (bass) clarinet and guitar is therefore a wonderful choice and makes 'Liquid Songs' melt in varying shades.
Boi Akih: 'Liquid Songs' (Trytone.org)
© Mattie Poels.