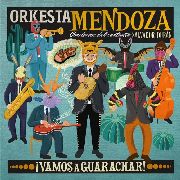 Onder de bezielende leiding van multi-instrumentalist en zanger Sergio Mendoza bracht de groep Orkesta Mendoza in 2012 hun debuut-CD 'Mambo Mexicano' uit. Mendoza, die jarenlang toerde met de bands DeVotchKa en Calexico, gaat met !Vamos a Guarachar! door in een verkwikkende mix van mambo, psychedelische cumbia, ranchero, merengue, rumba en jazz.
English version below
Sergio Mendoza wordt geboren in Nogales, een plaats in het Zuiden van de V.S. op de grens met Mexico. Daar luistert hij o.a. naar de Colombiaanse cumbia, de Mexicaanse rancheras en mariachis's en de mambo van Perez Prado (bekend van 'Mambo no 5′) aan wie hij zijn debuut-album 'Mambo Mexicano' opdraagt. Op zijn nieuwe CD !Vamos a Guarachar! gaat hij nog een stapje verder en mixt hij diverse stijlen met een ongelooflijk mooie twist van psychedelische kleuren. Hij maakt gebruik van farfisa-orgel, slide gitaren, dissonanante blazers, in het galm badende (achtergrond)zang en allerlei kleine effecten gespeeld op aanvullende instrumenten. Deze muziek is een hele mond vol, maar zo klinkt het ook; 'vol' maar dan wel met subtiele en oh zo aanwezige 'minuscuutljes' die de muziek verzorgd en vooral origineel maakt. Zoals in het openingslied 'Cumbia Volcodoro'; inderdaad een strak cumbia-ritme met mariachi-trompetten, rock-gitaar, orgel en sirene aangevuld met psychedelische effecten. In het instrumentale 'Mapache' zelfs aangevuld met drumcomputer naar een elektronische mambo, dat nog eens feestelijke wordt uitgebreid in circus aandoende 'Mambo a la Rosana'. Orkesta Mendoza bestaat uit zes musici waaronder Salvador Duran die in enkele stukken de lead vocals voor zijn rekening neemt. Daarnaast zijn er elf gastmusici met o.a. Joey Burns en John Convertino met wie Sergio Mendoza ook in Calexico speelde en Gabriel Sullivcan uit Xixa, een chicha-gezelschap dat de elektronische Peruaanse cumbia-variant speelt. Orkesta Mendoza baant zich in een broeierig landschap van fijne melodieën met gemak een weg naar een breed publiek!
Tourdates Nederland: 30 okt. Tivolivredenburg Utrecht / 6 nov Grenswerk Venlo / 08 nov. Patronaat Haarlem / 11 nov. Paard van Troje, Kleine Zaal Den Haag / 13 nov. Hedon Zwolle
English version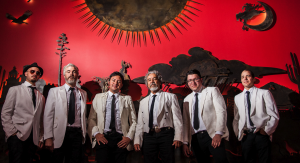 Under the inspiring leadership, the multi-instrumentalist and singer Sergio Mendoza started his band Orkesta Mendoza. He released his début album 'Mambo Mexicano' in 2012. Mendoza, who toured for years with the band Calexico and DeVotchKa, creates a bracing mix of mambo, psychedelic cumbia, ranchero, merengue, rumba and jazz on his second CD !Vamos a Guarachar!  
Sergio Mendoza was born in Nogales, a city in the south of the U.S., near the border with Mexico. There he listens to, inter alia, the Colombian cumbia, Mexican rancheras and mariachis and to the Perez Prado mambo (well known by his 'Mamabo no 5') to whom he dedicated his début album 'Mambo Mexicano'. On his new CD !Vamos a Guarachar! he goes a step further and mixes various styles with an incredible twist of psychedelic colours. He uses farfisa organ, slide guitars, dissonant brass chords, lovely (background) vocals with a lot of reverberation and he adds all kinds of small effects on additional instruments. This music is full of sounds; I mean 'full' but creative selected sounds, played very subtle and being present in the all-over-sound of the music that becomes particularly original. As in the opening song 'Cumbia Volcodoro'; indeed a tight cumbia rhythms with mariachi trumpets, rock guitar, organ and brass completed with psychedelic effects. In the instrumental 'Mapache' even supplemented by a drum computer and translated to a kind of electronic mambo, which will be further expanded into a wonderful festive circus-like 'Mambo a la Rosana'. Orkesta Mendoza consists of six musicians including Salvador Durán who is the lead vocalist in a few pieces. There are eleven guest musicians, among others, Joey Burns and John Convertino with whom Sergio Mendoza also played in Calexico and Gabriel Sullivcan from Xixa, a chicha band that plays electronic Peruvian cumbia version. Orkesta Mendoza plays fine melodies in a sweltering landscape on it's way to a wide audience!
Orkesta Mendoza: !Vamos a Guarachar! (Glitterbeat / Xango Music Distribution)
© Mattie Poels.