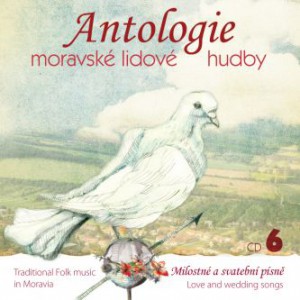 Moravië is het oostelijk deel van Tsjechië met als hoofdstad Brno. Een stukje Europa met een heel eigen stijl muziek met gebruik van cimbaal, strijkers, klarinet en (gestreken) contrabas. Er verschenen inmiddels zeven compilatie CD's van de serie 'Anthologie Moravské Lidové Hudby' met muziek uit deze bijzondere streek. In deze blog deel 6 'Love and Wedding Songs'.
English version below
Trouwen is een hele happening in Moravië. De omvang van het trouwfeest bepaalt de status van de familie en getrouwd werd er meestal op dinsdag met een feest dat minstens twee dagen duurde. De trouwtraditie verschilt overigens per regio. Zo is bijvoorbeeld de tafelschikking per regio verschillend, net zoals het wél of níet eten van hetzelfde bord om de 'eendracht' te versterken. Volgens bijgeloof luisterde niemand naar de huwelijksaankondiging, bang als men was dat het paar spoedig zou komen te overlijden. Op de trouwdag loopt de bruid in gezelschap van een muziekband naar het huis van de bruidegom waarna de trouwplechtigheid plaatsvindt in de kerk. Na de receptie, waar familie, vrienden, bekenden en buren aanwezig zijn, eindigt de bruiloft met de 'popravky', een intiem feest waar het bruidspaar en naaste familie aanwezig zijn.
'Anthologie Moravska Lidové Hudby' deel 6 'Love and Wedding Songs' is een fraaie compilatie van liefdes- en bruiloftsliedjes die worden gezongen door solostemmen en door kleine vocaal ensembles, veelal begeleid op cimbaal, viool en contrabas. Er staan liedjes op over kruiden die de liefde zouden bevorderen. Maar natuurlijk ook muziek over die onvergetelijke liefde, zoals bezongen in 'Aj, nebudu sa vdávat'. En wat gaat er allemaal om in het hoofd van een meisje vlak voordat ze gaat trouwen, klinkt in het stralende 'Konopja'. Bijzonder intiem is 'Sak mna más, mamicko'. Een sober liedje over de moeder-dochter relatie met cimbaalbegeleiding. Ook staan er enkele slaapliedjes op deel 6′ en natuurlijk 'Zaspala nevesta', hét bekendste bruiloftslied uit Moravië. 'Anthologie Moravské Lidové Hudby deel 6′ is een prachtig overzicht met innemende muziek die ontstaan is dóór de liefde gemaakt is vóór de liefde en prachtig uitgevoerd mét liefde!
Meer over deze serie – Klik Hier
Meer muziek uit Moravië Jiří Pavlica of Bezobratři
In deze YouTube geen opnames die op deze CD staan – wel de zangeressen Klára Blazková, Petra Hrubešová en Magdalena Múčková te horen op 'Anthologie Moravské Lidové Hudby deel 6′.
'Zaspala nevesta' door Cimbalova Muzika
English version
Moravia is the most eastern part of the Czech Republic with its capital Brno. A region of Europe with its own special music using cymbalom, violin, clarinet and double bass. Already seven compilations albums of the serie 'Anthology Moravské Lidové hudby' were published with music from this particular region. In this blog part 6 'Love and Wedding Songs'.
Getting married is a big happening in Moravia. The size of the wedding determine the status of the family. People got married usually on Tuesday with a party that lasted for at least two days. The wedding tradition is also different by region. For example, the table placement is different by region, like eating from the same plate to strengthen the 'harmony' of the families. According to superstition, no one listened to the wedding announcement, afraid as they were that the couple would die soon. On the wedding day the bride walks to the house of the groom, accompanied by a music band after which the wedding ceremony takes place in the church. After the reception, where family, friends, acquaintances and neighbours were invited, the wedding ends with the 'popravky', an intimate celebration where the couple and intimate family are present.
More about this compilation serie – Click Here
More music from Moravia: Jiří Pavlica of Bezobratři
'Anthology Moravska Lidové hudby' Part 6 'Love and Wedding Songs' is a lovely compilation of love and wedding songs that are sung by solo voices and small vocal ensembles, often accompanied by cimbalom, violin, clarinet and double bass. There are songs about herbs to make love more exciting. But also songs about the unforgettable love, as sung in 'Aj, nebudu sa vdávat'. And what's going on in the mind of a girl who's about to get married. You can hear it in the brilliant song 'Konopja'. Splendid is 'Sak mna más, mamicko', a sober song about the mother-daughter relationship with only cymbalom accompaniment. There are also some nice lullabies in part 6 'Love and Wedding Songs' and of course 'Zaspala nevesta', the most famous wedding song from Moravia. 'Anthology Moravské Lidové hudby part 6 – Love and wedding songs' is a beautiful overview of wonderful music that was created for special events, sung and played with love!
 'Anthology Moravské Lidové hudby part 6' – 'Love and wedding songs' (Indies Scope / Xango)
© Mattie Poels.