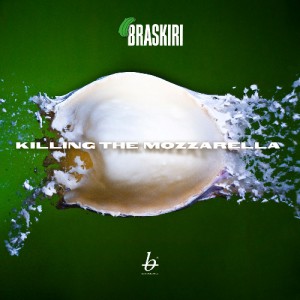 'Killing the mozzarella' is het tweede album van Braskiri, een kwartet rond trompettist Bert Lochs. Wat direct opvalt is de ongebruikelijke bezetting waarbij de contrabas-partij wordt gespeeld op de tuba. De korte bastonen van dit instrument zijn te vergelijken met de pizzicato-tonen van de contrabas; alleen vetter, voller, breder en meer Braskiri…!
English version below
Op het eerste gehoor klinkt de muziek erg vertrouwd: goed in gehoor liggende thema's, stuwende ritmiek en fraaie solo's. Maar wie verder luistert en zelfs een beetje aan het analyseren gaat, ontdekt dat achter deze façade een rijkdom ligt aan muzikale verworvenheden. Zo opent de cd met het prachtige titelstuk 'Killing the Mozzarella'. Een compositie in 5-tels maat die omlijst wordt met strak drumwerk van Wim Kegel die zelfs kort in 4-en gaat drummen, waardoor de melodie even lijkt te gaan zweven. Het tubawerk van Steffen Granly is niet alleen ondersteunend maar in bijvoorbeeld 'Not the man with the Horn' vullen tuba en trompet elkaar harmonisch aan, spelen ze twee-stemmig en wordt de trompet even de 'bas' en speelt de tuba het thema. Een omkering dus. Een geweldige vondst wat prachtig spel oplevert. Het intro van 'Elegy' doet met zijn liggende 'grommende' klank denken aan de didgeridoo, het Australische Aboriginal instrument. De samenklank van trompet en bastuba ontaardt in brommende dubbel-tonen, gevolgd door een schitterend melodische ballade-intro gespeeld door pianist Dirk Balthaus. In de slow funk 'Koempel' speelt Balthaus Fender-piano die weer een heel ander (maar minder fraai) Braskiri laat horen. Alle stukken zijn gecomponeerd door trompettist Bert Lochs die met 'Killing the Mozzarella' bewijst niet alleen een voortreffelijk componist te zijn maar ook een bijzondere trompettist. Met zijn kwartet Braskiri is hij aanwinst voor de vaderlandse jazz-scene.
English version
'Killing the mozzarella' is the second album by Braskiri. A band founded by trumpet player Bert Lochs. You will immediately notice the unusual combination in which the bass-part is played on the tuba, instead of the usual double bass. The bass line of the tuba is comparable to the pizzicato tones of the double bass; but it sounds bigger, more tight, and more Braskiri…!
At first the music of Braskiri sounds very familiar: lovely catchy themes, tight rhythms and beautiful solos. But if you analyse the music, you discover a wealth behind this facade of musical achievements. For example, the CD opens with the beautiful title song 'Killing the Mozzarella'. A 5-beat composition, wonderful played by drummer Wim Kegel. Sometimes he plays a 4-beat over this 5-beat, which makes the melody float across the rhythm. The exciting tuba by Steffen Granly is not only reponsable for the bass line. In the composition 'Not the man with the horn' the tuba and trumpet complemented each other and play two harmonic voices. The trumpet is the 'bass line' and the tuba plays the melody. A reversal so to say: a wonderful innovation. The 'growling' intro of 'Elegy' does sound like a didgeridoo, the Australian Aboriginal instrument. This combined sound of trumpet and tuba degenerates into double humming tones, followed by a gorgeous melody, a ballad played by pianist Dirk Balthaus. In the slow funk 'Koempel' Balthaus plays the Fender electric piano. Again a different (but less interesting) Braskiri sound. All pieces are composed by trumpeter Bert Lochs who proves with the album 'Killing the Mozzarella' not only to be an outstanding composer but also a special trumpet player. An asset to our national Dutch jazz scene.
Braskiri: 'Killing the Mozzarella' (www.berthold-records.de)
Photo Braskiri: Govert Driessen
© Mattie Poels.