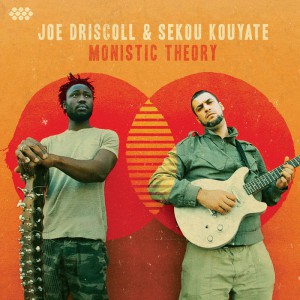 'Monistic Theory' is het tweede duo-album dat de New Yorkse folk en hip-hopper Joe Driscoll uitbrengt met Sekou Kouyaté. Een uit Guinea afkomstige kora (West Afrikaanse harp)virtuoos die jarenlang door Europa toerde. Twee totaal verschillende musici mengen hun muzikale achtergrond tot een energieke mix.
English version below
Zo'n zes jaar geleden, in 2010, ontmoetten Joe Driscoll en Sekou Kouyaté elkaar tijdens een festival in Zuid Frankrijk. Sindsdien toeren ze de hele wereld over en kwam onlangs, na hun debuut 'Faya', hun tweede CD 'Monistic Theory' uit. De kracht en populariteit van hun muziek ligt verscholen in de unieke organische mix van folk, funk en hip-hop waaraan de kora is toegevoegd. Beide musici zijn een grote muzikale persoonlijkheid. Driscoll grossiert al jaren in ritmische folk-hip-hop en Kouyaté is een meester op de kora die hij niet alleen virtuoos maar ook zeer melodisch bespeelt. Bovendien gebruikt hij effecten als vervorming, chorus en phaser om nieuwe kleuren aan zijn kora toe te voegen. De begeleidingsband bestaat uit bas, drums en percussie die een solide basis vormen voor de zang en rap van Driscoll en Kouyaté. Er staan zowel instrumentale als gezongen stukken op 'Monistic Theory'. Melodische liedjes, zoals het ongelooflijk mooie 'Tokira' (zie Youtube beneden), afgewisseld met rap-songs in Engels, waar harmonieën en akkoorden blijven variëren waardoor de folkinvloed merkbaar aanwezig blijft. De muziek is krachtig, zelfverzekerd en heeft, zeker door het gebruik van de kora, de juiste dosis vernieuwing. Deze ongebruikelijke muzikale combinatie zal zowel de westerse als de Afrikaanse muziekliefhebber aanspreken. Prachtige CD!
English version
'Monistic Theory' is the second duo album by the New York based folk and hip-hopper Joe Driscoll and Sekou Kouyaté from Guinea who plays the kora, the West African harp. Two completely different musicians who mix their music into a energetic melange.
About six years ago, in 2010, Joe Driscoll and Sekou Kouyaté met each other during a festival in southern France. Since then they toured all over the world and recently released their second album 'Monistic Theory', after their debut 'Faya'. The strength and popularity of their music lies hidden in the unique organic blend of folk, funk and hip-hop to which the kora has been added. Both musicians have a great musical personality. Driscoll in rhythmic folk / hip-hop and Kouyaté is a master on the kora. A virtuoso player who plays lovely melodic lines. Moreover, he uses effects like distortion, chorus and phaser to add new colors to his kora. The backing band consists of bass, drums and percussion and creates a solid foundation for the vocals and rap by Driscoll and Kouyaté. There are both instrumental and vocal parts on 'Monistic Theory'. Melodic songs like the incredibly beautiful 'Tokira' (see Youtube above), varied with rap songs in English. In these songs they keep changing harmonies and chords to remain the folk influences. This music is powerful, confident and, especially through the use of the kora, innovative. A unusual musical combination which will appeal to both Western and African music lovers. Wonderful CD!
Joe Driscoll & Sekou Kouyaté: 'Monistic Theory' (Cumbancha/Coast to Coast)
Photo Alex Munro / Mike Hughes
© Mattie Poels.