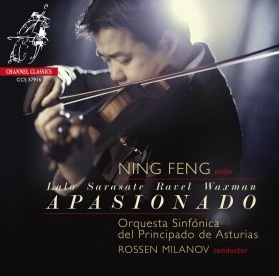 De Chinese violist Ning Feng is een gepassioneerd musicus. Op zijn laatste album 'Apasionado' speelt hij werken uit de laat 19de, begin 20ste eeuw van Pablo de Sarasate, Lalo, Ravel en Bizet/Waxman en wordt begeleid door het Spaans orkest Sinfónica del Principado de Asturias onder leiding van de Bulgaarse dirigent Rossen Milanov.
English version below
Het bekendste werk van de Franse componist Édouard Lalo is zijn 'Symphony Espagnole op 21′, de centrale compositie van 'Apasionado, het nieuwe album van meesterviolist Ning Feng. Lalo die zelf vioolvirtuoos was en grote successen kende met zijn orkestwerken, componeerde dit werk in 1872. Een vioolconcert waar zijn Spaanse achtergrond nooit ver weg is. Een expressieve ontlading waarin Ning Feng schittert met een buitengewone trefzekerheid. Op markante, verfijnde en accurate wijze gaat hij met zijn viool het gesprek aan met het orkest; een conversatie die hij met verve voert. Dat geldt ook voor de twee werken van Lalo's tijdgenoot en vriend Pablo de Sarasate die op deze CD staan. Sarasate was eveneens een vioolvirtuoos, geboren in Pamplona (Noord Spanje), die de Spaanse weemoed, hartstocht en passie vertaalt naar zijn composities. Ning Feng speelt o.a. Sarasate's 'Zigeunerweisen. op 20' met nostalgische weemoed aangevuld met prachtige glissando's die het juiste Roma touché laten horen. In het intro van Ravel's 'Tzigane' uit 1924 horen we ook zulke ferme viool uithalen. Op fraaie wijze raakt Ning Feng de kern van deze Roma compositie, waarin Ravel prachtig gebruik maakt van de zigeunertoonladder, viool dubbelgrepen en tempowisselingen die de zigeuner weemoed alleen nog maar sterker maakt. Samen met het Sinfónica del Principado de Asturias o.l.v. Rossen Milanov bereikt Ning Feng een muzikale cohesie die op organische wijze wordt uitgewerkt waardoor 'Apasionado' zeker hartstochtelijk genoemd kan worden!
Voor meer audio klik hier.
English version
Chinese violinist Ning Feng is a passionate musician. On his latest album 'Apasionado' he plays compositions from the late 19th and early 20th century of Sarasate, Lalo, Ravel and Bizet / Waxman. Accompanied by the Spanish orchestra Sinfónica del Principado de Asturias under the leadership of the Bulgarian conductor Rossen Milanov.
For more music – click here.
The best known piece by the French composer Édouard Lalo is 'Symphony Espagnole op. 21′, the central composition of 'Apasionado', the new album from master violinist Ning Feng. Lalo was a violin virtuoso who had great successes with his orchestral works like 'Symphony Espagnole', composed in 1872. A violin concerto in which you can hear his Spanish background. An expressive composition in which Ning Feng plays with extraordinary accuracy. A striking musical conversation with the orchestra; a conversation played with verve. Like the two works by Lalo's contemporary and friend Pablo de Sarasate which are included on this CD. Sarasate was also a violin virtuoso and born in Pamplona (Northern Spain). Spanish melancholy and passion are the key words of his compositions. Ning Feng plays Sarasate's 'Zigeunerweisen' 'with nostalgic melancholy, with gorgeous glissandos in which shows the right Roma touché. Ning Feng shows also the heart and the power of the Roma composition 'Tzigane' from 1924, written by Maurice Ravel, in which Ravel uses the gypsy scale, violin double chords and tempo changes which puts al lot of gypsy melancholy in the composition. Along with the Sinfónica del Principality of Asturias (led by Rossen Milanov) Ning Feng shows a musical cohesion. A way of playing that makes 'Apasionado' is really a great passionate album!
Ning Feng & Sinfónica del Principality of Asturias: 'Apasionado' (Channel Classics/New Arts International)
Pictures Ning Feng: Lawrence Tsang / Felix Broede
© Mattie Poels.