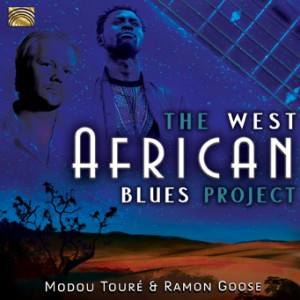 'The West African Blues Project' is een prachtige samenwerking tussen de Britse bluesgitarist Ramon Goose en de West-Afrikaanse gitarist Modou Touré uit Senegal. Nieuwe composities met verzorgde arrangementen in een mooie cross-over van Afrikaanse ritmes met Amerikaanse blues, gezongen in het Wolof, Mandinka en het Frans.
English version below
De Britse slide-gitarist Ramon Goose is vooral bekend van zijn band Nublues met wie hij twee albums uitbracht. Hij gaf concerten met de legendarische gospelgroep The Blind Boys of Alabama en trad op met Eric Burdon en Pee Wee Ellis. In 2010 start hij The West African Blues Project samen met de Senegalese gitarist Modou Touré, de zoon van Ousmane Toure die jarenlang de zanger was van de band Touré Kunda. En alhoewel Modou beïnvloed is door zijn vader, ontwikkelt hij zich tot een traditioneel Afrikaans zanger met een schitterende hoge, (bijna vrouwelijke) stem. 'The West African Blues Project' is een echt gitaaralbum waar tegen een gemêleerd Afrikaanse blues spectrum diverse soorten gitaren de revue passeren. Een varia aan gitaarkleuren wisselen elkaar voortdurend af. Dat gebeurt met zo'n souplesse en vanzelfsprekendheid dat het een heel organisch geheel is geworden. De slide, de vervorming, tremolo, de blues-solo's naast het West-Afrikaanse getokkel vormen een fraaie afwisselingen. Naast de blues horen we (country)rock ('Western Comfort') en Zuid-Afrikaanse Township jive in 'Believe' die in 'Kayre' zelfs wordt aangevuld met een blazerssectie. In 'The Lighthousekeeper' horen we de kora (west-arfikaanse harp) van Diabel Cissokho. En alhoewel 'The West African Blues Project' enige gelijkenis vertoont met het album 'Talking Timbuktu' (van Ali Farka Touré & Ry Cooder uit 1994) en daardoor iets aan originaliteit inboet, is dit album zeer de moeite waard en zal zowel de Afrikaanse als de bluesliefhebber aanspreken.
English version 
'The West African Blues Project' is a wonderful collaboration between the British blues guitarist Ramon Goose and West African guitarist Modou Touré from Senegal. New compositions with fine arrangements put into a nice crossover of African rhythms with American blues, sung in Wolof, Mandinka and French.
The British slide-guitarist Ramon Goose is best known for his band Nublues with whom he recorded two albums. He performed with the legendary gospel group The Blind Boys of Alabama and played with Eric Burdon and Pee Wee Ellis. In 2010 he started 'The West African Blues Project' together with the Senegalese guitarist Modou Touré, the son of Ousmane Toure who was the lead singer of the band Toure Kunda. And although Modou was influenced by his father, he develops himself into a traditional African singer with a dazzling high (almost feminine) voice. 'The West African Blues Project' is a real guitar album with very different types of guitars in an African background. The various guitar colours change constantly. The music sounds very natural and organic. The slide guitar, distortion, tremolo, the blues solos alongside the West African rhythms and melodies. Besides the blues we hear (country) rock (Western Comfort) and South African township jive in 'Believe' which is complemented in 'Kayre' with a horn section. In 'The Lighthouse Keeper' we hear the kora (West African harp) played by Diabel Cissokho. And although 'The West African Blues Project' reminds me of the album 'Talking Timbuktu' (Ali Farka Toure & Ry Cooder in 1994) with almost the same intensity, this West African Blues Project is very rewarding and will both  appeal to the African and blues music lover!
Modou Touré & Ramon Goose: 'The West African Blues Project' (ARC Music/Music&Words)
© Mattie Poels.