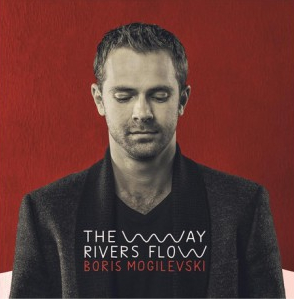 De in Nederland wonende Israëlische bassist/gitarist en componist Boris Mogilevski nam onlangs zijn tweede album 'The Way Rivers Flow' op in Amsterdam. Een filmische jazz-CD met musici uit zes verschillende landen. Hij wordt geboren in Rusland maar groeide op in Israël tegen een Joods/Ethiopische achtergrond die hier en daar weerspiegelt in zijn muziek.
English version below
Het is opvallend dat hedendaagse componerende jazzbassisten (zoals de Amerikaan Avishai Cohen of de Zweedse contrabassist Lars Danielsson) bijzonder melodische stukken schrijven, dienend spelen, maar schitteren op de achtergrond met fraaie baslijnen. Iets soortgelijks treffen we aan bij Boris Mogilevski. Een musicus die geboren werd in Rostov (Zuid-Rusland op de grens met Oekraïne), opgroeit in Israël, maar tegenwoordig woont in Amsterdam. Naast bassist is hij ook gitarist, te horen in twee stukken op zijn nieuwe CD 'The Way Rivers Flow'. Een gevarieerd album waar naast jazz, ook rock, pop en Oosterse elementen te vinden zijn; met zelfs het theatrale werk 'Marionette' dat doet denken aan de legendarische CD 'Danses et Autres Scenes' uit 1998 van de Franse klarinettist Louis Sclavis. Mogilevski componeerde prachtige stukken die hij fraai arrangeert voor blazers, met veel solowerk voor pianist Sri Hanugara uit Indonesië die hier en daar gebruik maakt van modale uitstapjes. Ook opmerkelijk is het drumwerk van Kristijan Krajncan die smaakvol ritmes omspeelt en mooi gebruik maakt van ghost notes. Jammer daarentegen zijn de fonetisch meegezongen melodie-lijnen die weinig toevoegen en de muziek zelfs opzichtig bijkleurt. Een wijze van melodie verfraaiing die bij gitarist Pat Metheny al enige scepsis opriep. 'The Way Rivers Flow'; water stroomt van hoog naar laag – de weg van de minste weerstand. Een muzikaal metafoor waarbij Mogilevski zeker niet de weg van de minste weerstand kiest, maar een gevarieerd professioneel album aflevert waar menig jazz en improvisatie liefhebber van zal genieten.
English version
Nowadays the Israeli bassist/guitarist and composer Boris Mogilevski lives in the Netherlands and recorded recently his second album 'The Way Rivers Flow'. A cinematic jazz album with musicians from six different countries. He was born in Russia but grew up in Israel in a Jewish / Ethiopian background which reflects in his music.
It's exciting how contemporary composing jazz bassists (like the American Avishai Cohen or the Swedish double bass player Lars Danielsson) compose melodic pieces, play the basic accompaniment and shine with beautiful bass lines. Something similar is to be found in Boris Mogilevski's music. A musician who was born in Rostov (Southern Russia on the border with Ukraine), grew up in Israel but now lives in Amsterdam. Beside bass player, he is also a guitarist, to be heard in two pieces on his new CD 'The Way Rivers Flow'. A varied album where besides jazz, rock, pop and Oriental elements are to be found; even with the theatrical composition 'Marionette' reminiscent to the legendary CD 'Danses et Autres Scenes' (1998) by the French clarinettist Louis Sclavis. Mogilevski composed beautiful pieces, nicely arranged for brass (trombone, flute, sax, clarinet and French horn). Wonderful are the piano solo's by Sri Hanugara from Indonesia who uses transparent modal jazz lines. Also noteworthy is the drumming of Kristijan Krajncan who's rhythms are packed with lovely ghost notes. A pity, however, are the phonetic sung melody lines which turns the music a little flashy. A way of colouring the melody like guitarist Pat Metheny already did, which evoked some skepticism. 'The Way Rivers Flow' is a varied professional album, exciting compositions for those who love innovative jazz and improvisation music.
Boris Mogilevski: 'The Way Rivers Flow' (Eigen Beheer: Boris Mogilevski Music)
© Mattie Poels.