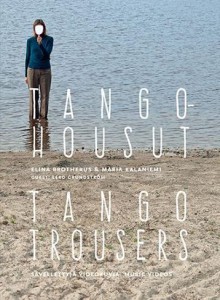 'Tango-Housut' (Tango Broek) is de nieuwste uitgave van de Finse accordeoniste Maria Kalaniemi. Een samenwerking met fotografe en video-kunstenaar Elina Brotherus op een DVD waar beelden een serene sfeer schilderen. Veel aandacht voor contrasterend kleurgebruik, vlakverdeling en een intense toepassing van licht geven samen met de accordeon en stem van Kalaniemi een licht filosofisch expose van natuurlijke schoonheid.
English version below
Maria Kalaniemi behoort tot een van de meest vooraanstaande accordeonisten die baanbrekende albums uitbracht met o.a. de groepen Niekku en Accordion Tribe (met o.a. Otto Lechner en Guy Klucevsek). Kalaniemi is uniek in haar spel waarbij ze de Finse volksmuziek verwerkt in haar composities. Zij schrijft nieuw werk en maakt veel gebruik van improvisatie waarbij de Finse muziek nooit ver weg is. Op haar DVD 'Tango-Housut' wordt Kalaniemi bijgestaan door de jongere collega Eero Grundström op harmonium & harmonica en gaat ze nog een stapje verder. We horen prachtige stukken zoals 'Trouser Tango', 'Silent Lake' en 'Svalan' maar soms zijn het alleen klanken, tonen of effecten die de prachtige beelden van Elina Brotherus krachtig ondersteunen. Beelden die zorgvuldig zijn gefilmd met veel oog voor fraaie vlakverdeling. Elke beeld lijkt wel een foto en biedt meer dan je in eerste instantie zou denken. Bijvoorbeeld kaarsrechte bomen tegen een strakke horizon of de kromming van een pad in het donker met één enkele lantaarnpaal vormen mooie lijnen in het beeld. Bovendien zijn de kleuren sober en herfstachtig, met opvallende kleding van de hoofdpersoon in het centrum van het plaatje. De wisselwerking tussen de muziek en film is adembenemend, puur zuiver en bescheiden. Per stuk wisselt de sfeer en past Kalaniemi's muziek zich aan. Een dualiteit, die ongekend fraai is en een lust voor oog & oor.
English version
'Tango – Housut' (Tango Trousers) is the latest edition of the Finnish accordionist Maria Kalaniemi. A collaboration with photographer and video artist Elina Brotherus on DVD where images depict a serene atmosphere. Wonderful contrasting colours, lovely lines and detailing and the intense use of light along with the accordion (and voice) of Kalaniemi. A slightly philosophical exposition of natural beauty.
Maria Kalaniemi is one of the leading accordionists who released groundbreaking albums with among others, the groups Niekku and Accordion Tribe (with Otto Lechner and Guy Klucevsek). The music of Kalaniemi is unique in which she use the Finnish folk music arranged in her own compositions. She writes new music and use a lot of improvisation where the Finnish folk music is never far away. On her DVD 'Tango Housut' Kalaniemi is assisted by the younger colleague Eero Grundström on harmonium and accordion. For this collaboration Kalaniemi composed wonderful pieces like 'Trouser Tango', 'Silent Lake' and 'Svalan' but she's also more innovative and even more improvised than on her previous work. Sometimes there are only sounds, tones or effects that support the beautiful images of Elina Brotherus. Images that are filmed very accurate. Every picture looks like a photograph and offers more than you might think at first. The line of trees against a tight horizon or the curvature of a path in the dark with a single lamppost are beautiful lines in a picture. Moreover, the colours are sober and earthy, with some distinctive clothes of the main character in the center of the image. The interplay between music and images are stunning, very pure and humble music. In every piece/song the atmosphere is different and Kalaniemi's music fits very well to the picture. An incredibly duality, created with love for the music and cinema lovers!
Maria Kalaniemi: 'Tango-Housut' (M. Kalaniemi/E. Brotherus/ Xango)
© Mattie Poels.