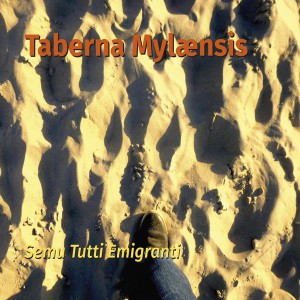 De Siciliaanse groep Taberna Mylaensis bracht onlangs het opmerkelijk nieuwe album 'Semu Tutti Emigranti' (Wij zijn allemaal imigranten) uit. Een ode aan de vluchteling die via gevaarlijke routes het veilige Europa probeert te bereiken. Een muzikaal exposé waarin zanger, gitarist en leider Luciano Maio dit beladen onderwerp van verschillende kanten belicht.
English version below
De Siciliaanse band Taberna Mylaensis werd eind jaren '60 opgericht, aanvankelijk als protestgroep. Uiteindelijk richt het kwartet zich meer op de rijke Siciliaanse muziek. Een liedcultuur met Keltische invloeden, Arabische en Griekse maar ook Franse, Spaanse en zelfs Noord Afrikaanse invloeden. Luciano Maio is van meet af aan de inspirator van Taberna Mylaensis, een naam die overigens ontleend is aan Milazzo (Mylae) waar Maio in 1950 werd geboren. Zijn herkenbare stem, zingend en reciterend, volgt een bevlogen koers van ontroering die ook op 'Semu Tutti Emigranti' schitterend tot uiting komt. In nieuwe door hem geschreven liedjes zingt hij over mensen die (gedwongen) emigreren. Die hun geliefden moeten verlaten, op zoek naar een nieuw bestaan. Die de gevaren aan boord van een klein schip midden op de Middellandse Zee trotseren, of schipbreuk lijden waarbij vrienden verdrinken. Luciano Maio zingt en vertelt (cantanu e cuntunu) in het Siciliaans dialect over deze angst, hoop, verdriet of de heimwee en dat doet hij gedreven en inspirerend. Het klinkt allemaal puur en oprecht. Hij wordt bijgestaan door drie multi-instrumentalisten waarvan ieder meerdere instrumenten bespeelt en er gevarieerde combinaties worden gebruikt waarbij de gitaar, accordeon en percussie de hoofdinstrumenten zijn. Taberna Mylaensis betekent: De Taverne van Milazzo. De herberg waar iedereen welkom is: muzikaal vormgegeven in een prachtig metafoor – Wij zijn allemaal immigranten!
Taberna Mylaensis; Luciano Maio (zang, gitaar, mandoline), Antonia Vasta (accordeon, piano, doedelzak), Antonio Putzu (klarinet, sax, fluiten, doedelzak), Francesco Bongiorno (djembé, darbouka, cajon, tamboerijn)
English version
The Sicilian group Taberna Mylaensis released the remarkable new album 'Semu Tutti Emigranti' (We are all immigrants). An ode to the refugees who want to reach Europe through dangerous routes. A musical exposé in which singer, guitarist and leader Luciano Maio sings about this difficult subject.
The Sicilian band Taberna Mylaensis was founded in the late 60s, first as a protest group. Eventually the quartet focuses more on the rich Sicilian music. A song culture with Celtic influences, Arabic and Greek but also French, Spanish and even North African influences. From the beginning Luciano Maio is the inspirer of Taberna Mylaensis, a name that is derived from Milazzo (Mylae) where Maio was born in 1950. His recognizable voice, singing and reciting, following the way of emotion in which 'Semu Tutti Emigranti' is brilliant reflected. He wrote new songs in which he sings about people's (forced) emigration. Who must leave their loved ones, in search for a better life. He sings about the danger on board of a small ship in the middle of the Mediterranean Sea, or shipwreck where friends were drown. Luciano Maio sings and tells (cantanu e cuntunu) in Sicilian dialect about this fear, hope, sadness or homesickness in an inspiring and passionate way. It all sounds pure and sincere. He is assisted by three multi-instrumentalists, who play several instruments which are used in varied combinations with mainly guitar, accordion and percussion. Taberna Mylaensis means: The Tavern at Milazzo. The inn where everybody is welcome reflected in this wonderful song collection – We are all immigrants!
Taberna Mylaensis; Luciano Maio (voice, guitar, mandolin), Antonia Vasta (accordion, piano, bagpipe), Antonio Putzu (clarinet, sax, flute, bagpipe), Francesco Bongiorno (djembé, darbouka, cajon, tambourin)
Taberna Mylaensis: 'Semu Tutti Emigranti' (PAN Records/Music&Words)
© Mattie Poels.