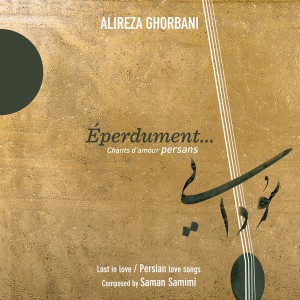 De Iraanse zanger Alireza Ghorbani zingt bevlogen eeuwenoude liefdesliedjes uit Perzië. Middeleeuwse gedichten van o.a. Rumi (13de eeuw) en Abolkhyr (10/11de eeuw) zijn op muziek gezet door kamanche (knie-viool) speler Saman Samimi. Alireza Ghorbani wordt begeleid door een vijfkoppig ensemble op zijn laatste album 'Éperdument'.
English version below
De laatst decennia is de muziek uit Iran behoorlijk veranderd. De gezaghebbende masters of music (ostad) hebben door de komst van het notenschrift, de vele conservatoria en de invloed van het Westen steeds minder invloed. Bovendien heeft ook de komst van radio en televisie veel invloed gehad op de Iraanse muziekcultuur. Denk bijvoorbeeld aan actrice en zangeres Googoosh, die vele hits scoorde in de '70-er jaren. Maar hoe dan ook, de klassieke Perzische zang is altijd blijven bestaan want deze is het hart en ziel van de bevolking. Vooral de zang, met zijn typische versieringen, is zeer herkenbaar. Zo schieten vocalen snel heen en weer tussen kop- en middenstem als een soort triller (versiering). Op zijn laatste album 'Éperdument' zingt zanger Ghorbani eeuwenoude liefdes-gedichten die op muziek zijn gezet door Saman Samimi. Hartstochtelijke poëzie over verlatingsangst of liefdesverdriet met veel beeldspraak, meesterlijk gezongen door Alireza Ghorbani. Hij heeft een rijk stemgeluid dat regelmatig van klankkleur veranderd: soms is zijn zang diep, warm van timbre, en dan weer hoog en gevoelig tot zelfs hemelschreiend. Naast het kamanche-spel (knieviool) van Samimi horen we in de begeleiding de tar (snaarinstrument) en percussie-instrumenten waaronder de cajon, daf (raamtrommel) zarb en tombak (kleitrommels). 'Éperdument' is een zielstrelend album met muziek die zó fraai is uitgevoerd, dat je wordt meegezogen in hartbrekend liefdesverdriet.
Meer Iraanse muziek. Zie ook Masha Vahdat
English version
The Iranian musician Alireza Ghorbani sings love songs from Persia. Centuries-old poems were written for example by Rumi (13th century) or Abolkhyr (10th / 11th century). They have been put to music by kamanche (spike fiddle) player Saman Samimi. On this latest album 'Éperdument' Alireza Ghorbani is accompanied by a five-piece ensemble and sings inspired.
The last decades, the music from Iran changed dramatically by conservatories, musical notation and the influence of the West. The authoritative masters of music (Ostad) have less influence, nowadays. Above all, the radio and television has also changed the Iranian music culture a lot. What about the actress and singer Googoosh, who had many hits in the '70s and put a lot of Western styles in her music. But anyway, the classical Persian vocal music still exists, because it's the heart and soul of the Iranian people. Especially the lyrical songs, with its typical vocal ornaments, are easily to recognize and very remarkable. Alireza Ghorbani sings ancient love poems his latest album 'Éperdument' which have been put to music by Saman Samimi. Passionate poetry about lovesickness, divorce or heart pain with a lot of metaphor. Alireza Ghorbani is a master in singing these songs. He has a rich voice with many different timbres. Sometimes you hear his deep voice; warm and tender then suddenly it's high and sensitive and even weeping. Besides Samimi's kamanche (spike fiddle) we hear the tar (stringed instrument) and percussion instruments such as the cajon, daf (frame drum) zarb and tombak (clay pot). 'Éperdument' is a soulful album with music that has been performed so beautifully that it's easy to feel the heart breaking.
Alireza Ghorbani: 'Éperdument' (Accord Croisés/Harmonia Mundi)
© Mattie Poels.