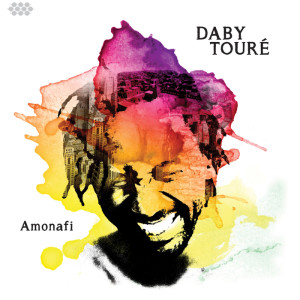 Singer/songwriter Daby Touré uit Mauritanië is altijd een melodisch muzikant geweest. Dat geldt ook voor zijn CD 'Amonafi' die uitkwam in de zomer van 2015. Zijn vierde album maar zijn eerste op het label Cumbancha. Een nieuwe start, zo noemt Touré het zelf. Voor de luisteraar is er echter niets veranderd en blijft hij de gedreven muzikant die bijzonder frisse en aangename Afro-pop maakt.
English version below
Daby Touré maakt met 'Amonafi' (het Wolof voor 'Er was eens') een nieuwe start. Hij verandert van platenmaatschappij, manager en impresariaat en gaat zich volledig richten op zijn muziek. Deze onzekere periode heeft dit prachtige album opgeleverd met muziek die al lijkt te bestaan. Zijn liedjes zitten verdraaid goed in elkaar en hebben een hoge herkenbaarheidsgraad. En toch zijn ze nieuw, oorspronkelijk en authentiek. Dat is de kracht van deze Mauritaanse muzikant die al bijna zijn hele leven in Parijs woont. Hij maakte al schitterende CD's zoals 'Stereo Spirit' uit 2007 met het prachtige 'Kabeluso' en 'Yafodé' en de EP 'Call My Name' met de Amerikaanse gitarist Skip Mc Donald. Ook op 'Amonafi' staan een aantal bijzondere composities en hij zingt in het Pulani, Fulani, Wolof en Soninke. Hij verzorgt alle vocalen zoals het a capella gezongen 'Khone' en het openingsstuk 'Woyoyoye' waar hij experimenteert met computer-effecten op de achtergrondzang. Bijzonder is ook 'Emma' dat met zijn springerige refrein verwijst naar Bretonse folk. Daby Touré is een multi-instrumentalist die 'Amonafi', met enkele gastmusici, opnam in zijn home-studio in Parijs. Door zijn achtergrond (hij leefde tot zijn tienerjaren in Zuid-Mauritanië) weet wat hij hoe het is om honger te lijden, wat pijn is, wat woestijnhitte betekent, maar hij weet ook hoever je kunt komen met volhouden en doorzettingsvermogen. Die veerkracht is kenmerkend voor zijn muziek en klinkt door in zijn songs. Daarom is het zo vreemd dat een artiest met zoveel kwaliteit in Nederland relatief nog zo onbekend is: daar moet maar eens verandering in komen!
Daby Touré geeft een concert in De Melkweg – Amsterdam 22 september 2015.
English version
Singer/songwriter Daby Touré from Mauritania has always been a melodic musician. That's the same for his album 'Amonafi' which was released in the summer of 2015. His fourth album but his first on record label Cumbancha. A new start, so Touré calls it. For the listener, however, nothing has changed and he remains the passionate musician who makes very fresh and nice Afro-pop.
'Amonafi' (Wolof for 'Once upon a time') is a new start for Daby Touré. He changed from record company, manager and impresario and focused himself full time on his music. In this uncertain period, he produced this beautiful album with music which seems to exist already. His songs are very well composed and sound like you've heard them before. And yet they are new, original and authentic. That's the power of this Mauritanian musician who lives almost his whole life in Paris. He already recorded stunning albums like 'Stereo Spirit' in 2007 with the beautiful songs like 'Kabeluso' and 'Yafodé' and released the EP 'Call My Name' with the American guitarist Skip McDonald. There are some particular compositions on 'Amonafi' which he sings in Pulani, Fulani, Wolof and Soninke. Like the a cappella song 'Khone' and the opening piece 'Woyoyoye' in which he experiments with computer effects on the background vocals. Another special feature is 'Emma' which chorus refers to Breton folk. Daby Touré is a multi-instrumentalist who recorded his new album, with several guest musicians, in his home studio in Paris. Because of his background (he lived until his teenage years in southern Mauritania) he knows what it's like to be hungry, what pain is, how the desert heat feels, but he also knows how far you can come up with perseverance and persistence. That resilience is characteristic for his music and reflects in his songs. Therefore it is surprising that an artist with so much quality  is relatively still so unknown in the Netherlands: that's got to be changed!
Daby Touré: 'Amonafi' (Cumbancha)
© Mattie Poels.