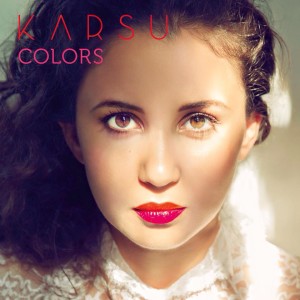 De nieuwste CD 'Colors' van de Nederlands/Turkse zangeres en pianiste Karsu is een prachtige aaneenschakeling van muzikale kleuren. In tegenstelling tot haar debuut 'Confession' uit 2012, blikt ze met haar tweede album meer richting popmuziek, schreef ze haar eigen nummers en klinkt haar stem diverser dan ooit.
English version below
Dat zangeres Karsu een talent is, dat wisten we al. Maar op 'Colors' gaat ze nog een stapje verder en blinkt ze uit in veelzijdigheid. Een kleurrijk prisma met prachtige vocalen, nieuw zelfgeschreven werk in diverse stijlen, gezongen in het Engels en Turks. Karsu begon in het Turks restaurant van haar vader in Amsterdam-West, maar nu elf jaar later, gaf ze inmiddels drie concerten in Carnegie Hall (New York) en zagen we haar op het North Sea Jazz Festival en in het Concertgebouw van Amsterdam. Bovendien maakte ze tournees door Amerika, Indonesië, Duitsland, België, Suriname, Groot-Brittannië, Brazilië en Turkije en ontwikkelde zij zich tot een artiest van formaat. Haar nieuwe CD 'Colors' geeft een doorsnede van haar muzieksmaak die via jazz (Diamonds), pop (Monday), vaudeville (Coffee around Nine) en funk (Domates…) ook Turkse invloeden in zich draagt. Fantastisch, want zo krijgen we Karsu op minstens zes verschillende manieren… 😉 Niet elk nummer is een even solide compositie maar hiermee bewijst ze wel hoe flexibel haar stem is, die moeiteloos schakelt van het expressieve openingsnummer 'All for me' tot het fascinerende 'Turn It Around' en 'Birak Beni Böyle' (soort Turks slaapliedje). Steeds gedoseerd gezongen met arrangementen in wisselende bezetting. Zo wordt 'Colors' een multilateraal album dat een breed publiek zal aanspreken.
Review van haar debuut-CD Confession – Klik Hier.
English version
The new album 'Colors' by the Dutch/Turkish singer and pianist Karsu is a wonderful collection of musical colors. In 2012 she released her more jazz related debut 'Confession'. Her second album is more pop music minded on which she wrote her own songs and where her voice sounds more diverse than ever.
Karsu is a talent, we already know that. But on her new album 'Colors' she really excels in versatility. A colorful prism with beautiful vocals, new self-written compositions in various styles, sung in English and Turkish. Karsu started her career in the Turkish restaurant of her father in Amsterdam-West. Now, eleven years later, she already gave three concerts at Carnegie Hall (New York) and we saw her at the North Sea Jazz Festival and the Concertgebouw in Amsterdam. Moreover, she toured through America, Indonesia, Germany, Belgium, Suriname, the United Kingdom, Brazil and Turkey, and she bacame more and more an important artist. Her new album 'Colors' is a collection of her musical taste like jazz (Diamonds), pop (Monday), vaudeville (Coffee around Nine) and funk (Domates…) added with Turkish influences. Fantastic, because in this way we get Karsu in at least six different ways… ;-). Not every song is an equally solid composition but she proves how flexible her voice is, which switches easily from the expressive opening song 'All for me' to the fascinating 'Turn It Around' and 'Birak Beni Boyle' (kind of Turkish lullaby). Sung very dosed with varied instrumentation. That makes 'Colors' a multilateral album that will appeal to a broad audience.
Karsu: 'Colors' (SUMusic/Pias)
© Mattie Poels.