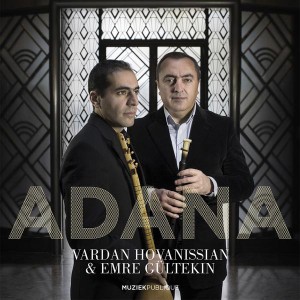 'Adana' is de titel van de duo-cd van de Armeense dudukspeler Vardan Hovanissian en de Turkse saz musicus Emre Gültekin. Maar 'Adana' is ook de naam van een Zuid-Turkse stad waar een eeuw geleden de Armeense genocide begon. Herdacht op dit verzoenings-album samen met contrabassist Joris Vanvinckenroye, percussionist Simon Leleux en enkele gastmusici.
English version below
Er is geen instrument dat de Armeense genocide beter kan verklanken dan de duduk. Het Armeens dubbelriet-instrument met zijn zacht, warm en teder timbre wordt schitterend gespeeld door Vardan Hovanissian. Deze in België wonende musicus nam samen met zijn Belgische landgenoot, de Turkse saz (langhalsluit) speler Emre Gültekin, het schitterende album 'Adana' op. Beide musici kennen elkaar al meer dan tien jaar dat nu resulteert in een verzoenings-cd waarmee de genocide van 1915 wordt herdacht. Op dit debuut staat zowel traditioneel als nieuw gecomponeerd werk; instrumentaal en gezongen stukken in het Armeens en Turks. Een muzikaal poëtische mijmering waar je heel stil van wordt. Breekbare muziek met delicate melodieën waarbij de lange tonen van de duduk in fraai contrast staan met de twinkelende en melismatische saz, aangevuld met contrabas en percussie. In enkele stukken klinkt de drone: een lang klinkende toon die veel gebruikt wordt in de begeleiding van Armeense muziek, te horen in het openingsstuk 'Galissem Durad', 'Getahen' en het titelstuk 'Adana' (gespeeld op de contrabas). 'Adana' is een liefdevolle cd waar met zorg en aandacht bijzondere stukken worden gespeeld en waaruit maar weer eens blijkt hoe grensverleggend muziek kan zijn.
Vardan Hovanissian &

Emre Gültekin

geven een concert tijdens het

HOUTFESTIVAL

– 21 juni Haarlem
English version
'Adana' is the title of the duo album of the Armenian duduk player Vardan Hovanissian and the Turkish saz musician Emre Gültekin. But 'Adana' is also the name of a southern Turkish city where the Armenian genocide began a century ago. Commemorated on this reconciliation album with bassist Joris Vanvinckenroye, percussionist Simon Leleux and some guest musicians.
There is no instrument that can better give a voice to the Armenian Genocide than the duduk. Armenian double reed instrument with its soft, warm and tender timbre is beautifully played by Vardan Hovanissian. This musician residing in Belgium, together with his Belgian compatriot, the Turkish saz (long-necked lute) player Emre Gültekin, recorded the brilliant album 'Adana'. Both musicians have known each other for more than ten years now. The result is this reconciliation CD on which they memorize the genocide of 1915. On this début album is both traditional and newly composed work; instrumental and vocal music sung in Armenian and Turkish. A musical poetic reverie which makes you very humble and silent. Fragile music with delicate melodies where the long tones of the duduk are in beautiful contrast with the twinkling and melismatic saz, complemented with bass and percussion. In some pieces the drone is heard: a long-sounding tone that is widely used in the guidance of Armenian music, heard in the opening piece 'Galissem Durad', 'Getahen' and the title song 'Adana' (played on the double bass). 'Adana' is a loving care album compiled with attention which shows once again how groundbreaking music can be!
Vardan Hovanissian & Emre Gültekin: 'Adana' (muziekpublique.be/Xango)
© Mattie Poels.