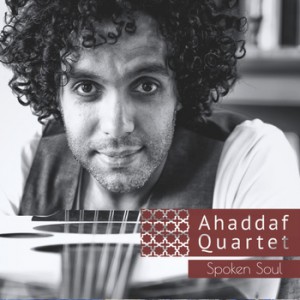 Ûd (Arabische luit)speler Mohamed Ahaddaf is in zijn muziek net zo avontuurlijk als in zijn ondernemingslust. Zo'n twaalf jaar geleden immigreerde hij van Noord-Marokko naar Amsterdam. Nam zijn instrument mee, startte zijn eigen Ahaddaf Quartet en ontwikkelde zijn eigen muziek. In november 2014 verscheen het amalgama 'Spoken Soul', zijn tweede album.
English version below
Arabische muziek is eenstemmig. Composities ontstaan vanuit een makam: een toonsoort. Al dan niet voorafgegaan door een taksim; een intro om de luisteraar te laten 'wennen' aan de muzikale kleur van de makam. Mohamed Ahaddaf houdt voor een gedeelte vast aan dit principe. Thema's worden unisono (eenstemmig) gespeeld door ûd en piano, zoals dat gebeurt in bijvoorbeeld 'Matar' of 'Habibate'. Thema's die qua melodie lijken op die van de legendarische Libanese ûd-speler Marcel Khalifé die, net zoals Ahaddaf, met zijn zangerige melodielijnen de luisteraar naar zich toe zuigt. De uitwerking van het Ahaddaf Quartet is echter diepgaander en hemelsbreed. Zo vinden we een Bach allure in het openingsstuk 'Nahawand'- compleet met sequens; een melodie-herhaling steeds op een andere toonhoogte. Een compositietechniek die zeer gangbaar was in de Barok; de tijd van Bach. Daarnaast klinken er regelmatig Latijns-Amerikaanse invloeden, funky ritmes en poly-ritmiek. Fraaie ûd en pianosolo's die zonder effectbejag hier en daar leunen tegen (modale) jazz en sterk worden ondersteund door drums/percussie en bas. Mohamed Ahaddaf studeerde aan het Conservatorium van Tetuán in het noorden van Marokko. De stad waar de prachtige vrouwenstemmen, Cantoras de Tetuán, vandaan komen. 'Spoken Soul' is weliswaar niet uniek in zijn soort maar blinkt uit in oprecht vakmanschap waar loyaliteit en openhartigheid de 'Soul' voor zich laat spreken. Dat maakt zijn tweede album zeer de moeite waard.
Zaterdag 11 April 2015 speelt het Ahaddaf Quartet  in het Rosenstock Huessy Huis te Haarlem
Ahaddaf Quartet: Mohamed Ahaddaf: ûd / Avishai Darash: piano / Stephan Raidl: bas / Ulas Aksunger: drums
English version
Ûd (Arabic lute) player Mohamed Ahaddaf is an adventurous person. Some twelve years ago he immigrated from northern Morocco to Amsterdam. Took his instrument along, started his own Ahaddaf Quartet and developed his own music. In November 2014 he released the amalgamation CD 'Spoken Soul', his second album.
Arabic music is unison. Compositions are composed from a makam: a mode. Whether or not preceded by a taksim; an intro, in order to let the listener get used to the colour of the makam. Mohamed Ahaddaf keeps attached to this principle. Themes are unison (one-voiced) played by ûd and piano, for example in 'Matar' or 'Habibate'. Themes or melodies which sound familiar to those of the legendary Lebanese ûd player Marcel Khalifé, who keeps you warm with his tuneful melodies. But the elaboration of the Ahaddaf Quartet is deeper and crow flies. Thus we find a Bach allure in the opening piece 'Nahawand'- complete with sequence; a melody repetition at a different pitch. A compositional technique, very common in the Baroque; Bach's time. In addition there's regularly Latin American influences, funky- and poly-rhythms. Remarkable ûd and beautiful piano solos on the edge of (modal) jazz which are strongly supported by drums / percussion and bass. Mohamed Ahaddaf studied at the Conservatory of Tetuán in northern Morocco. The city where the beautiful female voices, Cantoras the Tetuán, come from. 'Spoken Soul' is certainly not unique in its kind, but excels in genuine craftsmanship where the 'Soul' speaks for itself. That makes his second album worthwhile!
Ahaddaf Quartet: Mohamed Ahaddaf: ûd / Avishai Darash: piano / Stephan Raidl: double bass / Ulas Aksunger: drums

Ahaddaf Quartet: 'Spoken Soul' (Eigen Beheer)
Photo Mohamed Ahaddaf: Hans Speekenbrink
© Mattie Poels.