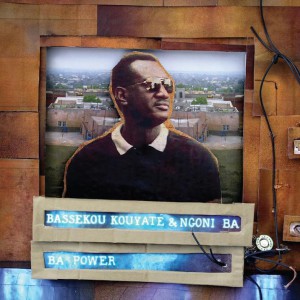 Het vierde album van de Malinese ngoni-speler Bassekou Kouyaté heet 'Ba Power' ('Strong Power' in het Bambara). Yes indeed: een betere titel voor deze cd had je niet kunnen bedenken. Kouyaté innoveert de ngoni. Deze West-Afrikaanse luit wordt met wah-wah en distortion omgetoverd tot vibrerende Malinese Rock.
English version below
Al eeuwenlang zijn de Griots de verhalenvertellers van West-Afrika; zichzelf begeleidend op de ngoni, een soort luit gemaakt van kalebas en schapenhuid. Bassekou Kouyaté behoort ook tot de Griots en is een innovator van het repertoire en het bespelen van de ngoni. Met respect voor traditie gebruikt hij op 'Ba Power' randapparatuur (vervorming en wah-wah) om andere klankkleuren voor de ngoni te creëren: met verrassend resultaat. Kouyaté heeft veelal een begeleidende rol, maar laat solerend zijn instrument scheuren in 'Siran Fen' en schitteren in 'Ayé Sira Bla'. Hij heeft een wah-wah solo in Musow Fanga maar is ook zonder effecten te horen in het virtuoze 'Waati' en met Gospel-feel in 'Te Duniya Laban'. De cd werd opgenomen in Bamako met familieleden: zoons, broers, neven en Amy Sacko, de vrouw van Kouyaté die enkele stukken zingt. Daarnaast spelen er zes gastmusici mee waaronder gitarist Samba Touré en Zoumana Tereta die de zoku speelt. Een prachtig en zeer herkenbaar één-snarige viool te horen op 'Fama Magni'. Opvallend is het gebruik van de trompet (prachtig met demper) en elektrische gitaar (door John Hassell) en de (overbodige) drums die de muziek wel erg 'dicht slaat'. 'Ba Power' is een enorm ritmisch album en een van de meest innoverende van de laatste tijd waarmee Bassekou Kouyaté zichzelf overtreft!
In 2015 vier concerten in Nederland: 8 mei Tolhuistuin Amsterdam / 9 mei Rasa Utrecht / 13 mei Muziekgebouw Eindhoven / 14 mei Oosterpoort Groningen
English version
The fourth album by Malian ngoni player Bassekou Kouyaté is called 'Ba Power' ('Ba' means 'Great' or 'Strong' in Bamabara). Yes indeed: a very good title for this CD. Kouyaté innovates the ngoni (West African lute) with wah-wah and distortion and transforms it into vibrating Malian Rock.
For centuries the Griots are storytellers of West Africa; accompanying them self on the ngoni, a kind of lute made of gourd and sheep skin. Bassekou Kouyaté also belongs to the Griots. He is an innovator of the repertoire and playing the ngoni. With respect for tradition, he used on 'Ba Power' guitar effects (distortion and wah-wah) to create different sounds for the ngoni: with a surprising result. Most of the time Kouyaté plays a supporting role in the background of the music. His lovely overdive in 'Siran Fen' and 'Ayé Sira Blue' and a floating wah-wah solo in 'Musow Fanga'. But htere's also the ngoni without effects in the virtuoso 'Waati' and with a Gospel-feel 'Too Duniya Laban'. The CD was recorded in Bamako with relatives: sons, brothers, cousins and Amy Sacko, the wife of Kouyate singing some pieces. In addition, play six guest musicians including guitarist with Samba Touré and Zoumana Tereta who plays the zoku. A beautiful and very recognizable one-string fiddle heard on 'Fama Magni'. Striking as well is the use of trumpet (beautifully with sordine) and electric guitar (by John Hassell) and (unnecessary) drums that the makes the music a little too poppy. 'Ba Power' is an exciting album with wonderful melodies and striking rhythms: one of the most innovative albums from the African continent on which Bassekou Kouyaté is even better than before!
Bassekou Kouyaté & Ngoni Ba: 'Ba Power' (Glitterbeat/Xango)
© Mattie Poels.