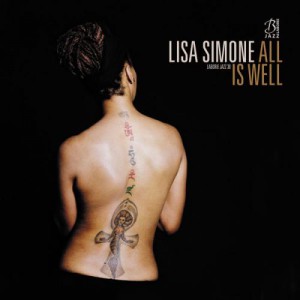 'All is Well' is de nieuwe cd van zangeres Lisa Simone (1962), de dochter van Nina Simone. Na 'Simone Superstar' en 'Simone on Simone' neemt ze in Limoges (Zuid-Frankrijk) haar derde album op, samen met een kleine band van drie topmuzikanten: gitarist Hervé Samb, bassist Reggie Washington en drummer Sonny Troupé.
English version below
Vaak moet 'de dochter of zoon van…' zich bewijzen. Voor Lisa Simone geldt dat niet. Het is duidelijk, hier hebben we te maken met een dijk van een stem met een prachtige dictie en dat juiste hese randje. Ze zingt met gemak, souplesse en fel in hoogte. Lisa Simone is actrice, werkte bij Amerikaanse luchtmacht en zong in musicals waaronder Jesus Christ Superstar en in 2007 Les Misérables. Op 'All is Well' zingt ze eigen werk en een stuk (Revolution) is geschreven door haar man Rob Kelly en gitarist Hervé Samb. Opvallend is de uitvoering van 'Suzanne' van Leonard Cohen dat ze volledig naar eigen hand zet. Net zoals het innemende 'Lullaby' geschreven door haar moeder Nina. Ze wordt begeleid door drie fantastische musici die allen de swing-suggestie in hun spel verbergen. Zie youtube onder van het titelstuk 'All is Well' waarin Simone wordt begeleid door Hervé Samb die in zijn spel een hele band suggereert. Zoiets vergelijkbaar treffen we ook in het autobiografische 'Child in Me' waarin ze refereert aan de tijd dat ze als kind huilend wachtte op haar moeder. Reggie Washington laat hierin zijn contrabas ronken en steunen en speelt een prachtige solo. Dit derde album is een fantastisch album waarop Lisa Simone niet alleen in de voetsporen van haar moeder treedt – maar ook ver daarbuiten!
English version
'All is Well' is the new CD by singer Lisa Simone (1962), the daughter of Nina Simone. After her two albums 'Simone Superstar' and 'Simone on Simone' she recorded her third one in Limoges (South of France). She's accompanied by a small band with three top musicians: guitarist Hervé Samb, (double) bass player Reggie Washington and drummer Sonny Troupe.
Often 'the daughter or son of … ' has to prove themselves. Lisa Simone does not have to. It's so clear; we are dealing here with a great voice with a beautiful diction and correct hoarse edge. She sings with an ease, flexibility, and bright in height. Lisa Simone is an actress, worked at US Airforce and sang in musicals such as Jesus Christ Superstar and Les Misérables in 2007.  She wrote almost all the songs on 'All is Well'. One piece (Revolution) was written by her husband Rob Kelly and guitarist Hervé Samb. Striking is the performance of Leonard Cohen's 'Suzanne' which she performs so personally. Just like 'Lullaby', written by her mother Nina. She is accompanied by three great musicians who all hide the swing-suggestion in their playing. See youtube above the title song 'All is Well' with guitarist Hervé Samb who suggests a whole band in his playing. Something similar is also found in the autobiographical 'Child in Me' in which Lisa Simone refers to the time when she was a child, crying and waiting for her mother who was on the road. Bass player Reggie Washington plays fabulous swing and shows the musical depth of his instrument. This third album is a great one in which Lisa Simone not only shows the heritage of her mother but also far beyond!
Lisa Simone: 'All is Well' (LaborieJazz / Lavial)
© Mattie Poels.