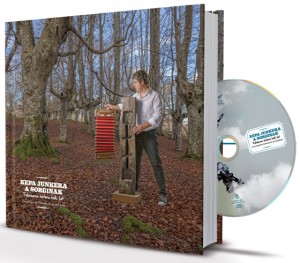 Kepa Junkera is al jaren de ambassadeur van de trikitixa; de diatonische accordeon uit Baskenland, Noord-Spanje. Op zijn nieuwste jubileum-cd 'Trikitixaren Historia triki bat' speelt hij veel solo accordeon en wordt regelmatig bijgestaan door de vocale groep Sorginak uit Pais Vasco (Bilbao) aangevuld met percussie. Het geheel is prachtig vormgegeven in een kleurrijk boek.
English version below
Met dit project viert Kepa Junkera zijn 35-jarige muzikale loopbaan. Hij groeit op in Rekalde (Bilbao) waar hij zijn eerste muzikale stappen zet. Leert de trikitixa kennen via vrienden, de lokale dansen via zijn moeder en van zijn grootvader de zo typische tamboerijn (pandereta) bespelen. Hij brengt sinds 1988 bijna twee dozijn cd's op de markt, speelt o.a. met zijn Italiaanse evenknie Ricardo Tesi, The Chieftains en jazz pianist Michel Camilo. Op 'Trikitixaren Historia triki bat' staan originele stukken geschreven door Junkera veelal aangevuld met traditionals: goed in gehoor liggende dans-melodieën. Hij is een grootmeester op de trikitixa met een zeer herkenbare manier van spelen. Licht, puntig en rijkelijk versierd waarbij vooral de variaties opmerkelijk zijn. Als je bedenkt dat er alleen een accordeon (met percussie) klinkt, is de muziek vol, opgewonden en zeer levendig. In enkele stukken begeleidt hij de jonge groep Sorginak. Zeven jonge vrouwen zingen een-stemmig melodieën. Vergelijkbaar met de vrouwengroepen uit Galicië, Noordwest-Spanje. Juist die (a-capella) unisono zang geeft de muziek iets magisch, aangevuld met de al even strak gespeelde pandereta's (en adufe: platte trommel) en andere percussie die deze vrouwen bespelen. 'Trikitixaren Historia triki bat' is een prachtig project waar Kepa Junkera de Baskische (dans)muziek laat schitteren in het Noord-Spaanse zonlicht: warm, hartstochtelijk en oprecht!
English version
For years Kepa Junkera is the ambassador of the trikitixa: the diatonic accordion from the Basque County, northern Spain. On his latest jubilee  CD 'Trikitixaren Historia triki bat' he plays a lot of solo accordion, supplemented with percussion and is regularly assisted by the vocal group Sorginak from Pais Vasco (Bilbao). Released in a beautifully decorated and colorful book.
With this project Kepa Junkera celebrates his 35-year musical career. He grows up in Rekalde (Bilbao) where he took his first musical steps. Learn the trikitixa through friends, the local dances through his mother and his grandfather learned him how to play the typical tambourine (pandereta). Since 1988 he released about two dozen CDs, including, for example, with his Italian counterpart Ricardo Tesi, The Chieftains and jazz pianist Michel Camilo. On 'Trikitixaren Historia triki bat' are original pieces written by Junkera, supplemented with traditional music: lovely catchy dance tunes. He is a master of the trikitixa and has a very distinctive way of playing. Light, sharp and richly decorated; particular the variations are remarkable. When you consider that only an accordion sounds (and percussion), the music is full, excited and very lively. In some pieces he accompanies the young group Sorginak. Seven young women sing-one-voiced melodies, unison. Similar like the women's groups from Galicia, northwestern Spain. Precisely that (a capella) unison singing gives the music something magical, complemented by the equally tightly played pandereta (and adufe: flat drum) and other percussion, all played by these women. 'Trikitixaren Historia triki bat' is a wonderful project on which Kepa Junkera Basque (dance) music sparkles in the northern Spanish sun: hot, passionate and sincere!
Kepa Junkera & Sorginak: 'Trikitixaren Historia triki bat' (folmusica.com)
© Mattie Poels.