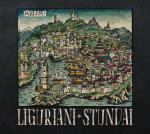 'Stundai' is het tweede album van de Noord-Italiaanse groep I Liguriani. Een kwintet dat steeds op zoek is naar de kern van de muziek uit Ligurië. De dansen, ballades, oorlogsliederen en zelfs enkele stukken die jarenlang verborgen lagen in de Kathedraal van Genua (hoofdstad van Ligurië) worden bewerkt tot sympathieke, eigentijdse folk.
English version below
I Liguriani bestaat uit vijf muzikanten die in 2011 hun debuut 'Suoni dai mondi liguri' uitbrachten. Opvallend is zanger en violist Fabio Biale die met zijn kristalhese stem een sleutelfiguur is voor het kwintet. Naast hem treffen we melodeon (soort accordeon)speler Filippo Gambetta aan die in 2002 het prachtige album 'Pria Goaea' uitbracht met o.a. gitarist Claudio de Angeli die we ook tegenkomen op 'Stundai'. Aangevuld met fluiten, doedelzak en gitaar laat deze groep de verscheidenheid horen van de Noord-Italiaanse muziek. Naast veel traditioneel werk ook Occitaanse (Zuid-Franse) invloeden met zijn trotse eenstemmigheid aangevuld met Corsicaanse (Fanni a Nanna) en Siciliaanse flair (Valzer da Cheuillia). Maar ook eigen werk zoals de prachtige ballad 'Belle Figge' van Fabio Biale gevolgd door de circusachtige wals 'Valzer du Riccu' van doedelzakspeler Fabio Rinaudo die ook het immens mooie 'Battista e Boeri' schreef met een eeuwigdurende melodie. De muziek is met smaak gearrangeerd met 'nieuwe' harmonieën, fraaie versieringen en knappe instrumentcombinaties. 'Stundai' staat vol gedragen en pakkende melodieën die de tijd (hebben) doorstaan en voortleven op de onstuimige branding van de Middellandse Zee. Veelal verpakt in medleys van twee of drie stukken die organisch in elkaar grijpen. Een schitterend statement van een groep die, met respect voor de geschiedenis, oeverloos over de horizon klinkt.
English version
'Stundai' is the second album by the Northern Italian group I Liguriani. A quintet that is always looking for the essence of the music from Liguria. Dances, ballads, war songs and even some pieces that were hidden for years in the Cathedral of Genoa (capital of Liguria). Melodies which are processed into sympathetic, contemporary folk.
I Liguriani consists of five musicians who released their debut album 'Suoni dai mondi liguri' in 2011. Remarkable is singer and violinist Fabio Biale who is a key figure with a crystal hoarse voice. Beside him we find melodeon (kind of accordion) player Filippo Gambetta who recorded 'Pria Goaea' in 2002 with guitarist Claudio de Angeli, also on this album 'Stundai'. Supplemented with flutes, bagpipes and guitar this group shows the variety of the northern Italian music. Besides many traditional work, we also hear Occitan (southern French) influences, Corsican (Fanni a Nanna) and Sicilian flair (Valzer da Cheuillia). And new composed music like the beautiful ballad 'Belle Figge' by vocalist Fabio Biale followed by the circus-like waltz 'Valzer du Riccu' by bagpiper Fabio Rinaudo who also wrote the immensely beautiful 'Battista e Boeri' a kind perpetualmelody; splendid! The music is tastefully arranged with 'new' harmonies, lovely ornaments and fine instrument combinations. 'Stundai' is filled with catchy melodies; timeless music which survives easy on the turbulent waves of the Mediterranean Sea. Often in medleys of two or three pieces organicly moving from one to another. A magnificent statement of a group that, with respect for the heritage, sounds endlessly over the horizon.
I Liguriani: 'Stundai' (Felmay/Music&Words)
© Mattie Poels.