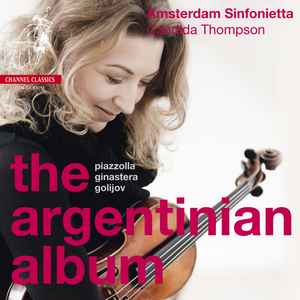 Het Amsterdam Sinfionietta speelt op 'The Argentinian Album' drie werken tegen een Argentijnse achtergrond. Een gevarieerde collectie van bekend en minder bekend repertoire van de Argentijnse componisten Astor Piazzolla en Alberto Ginastera en één werk van de Roemeens/Russische componist Osvaldo Golijov die opgroeide in Argentiniê.
English version below
'The Argentinian Album' opent met 'Cuartro Estaciónes Porteñas' (Four Seasons of Buenos Aires) van Astor Piazzolla. Een stuk dat hij begin 1960 schreef voor zijn eigen ensemble. Piazzolla is dé grote tango-innovator die deze Argentijnse muziek midden vorige eeuw van de danszaal naar het theater bracht. De Russiche componist Leonid Desyatnikov bewerkte Piazzolla's 'Four Seasons of Buenos Aires' voor strijkorkest in 1996/'98, aangevuld met quotes van Vivaldi's 4-jaargetijden. Deze bewerking is te horen op de nieuwe cd van het Amsterdam Sinfonietta. Een buigzaam strijkorkest dat compact en solide haar weg vindt door de snel wisselende timbre's, ritmiek en speeltechnieken die vooral in het IIde deel 'Scherzo Fantastico' van Ginestera opmerkelijk zijn. Het orkest klinkt oorspronkelijk, transparant en nergens geaffecteerd. Dat overigens ook geldt voor 'Last Round' van Osvaldo Glijov waarmee dit album afsluit. Glijov schreef deze ode aan Piazzolla begin jaren '90 nadat hij hoorde van diens beroerte. Het verbindende werk 'Concerto for String Orchestra op. 33′ van vooraanstaand Argentijns componist Alberto Ginastera, laat een heel ander Argentinië horen. Gebaseerd op zijn Tweede Strijkkwartet uit 1958, klinkt enerverende 12-toons muziek en polytonaliteit. Vier delen waarvan het Iste deel 'Variazone per i solisti' een spannend solistisch karakter heeft voor (alt)viool, cello en contrabas, o.a. prachtig ingevuld door o.a. violiste Candida Thompson (foto); artistiek leider van het Amsterdam Sinfonietta. Een ensemble dat steeds op zoek is naar grensverleggende programmeringen. Dat gebeurde in 2014 met de muziek van Shostakovich Weinberg (Klik Hier) en nu met Argentijnse meesters op 'The Argentinian Album'!
English version
The string orchestra Amsterdam Sinfionietta plays on 'The Argentinian Album' three works in an Argentine background. A diverse collection of well-known and less familiar repertoire of Argentine composer like Astor Piazzolla and Alberto Ginastera and one work of the Romanian/Russian composer Osvaldo Golijov who grew up in Argentina.
'The Argentinian Album' opens with 'Cuartro Estaciones Porteñas' (Four Seasons of Buenos Aires) by Astor Piazzolla. A piece he wrote in early 1960 for his own ensemble. Piazzolla is the great tango innovator who brought the Argentine music from the ballroom to the theater. The Russian composer Leonid Desyatnikov arranged Piazzolla's 'Four Seasons of Buenos Aires' for string orchestra in 1996/'98 and added quotes from Vivaldi's 4 seasons. This operation can be heard on the new CD of the Amsterdam Sinfonietta. A flexible string orchestra that easily finds its way through the rapidly changing timbre's, rhythm and playing several techniques; especially in the IInd part 'Scherzo Fantastico' of Ginestera's work.  The orchestra sounds authentic, transparent and nowhere affected. Also in the last part 'Last Round' written by  Osvaldo Glijov which closes the album. He wrote this 'double string quartet with double bass' as an ode to Piazzolla early '90s after he heard about his stroke. The connecting work 'Concerto for String Orchestra. Op. 33' from leading Argentine composer Alberto Ginastera, shows a very different part of music from Argentina. He based this music on the Second String Quartet from 1958 which sounds exciting with 12-tone music and poly tonality. Four parts of which the Ist part 'Varia Zone by I Solisti' has an exciting solo character for violin, viola, cello and double bass. Beautifully completed for example by violinist Candida Thompson (photo); artistic director of the Amsterdam Sinfonietta. An ensemble that is always looking for ground breaking programming. That happened in 2014 with the music of Shostakovich Weinberg (Click Here) and now with Argentine masters 'The Argentinian Album'!…
Amsterdam Sinfonietta: 'The Argentinian Album' (Channel Classics/New Arts International)
© Mattie Poels.