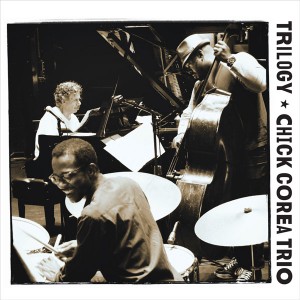 'Trilogy' is het nieuwste album van het Chick Corea Trio, met bassist Christian McBride en drummer Brian Blade. Een drie-dubbelaar met bijna drie-en-een-half uur muziek, zowel nieuw werk als standards. Live opgenomen tijdens twee tournee's die het trio maakte in 2010 en 2012 door Noord-Amerika, Europa en het Midden-Oosten.
English version below
'Trilogy' is ondanks zijn zwart-wit vormgeving een ongekend kleurrijk album. Naast standards als 'My Foolish Heart', 'Blue Monk' en 'How Deep is the Ocean?' horen we de Spaanse ('My Spanish Heart') invloed in 'Armando's Rhumba' en 'Spain' en het klassiek georïenteerde 'OP. 11 No.9' en 'Piano Sonata: The Moon'. Chick Corea heeft een voortreffelijke timing. Herkenbaar door zijn ritmiek en zeer verzorgde spel. Zijn begeleiders, bassist McBride en drummer Blade, kwamen we ook al tegen in Corea's Five Piece Band samen met gitarist John McLaughlin en saxofonist Kenny Garrett. Met deze twee heren vormt Corea dit schitterende trio. Vakbekwame musici: coherent, inventief met vooral beweeglijk en fantasierijk samenspel. Prachtig voorbeeld hiervan is Thelonious Monk's klassieker 'Blue Monk' waar het thema als een metafoor opstijgt uit een improviserend intro. Compacte en complementaire muziek ingebed met voortreffelijke solo's zowel op piano en (melodische) bas. Een cd vol diverse muzikale gezichtspunten en daarmee een delicate tour de force. De flamencogitarist Niño Josele en fluitist Jorge Pardo, beiden afkomstig uit Spanje, zijn gastmuzikant op twee stukken en zangeres Gayle Moran, Chick Corea's vrouw, sluit dit prachtige drie-luik af met 'Someday my Prince will come'. 'Trilogy' heeft een dynamisch live karakter waardoor de muziek met gemak een muzikale voorsprong krijgt – heerlijk!
English version
The latest album 'Trilogy' by pianist Chick Corea is a three-doubler with almost three-and-a-half hours of music. Standards and new work played with bassist Christian McBride and drummer Brian Blade. Recorded live during two tours throughout North America, Europe and the Middle East in 2010 and 2012.
'Trilogy' is, despite his black and white design, an incredibly colorful trio album. In addition to standards like 'My Foolish Heart', 'Blue Monk' and 'How Deep is the Ocean?' we hear the Spanish ('My Spanish Heart ') influence in 'Armando's Rhumba' and 'Spain' and the classical oriented music 'OP 11 No. 9' and 'Piano Sonata: The Moon'. Chick Corea has an excellent timing. Recognizable by its rhythms and very precise playing. Bassist McBride and drummer Blade also played at Corea's Five Piece Band with guitarist John McLaughlin and saxophonist Kenny Garrett. Corea and these two gentlemen is an amazing trio of skilled musicians: coherent, inventive and most agile and imaginative play. Wonderful example how the theme of Thelonious Monk's classic 'Blue Monk' as a metaphor rises from the improvised intro. Compact and complementary music with excellent solos on both piano and (melodic) bass. An album full of various musical viewpoints and thus a delicate tour de force. The flamenco guitarist Niño Josele and flutist Jorge Pardo, both from Spain, are his guest musicians on two pieces and singer Gayle Moran, Chick Corea's wife, closes this beautiful triptych, with 'Someday my Prince will come'. The dynamic live character on 'Trilogy' provides a musical vantage and give this music some extra's – wonderful!
Chick Corea Trio: 'Trilogy' (ConcordJazz/NewArtsInternational)
© Mattie Poels.