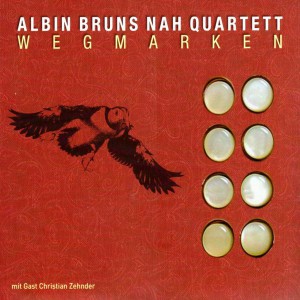 Zwitserse muziek vind je weinig terug in cd-recensies. Daarom aandacht voor een bijzonder album van Albin Brun. Een veelzijdig musicus uit Zwitserland; accordeonist en rietblazer. Te vinden in diverse projecten zoals zijn duo met Isa Wiss en het Alpin Ensemble. Met zijn NAH Quartett bewandelt hij de Alpen met een ruime muzikale blik waar de folk in al zijn gedaanten voorbij komt.
English version below
De cd 'Wegmarken' van Albin Brun is een Zwitsers georiënteerd folkalbum met enkele muzikale uitstapjes. Brun speelt schwyzerorgeli, een diatonische accordeon die (vrolijk) wordt ondersteund door de tuba die de baspartij voor zijn rekening neemt (met thema en solo in Canto di Levanto). Deze twee vormen de basis van het NAH Quartett dat wordt aangevuld met viool en drums (percussie). De muziek heeft een onmiskenbaar Zwitserse teint met een hoog danskarakter. Bovendien zijn er linken met Bretonse, Italiaanse en Wit-Russische folk die de muziek iets lyrisch en melancholisch geeft. Gemakkelijke melodieën, soms humoristisch met af en toe clowneske capriolen. Maar er is meer. Zoals het Oriëntaalse El Hama Café, het tango gevoelige I d'Wiiti (solostuk op schwyzerorgeli) en het Noord-Braziliaanse Forró for A, compleet met triangel die zo kenmerkend is voor de forró uit Pernambuco. Albin Brun wijst je met 'Wegmarken' de route naar het kruispunt waar Zwitserse en wereld-folk samenkomen. Alleen is die weg een beetje moeilijk te vinden: maar dat is nou juist wat deze cd zo bijzonder maakt!
English version
Music from Switzerland is hard to find on album reviews. That's why we have some attention for a remarkable recording by Albin Brun. A multi talented musician from Switzerland. Accordion and saxophone player who works with several projects like his duo with Isa Wiss and the Alpin Ensemble. His NAH Quartett is a walking voyage through the Alps with a wide musical folk view.
So the music on 'Wegmarken' (Road Marks) is a Swiss orientated with a few musical trips. Brun plays the schwyzerorgeli, diatonic accordion which is (lovely) accompanied by the tuba, playing the bass lines (in Canto di Levanto he also plays the theme and solo). These two instruments are the basic of the NAH Quartett which is completed by violin and drums (percussion). The music has an unequivocally Swiss danceable feel. Above all, there are some links to the Breton, Italian and Belarus folk which adds a lyrical and melancholic mood. Easy melodies with sometimes humorous and clownesque antics. But there's more. Like the Oriental El Hama Café, the tango feel in I d'Wiiti (solo piece on the schwyzerorgeli) or the North Brazilian Forró for A, completed with the triangle which is so characteristic for the forró from Pernambuco. Albin Brun shows you the way on 'Wegmarken' to the cross roads where Swiss music and world folk come together. A road which is hard to find finally: but that why it's such a great and special record!
Albin Brun's NAH Quartett: 'Wegmarken' (DoubleMoon/ChallengeRecordsINT)
Foto: Palma Fiacco
© Mattie Poels.