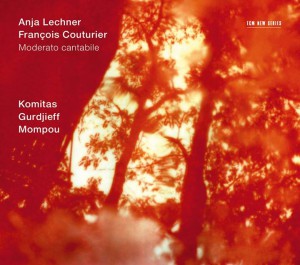 De klassiek geschoolde Duitse celliste Anja Lechner nam samen met de Franse jazz pianist François Couturier de cd 'Moderato Cantabile' op. Een album met nieuwe arrangementen op werk van de Armeense componisten George Gurdjeff en Komitas, de Catalaan Frederico Mompou en eigen werk Couturier.
English version below
De muziek van Lechner en Couturier beweegt tussen klassieke en geïmproviseerde muziek. Tegen een folk/religieuze achtergrond wordt de muziek van de Armeense componisten organisch verbonden met het impressionistisch georiënteerde werk van Mompou. De composities van Couturier daarentegen hebben een eigentijds karakter waarmee het verleden met het heden wordt gelinkt. 'Moderato Cantabile' is hun eerste duo-cd. Beide musici waren al eerder te horen in het Tarkovsky Quartet en het weergaloze Il Pergolese. In deze projecten werden ook originele composities, met respect voor traditie, bewerkt tot hedendaagse stukken. Iets soortgelijks gebeurt nu op 'Moderato Cantabile'. De cello heeft een sterk melodische rol, die wonderlijk mooi aansluit bij het zangerige spel van Couturier. Ze hanteren hetzelfde metier waardoor dit album niet alleen adembenemend mooi is maar ook een staalkaart is voor innovatieve klassieke muziekbeleving.
English version
The classical trained German cello player Anja Lechner recorded with the French jazz pianist François Couturier the album 'Moderato Cantabile'. A recording full of new arrangements of compositions by the Armenian George Gurdjeff and Komitas, the Catalan Frederico Mompou and new work by Couturier.
The music of Lechner and Couturier moves between classical and improvised music. In a folk/religious background we hear deep Armenian music connected with impressionistic compositions of Mompou. Couturier's work built a wonderful bridge between past and present with modern harmonies. 'Moderato Cantabile' is their first duo recording. Both musicians already played together in the Tarkovsky Quartet and the splendid Il Pergolese. In these projects original compositions are arranged into modern pieces, with respect for tradition. Something similar we hear on 'Moderato Cantabile'. The cello with it's strong melodic role fits wonderful into the cantabile piano of Couturier. That makes this album breathless and show an exciting way of innovative classical music experience.
Anja Lechner & Francois Couturier: 'Moderato Cantabile' (ECM New Series/New Arts International)
© Mattie Poels.