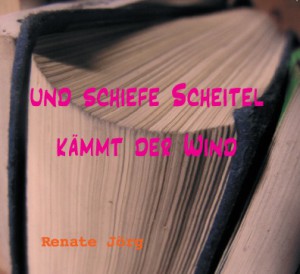 Weer een cd waar (naast piano) de accordeon centraal staat. Dit keer als begeleidingsinstrument en bespeeld door Renate Jörg. Zij componeerde vijftien 'lieder' op teksten van Duitse dichters die leefden in de 19de en begin 20ste eeuw. Resultaat: een prachtig muzikaal exposé waar tekst en muziek elkaar completeert.
De klassiek geschoolde Renate Jörg studeerde kunst- en muziekpedagogiek in München. Tijdens haar studie ontdekt ze de accordeon en wordt verliefd op het instrument. Langzaamaan begint ze met componeren voor muziek- en kindertheater. Tegenwoordig woont ze in Amsterdam en werkte o.a. voor Verteltheater De Overkant, Kindertheater Basta, Theater Van Santen en toerde met de groep KAAL. Renate Jörg is een bevlogen muzikante dat bijzonder fraai tot uiting komt op haar cd 'Und Schiefe Scheitel Kämmt der Wind' (En scheve scheidingen kamt de wind). Een zeer persoonlijk album waarvoor ze vijftien gevarieerde 'lieder' componeerde op gedichten van Christian Morgenstein, Joachim Ringelnatz, Ludwig A. von Arnim, Hugo Bal en Rainer Maria Rilke. Haar begeleidingen op piano en accordeon volgen nauwgezet de tekst en zijn, zonder gezongen melodie, al een compositie op zich. Iets soortgelijks treffen we ook aan bij liederen van Schubert, waar ook het pianospel alleen al zeer de moeite waard is. Stem en begeleiding vormen een prachtige eenheid en intensiveren elkaar in tekst en melodie. Haar liederen zijn doorspekt met chromatiek, impressionistische fragmenten, onverwachte harmonieën en wisselen van sfeer bij piano en accordeon begeleiding. Renate Jörg 'kämmt' op dit album smaakvol 'den Wind', al zou zo nu en dan een kleine westerstorm ook wel op zijn plaats zijn geweest.
cd presentatie zondag: 7 september – 16:00 uur –

Huis de Pinto

– Amsterdam
English version
Another fine cd on which the accordion (besides the piano) is in the center, played by Renate Jörg. She composed fifteen 'lieder' (songs) on German poems written by writers who lived in the 19th century and at the start of the 20th century. Result: a beautiful musical collection where melodie and lyric fit wonderful together.
The classical trained Renate Jörg studied art and music pedagogy at München. At that time she discovered the accordion and fell in love with the instrument. She began composing music for children theater. Nowadays she lives in Amsterdam (capital of the Netherlands) and worked for several theater companies. Renate Jörg is a passionate musician which we can hear on her album 'Und Schiefe Scheitel Kämmt der Wind'. She wrote fifteen songs for this very personal recording on poems written by the German writers Christian Morgenstein, Joachim Ringelnatz, Ludwig A. von Arnim, Hugo Bal en Rainer Maria Rilke. Her accompany on piano and accordion follow accurate the lines of the poem. That makes her piano and accordion playing 'a composition on it's own'. Like the songs from Schubert: where the piano (without the singing part) sounds already like a wonderful musical piece. Vocal and accompany are one and increase cooperation in lyric and melody. Her songs are lard with chromatism, impressionism fragments and wonderful unexpected harmonies. The atmosphere changes easily by piano and accordion accompanies. Renate Jörg 'combs' the 'wind', but still sometimes I hope that a real storm's coming up.
Renate Jörg: 'Und Schiefe Scheitel Kämmt der Wind' (Eigen Beheer/www.renatejorg.com)