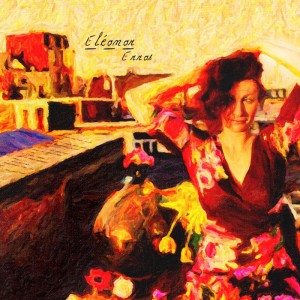 'Erros' is de debuut cd van de Belgische zangeres Eléonor (Elly Aerden). Zij zette eeuwenoude Latijnse teksten over melancholie, liefde en geluk op muziek. Een eigenzinnige collage, een theatrale mix waarmee ze de randen opzoekt van pop, tango, chanson en jazz. Geproduceerd door Jo Francken die we ook tegenkwamen bij zanger gitarist Milow en Kommil Foo.
English version below
Elly Aerden viel al eerder op door haar opmerkelijke bijdrage in het trio AmorromA (van Jowan Merckx). Ze studeerde klassieke zang aan de academie van Turnhout, geeft vervolgens schoolconcerten en werkt mee aan diverse theaterprojecten. Haar stem is helder, wendbaar en past prachtig bij de serene muziek op 'Erros', gezongen in het Latijn. Eigentijdse stukken met een directe link naar popmuziek aangevuld met veel folk-elementen. Opmerkelijk zijn het Arabische luitspel (ûd) van Karim Baggili, het accordeonspel van Anne Niepold en de kalimba (duimpiano) in Salve. Instrumenten die door hun karakteristieke klankkleur direct opvallen naast de 'gangbare' strijkers, klavierwerk, bas en percussie (elektronisch in Basia). Solide arrangementen, werkelijk fraai bewerkt en mooi in balans. Maar daar schuilt ook het gevaar. De muziek blijft enigszins op de vlakte en het minimale gebruik van dynamiek wordt halverwege de cd een gemis. Maar toch is 'Erros' zeer de moeite waard met melodisch en soepel in het gehoor liggende composities met Sulpicia, Basia en vooral het titelstuk Erros(!) als uitschieters.
English version
'Erros' is the début album by the Belgium singer Eléonor (Elly Aerden). On century's old Latin lyrics about love and happiness she wrote new melodies. A fresh collection of songs, a theatrical mix in which she found the edge of pop, tango, chanson and jazz. Produced by Jo Francken (Milow and Kommil Foo).
Already, we heard Elly Aerden's wonderful voice in trio AmorromA (van Jowan Merckx). She studied classical singing at the academy of Turnhout (Belgium), gave school concerts and worked for several theatre performances. He clear voice is agile and fits wonderful in the serene music on 'Erros', sung in the Latin language. Contemporary pieces with a direct link to pop music with a lot of folk elements. Remarkable is the Arabic lute (oud) played by Karim Baggili, the accordion of Anne Niepold and the kalimba (thumb piano). All with their characteristic colour besides the 'usual' violin, keyboard, bass and percussion (electronic in Basia). Solid arrangements, really remarkable work in a fine balance. But that's the point. With a minimum of dynamics in this delicate music you get the feeling of 'breaking out'. But still 'Erros' is worth listening with it's melodic and fine tuned melodies like Sulpicia, Basia and the especially title piece Erros!
Eléonor: 'Erros' (I-C-U-B4-T/Music&Words)
© Mattie Poels.