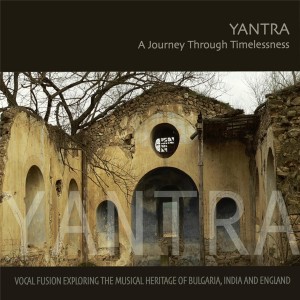 Afgelopen week (juli 2014) kwam de debuut-cd 'A Yourney Through Timelessness' uit, van het trio Yantra. Het nieuwste project van de in Londen wonende Bulgaarse zangeres Evgenia Georgieva. Samen met de Indiase zanger Manickam Yogeswaran en Jeremy Birchall (o.a. Tallis Scholars & Taverner Consort) zingt het trio een verbluffende mix van Middeleeuwse, Indiase en Bulgaarse muziek.
English version below
Zangeres Evgenia Georgieva zingt al jaren in het Perunika trio, waarmee ze enkele bijzondere albums uitbracht. In 2008 kwam ze op het idee om een a capella project te starten met de Zuid Indiase zanger Manickam Yogeswaran en de Engelse vocalist Jeremy Birchall. Een jaar later gaf het trio een sessie tijdens een BBC-3 radioprogramma dat zo'n groot succes bleek, dat een cd niet kon uitblijven. 'A Yourney Through Timelessness' is het resultaat. Een album dat niet alleen uitblinkt in prachtige meerstemmigheid maar ook de combinatie van Bulgaarse, Indiase en Renaissance muziek is uniek. De cohesie tussen deze drie klankkleuren is verbluffend waarbij elke zijn eigen karakter en eigenheid behoudt: de snijdende Bulgaarse harmonieën en ornamenten tegen de Indiase percussieve zang gelardeerd met oude muziek. Als vanzelfsprekend switcht de muziek van stijl, niet alleen per compositie maar ook in de stukken zelf zijn de overgangen organisch. In enkele werken worden stemmen gedubt, waarbij één persoon zijn eigen meerstemmigheid zingt: zoals het openingslied 'Anon Excetre'. Een anoniem werk waarbij Birchall zijn (eigen) driestemmigheid zingt. Yantra bewijst met deze debuut cd dat schijnbaar onverenigbare muziek heel goed samen klinkt. Hoe (meer) meerstemmig wil je het hebben?
English version
Last week (July 2014) the début album 'A Yourney Through Timelessness' of Yantra was released. The new project of the London based Bulgarian singer Evgenia Georgieva. Together with the Indian singer Manickam Yogeswaran and Jeremy Birchall (Tallis Scholars & Taverner Consort) the trio sings a splendid mix of Renaissance, Indian and Bulgarian music.
For years singer Evgenia Georgieva is one the Perunika trio, with whom she released exciting albums. In 2008 she came up with the idea to start the a cappella project with the South Indian singer Manickam Yogeswaran and the English vocalist Jeremy Birchall. A year later they gave a session at the BBC Radio3 program Late Junction with Verity Sharp. The result was amazing and a record had to be made: 'A Yourney Through Timelessness'. An album with lovely harmony vocals in a special combination of Bulgarian, Indian and Renaissance music. Every style of singing keeps its own identity in a cohesion in which three vocal colours mix wonderful. The sharp edged Bulgarian voicing with the ornaments in combination with the characteristic Indian and Renaissance vocals. The music sounds so self-evident and switches so easily from style to style. In a few pieces we hear dubbed voices in which óne person sings his own voicing, his own harmonies: so to say. Like the opening song 'Anon Excetre', wonderful sung by Birchall. Yantra proves that music that was never sung in this combination, can sound so natural.
Yantra: 'A Yourney Through Timelessness' (Indigo Fusion Records)
© Mattie Poels.