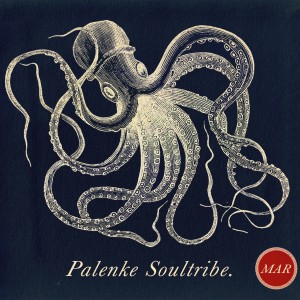 Het duo Palenke Soultribe uit Los Angeles speelt een catchy elektronische variant van Afro-Colombiaanse muziek, aangevuld met groovy beats en crispy synthesizers. Dat doen ze niet alleen, maar met gasten die meespelen op hun album 'Mar', waaronder de legendarische groepen Locos Por Juana en Son Palenque.
English version below
Palenke Soultribe wordt opgericht in 2005 in Colombia door de producers Juan Diego Borda en Andres "Popa" Erazo die respectievelijk ook bas en toetsen spelen. Het gezelschap verhuist uiteindelijk naar Los Angeles. Alhoewel de basis van Palenke Soultribe bestaat uit twee musici worden ze op hun cd's en live bijgestaan door diverse zangers en muzikanten waarmee het duo een collectief vormt. Live zijn steevast drummer Argel Cota en de percussionisten Clodomiro Montes en Diego Cadavid van de partij. Op 'Mar' (Zee) zijn dat o.a. Mr. Vallenato, Jon Arckey en de groep Son Palenque. Ze schrijven hun eigen muziek, gebruiken samples, pompende bas en drumlines en gezongen wordt er in het Spaans en Engels. Alhoewel de muziek van Palenke Soultribe vooral gebaseerd is op popmuziek, horen we hier en daar de Colombiaanse ritmes palenque, cumbia en vallenato die vooral in het tweede gedeelte van cd goed hoorbaar zijn. Live is de groep een volledig concept waar muziek, lichtshow en projecties het Afro-Colombiaans verleden vertaald naar het heden en zorgt voor een dampend en dansend publiek.
4 juli 2014 speelt Palenke Soultribe in Paradiso @Amsterdam Roots Festival
English version
Palenke Soultribe from Los Angeles plays a catchy electronic variant of Afro Colombian music, filled with groovy beats and crispy synthesizers. These two musicians work together with a lot of guests who support them on their new album 'Mar'.
Palenke Soultribe is based in Los Angeles and started in 2005 in Colombia by the producers Juan Diego Borda and Andres "Popa" Erazo who play bass and keyboard as well. On their records and live they are assisted by a lot of guest musicians like drummer Argel Cota and the percussionists Clodomiro Montes and Diego Cadavid. On 'Mar' (Sea) we hear for example Mr. Vallenato, Jon Arckey and the wonderful group Son Palenque. They write their own music, use samples, pump-up bass and drum lines with English and Spanish vocals. Although the music of Palenke Soultribe is based on pop music, we hear a lot of Colombian rhythms like palenque, cumbia and vallenato. Especially in the second half of the record. Live the group plays in a full concept in which music, light show and projection the Afro Colombian heritage translates to the present for a dancing, steaming public.
Palenke Soultribe: 'Mar' (palenkesoultribe.com)
© Mattie Poels.