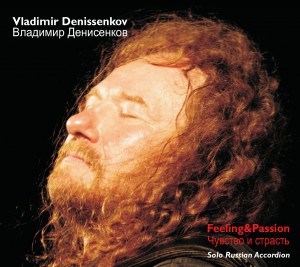 De Russische accordeonist Vladimir Denissenkov speelt zijn favoriete stukken op zijn laatste cd 'Feeling & Passion'. Inderdaad, een prachtige collectie gespeeld op bajan solo. De Russische knoppenaccordeon, met zijn opvallend rijke en brede klank, wordt virtuoos bespeeld door deze in Italië wonende muzikant.
English version below
Vladimir Denissenkov (1956) wordt geboren in Chernovtsky, voormalig Rusland, tegenwoordig Oekraïne. Studeert tot 1979 bajan aan het Conservatorium van Moskou en geeft concerten met het Philharmonisch orkest van de Russische hoofdstad. Bovendien toert hij door meer dan veertig landen, maar vestigt zich in 1995 uiteindelijk in Italië waar hij samenwerkt met Ludivico Einaudi, het clowneske duo Ale e Franz en de legendarische zanger Fabrizio de André. Op 'Feeling & Passion' speelt Vladimir Denissenkov oud en nieuw werk. Dierbare composities die hij veelal opdraagt aan zijn familie en zijn geliefde Rusland. Diep gevoelig werk waarbij hij de mogelijkheden van de bajan volledig benut. Thema's bestaan uit zowel losse tonen als volle akkoorden waarmee hij het instrument laat ronken, zingen, flaneren en beuken en geeft daarmee de bajan een orkestraal timbre. In die veelzijdigheid wordt het nergens hoogdravend of dramatisch, maar vindt hij juist voortdurend de perfecte balans tussen 'gevoel en passie', waardoor evenwichtige muziek ontstaat. Daarmee plaatst Vladimir Denissenkov de bajan in een fel daglicht en geeft het instrument een hartstochtelijk mooie glans!
English version
The Russian accordion player Vladimir Denissenkov plays his favorite pieces on his last cd 'Feeling & Passion'. Yes indeed, a beautiful collection on bajan solo. The Russian button accordion, with it's rich and broad sound, played virtuoso by this in Italy living musician.
Vladimir Denissenkov (1956) was born in Chernovtsky, former USSR and now Ukraine. Until 1979 he studied at the Conservatory of Moscow and gave concerts with Philharmonic Orchestra at the Russian capital. Above all, he toured around more than fourty country's, but finally moved to Italy in 1995 and worked with Ludivico Einaudi, the clown duo Ale e Franz and the legendary singer Fabrizio de André. On 'Feeling & Passion' Vladimir Denissenkov plays old and new repertoire. Dear compositions dedicated to his family and his beloved Russia. Sensitive work in which he explore all the possibilities of the bajan. Theme's are played by single tones and full chords whereby he lets the instrument snore, sing, parade and trash. On this manner he gives the bajan a full orchestral timbre. This versatility never becomes overblown or dramatic. He finds the right and perfect balance between 'feeling' and 'passion' and creates wonderful stable music. Vladimir Denissenkov gives the instrument a new fervent and beautiful shine!
Vladimir Denissenkov: 'Feeling & Passion' (Felmay/Music&Words)
© Mattie Poels.