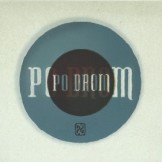 'Po Drom' is de zesde cd van Parne Gadje. Een Nederlandse groep die Oost Europees repertoire speelt, ditmaal aangevuld met muziek uit het Midden Oosten. Een warme mix van stijlen die nergens traditioneel wordt, maar een hartelijkheid in zich draagt die de groep tot een van de meest sympathieke wereldmuziek gezelschappen van Nederland maakt.
English version below
Parne Gadje brengt met 'Po Drom' een zeer temperamentvolle cd op de markt. Gespeeld met grote gedrevenheid, puur en eerlijk. Het met zorg uitgekozen repertoire maakt een reis van Hongarije naar Roemenië (Saltadoros) en Bulgarije richting Turkije (Makam Huseyni) en Armenië (Jurjuna en Armenian Waltz). De arrangementen zijn origineel, mede door het gebruik van elektrische (vervormde) gitaar, tapan (Turks dubbelzijdig bespeelde trommel), twinkelende klarinet en sonore duduk (soort hobo). In enkele stukken horen we de met verve voorgedragen zang van Marc Constandse, die in 'Emena loyia mim mou les' subtiel knipoogt naar Tom Waits en in 'Yüsek Yüsek tepelere' schitterend zingt over de heimwee van een Turks meisje naar haar geboortedorp. We horen veel improvisatie die zo belangrijk is binnen de Roma en Arabische muziek. Prachtige solo's op klarinet, maar ook de ûd van gastmusicus Kamel Hors schittert, net zoals de trompet van Bart Maris, die in 'Saltadoros' even het plafond raakt. Het enthousiasme en vakmanschap dat Parne Gadje op 'Po Drom' laat horen, geeft de groep een nationale wereldstatus: een band om trots op te zijn!
Parne Gadje: Marc Constandse (zang, bandoneon, percussie), Michiel Hollanders (snaarinstrumenten), Gerwil Kusters (blaasinstrumenten), Dan Tuffy (gitaar, bas) en Michiel Bakkes (percussie)
English version
'Po Drom' is the sixth cd of Parne Gadje. A Dutch group who plays East European music, added with Middle East flavour. A fresh and warm mix, which makes this ensemble one of the most remarkable world music groups from the Netherlands.
'Po Drom' is a pure and honest cd, played with passion. The carefully chosen repertoire makes a trip from Hungary to Romania (Saltadoros) and Bulgaria through Turkey (Makam Huseyni) and Armenia (Jurjuna en Armenian Waltz). The arrangements are original by using the electric (distorted) guitar, tapan (Turkish double sided played drum), twinkled clarinet and harmonic duduk (kind of hautbois). In a few pieces we hear the voice of Marc Constandse, who sings with verve 'Emena loyia mim mou les', with a subtle wink to Tom Waits. In 'Yüsek Yüsek tepelere' he carries away about the homesickness of a young girl to her born village. We hear a lot of improvisation which is indispensable in Roma or Arabian music. Beautiful solo's on clarinet, duduk and also on the ûd, wonderful played by guest musician Kamel Hors. Like the trumpet of Bart Maris who smashed me in 'Saltadoros'. The enthousiasm and craft that Parne Gadje shows on 'Po Drom' gives the group a national world rate: a band to be proud of!
Parne Gadje: 'Po Drom' (Smoked Recordings)
© Mattie Poels.