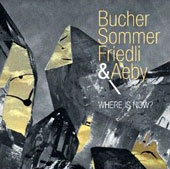 Bucher Sommer Friedli & Aeby, vier Zwitserse musici brengen hun nieuwe cd 'Where is Now?' uit. Het kwartet is in Nederland vrijwel onbekend maar na deze cd zeker niet onbemind. Ritme sectie van bas&drums worden aangevuld met piano, Fender Rhodes en gitaar, kalimba & harmonica en zorgen voor een verrassende combinatie met hier en daar een rauw, ongepolijst muzikaal randje.
English version below
Het kwartet Bucher Sommer Friedli & Aeby speelt gebalanceerde muziek met een hoog melodische lading die beweegt tussen geïmproviseerde en popmuziek. Een avontuurlijk spel tussen compositie en improvisatie in spannende bewerkingen. Bovendien gebruiken de gitarist en pianist diverse effecten. Gitarist Michael Bucher, duidelijk geïnspireerd door Pat Metheny, maakt gebruik van tremolo (trilling), fuzz (vervorming) en harmonizer; een effect waardoor er meerdere tonen tegelijk klinken tijdens (sommige) gitaar solo's. Prachtige aanvullingen die zijn spel stuwend maakt. Pianist Stefan Aeby ruilt zijn klavier regelmatig in voor de vette Fender Rhodes' sound met een lekker rauw randje. Deze effecten leiden tot verfrissende klankbeelden en naarmate de cd vordert zelfs tot psychedelische muziek. Toch blijft 'Where is Now?' soms ietwat te academisch met als dieptepunt 'One for Mike', waar Bucher zijn gitaar inruilt voor de harmonica en we worden getrakteerd op een obligate compositie die helemaal niet past bij de rest van het repertoire. Hoe gevarieerd kun je zijn? Toch blijft deze vierde cd van Bucher Sommer Friedli & Aeby zeer de moeite waard. Nummers als 'Lady Rosebud' (met kalimba – duimpiano), 'Luki's Dream' en vooral 'You and me' klinken voortreffelijk waarbij je wordt meegenomen in een dynamisch muzikaal verhaal, vertelt door vier doorgewinterde musici die elkaar naadloos aanvullen. De muziek zit vol kleine versieringen die soms pas opvallen na meerdere keren luisteren en waarbij je je geen moment afvraagt 'Where is Now?' Nu, op dit moment, heerlijk!
English version
Bucher Sommer Friedli & Aeby, four musicians from Switzerland come up with their fourth cd 'Where is Now?' Rhythm section bass&drums added with piano, Fender Rhodes, guitar, kalimba & harmonica brings a fresh combination with a lovely raw and unpolished musical edge.
The quartet plays balanced compositions with a high melodic exposure between improvised and popular music. A game of composition and improvisation in exiting arrangements. The guitarist and pianist use several effects. Guitar player Michael Bucher, inspired by Pat Metheny, used the tremolo, fuzz (distortion) and harmonizer. A special effect in which óne tone will be transformed into a harmony. Beautiful adds for this grooving guitar player. Pianist Stefan Aeby used, beside the wonderful Grand piano, the Fender Rhodes with a lovely big sound and a raw edge. These layers come up with fresh, new sounds which transforms it sometimes into psychedelic music. Unfortunately 'Where is Now?' is now and then a litte academic with 'One for Mike' on the bottom line. A trite compostion which is totaly different from the rest of the repertoire. How varied can you be? But still, this fourth cd of Bucher Sommer Friedli & Aeby is worth listening. Songs like 'Lady Rosebud' (with kalimba – thumb piano), 'Luki's Dream' and special 'You and me' sound marvelous. You will be taken away in a dynamic musical story, told by four experienced musicians. The music is filled with wonderful tiny ornaments, which may be show up after a few times listening and you never ask yourself 'Where is now?' It's here, at this moment and I love it!
Bucher Sommer Friedli & Aeby: 'Where is Now?' (Double Moon/New Arts International)
© Mattie Poels.