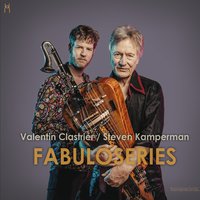 In het schemergebied, waar jazz en folk om elkaar heen cirkelen, is een breed scala aan improvisaties denkbaar dat hoorbaar wordt gemaakt op de duo-CD 'Fabuloseries' van de electro-akoestische draailierspeler Valentin Clastrier en de klarinettist en saxofonist Steven Kamperman. Vindingrijkheid, knap spel en innovativiteit tilt het duo tot ongekende hoogten.
English version below
De draailier is een soort viool die niet wordt bespeeld met een strijkstok maar met een ronddraaiend wiel dat aangedreven wordt door een zwengel. Met de druktoetsen verander je de snaarlengte en daarmee de toonhoogte en tussendoor klinken de bourdon-tonen mee. Een prachtig houten muziekinstrument dat in de Middeleeuwen, door zijn gewicht en grootte, gemakkelijk mee op reis kon worden genomen en waarmee de rondtrekkende zanger zichzelf begeleidde. Nu is de draailier in duo-vorm te horen met saxofonist en basklarinettist Steven Kamperman op het album 'Fabuloseries'. Een ongewone combinatie waarin de muziek heen en weer wuift in het schemergebied van jazz, geïmproviseerde en folkmuziek. Een innovatieve schakeling die een mooie cohesie vormt en volstrekt nieuwe klanken voortbrengt. Draailierspeler Valentin Clastrier laat zijn instrument schuren, huilen en ronken, gebruikt een loop-station (waardoor hij met zijn eigen partijen live kan meespelen) en voegt elektronica (harmonizer en phaser) toe, waardoor de klank nog breder en zelfs futuristisch wordt. De bezwerende sound, die vooral wordt veroorzaakt door de liggende vibrerende (bourdon)tonen biedt een perfecte ondergrond voor de snerpende en zelfs schreeuwende improvisaties op sax en klarinet zoals in 'Hostile et sauvage', terwijl het stuk '11,5°' veel meer neigt naar de folk signatuur waar de muziek schakelt tussen historie en 20ste eeuw. Deze twee fantastische musici laten muziek horen, gecreëerd met een ongekende inventiviteit. Niet elk stuk is even helder en een enkele keer wordt er flink gefreakt en is niet helemaal duidelijk waar je nu eigenlijk naar luistert. Maar wie zijn fantasie laat prikkelen, zal verrast worden door een arsenaal aan muzikale kleuren.
English version
'Fabuloseries' is a sparkling new album by the electro-acoustic hurdy-gurdy player Valentin Clastrier and the clarinet and saxophonist Steven Kamperman, who invented a new kind of music which excels in the twilight zone of jazz and folk. With resourceful and lovely innovative music they create a new stage.
The hurdy-gurdy is a kind of violin that is not played with a bow, but with a rotating wheel which is driven by a crank. With the buttons you change the string length and so you change the pitch of the tone and in between you hear the sound of the bourdon.  The hurdy-gurdy is a wonderful wooden musical instrument from the Middle Ages, due to its weight and size, easy to carry on a journey for a toubadour to accompany himself. Now there's the hurdy-gurdy in a fine duo with saxophonist and bass clarinettist Steven Kamperman on the album 'Fabuloseries'. An unusual combination in which the music takes you to the twilight zone of jazz, improvised and folk music. An innovative way of making music looking forward to new sounds. The hurdy-Gurdy player Valentin Clastrier creates new sounds on this instrument. He uses a loop station (so he can play live several parts) and adds electronics (harmonizer and phaser), so the sound becomes wider and even futuristic. The mesmerizing sound, which is mainly caused by the reclining vibrating (drone) provides a perfect surface for the piercing and even screaming improvisations on saxophone and clarinet, as in 'Hostile et sauvage', while the piece '11.5 °' sound much more like a folk piece in which the music switches between history and 20th centuries. These two amazing musicians create music with unprecedented inventiveness. Not every piece is as bright one and occasionally there's a lot of freaking going on and is not entirely clear what you are actually listening to. But for those with adventurous ears, try this muisc and you will be amazed of the exciting sounds which will carry you away.
Valentin Clastrier en Steven Kamperman: 'Fabuloseries' (Homerecords.be)