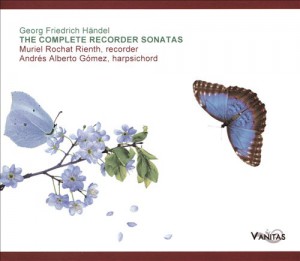 Componist Georg Friedrich Händel (1685-1759) schreef zes blokfluitsonates in 1725/1726 voor leden van de English Royal Family. Deze complete verzameling is nu op CD verschenen en wordt uitgevoerd door de Zwitserse blokfluitiste Muriel Rochat Rienth en de Spaanse klavecinist Andrés Alberto Gómez. Een fraaie coherente collectie!
English version below
Bij blokfluitsonates wordt de begeleiding (in de Barok aangeduid met B.C. (Basso Continuo)) over het algemeen gespeeld op klavecimbel (voor de harmonieën) en viola da gamba voor de baspartij. Op deze 'The Complete Recorder Sonatas' van G.F. Händel hebben Muriel Rochat Rienth en Andrés Alberto Gómez voor het klavecimbel gekozen die in zijn eentje de begeleiding speelt. Dat maakt de muziek transparant en lucide en geeft de musici meer muzikale vrijheid die zich vooral uit in de improvisaties. Thema's en variaties staan weliswaar uitgeschreven maar worden fraai omspeelt door Muriel Rochat met versieringen, trillers en flattement (het 'afbuigen' van de toon wat in de Franse Rococo zeer geliefd werd). De muzikale vrijheid komt ook tot uitting in de B.C. begeleiding waarbij alleen de basnoot staat uitgeschreven en de klavecinist zijn eigen 'geïmproviseerde' begeleiding creëert, met versieringen en harmonische kleuringen. Een wijze van musiceren die veel oefening vergt en bijzonder vakkundig wordt uitgevoerd door Andrés Alberto Gómez die moeiteloos wisselt tussen begeleiding en solistische frasen. Bovendien opent de CD met een door Gómez geschreven 'Preludio': snelle arpeggio's die met positieve aandacht en prachtige rollende kleur de aandacht opeist. Een werkwijze die terugkeert in 'Preludio' (ook door Gómez) wat vooraf gaat aan 'Sonata in F major'. De sonate-vorm (later de symfonie) is over het algemeen een 4-delig werk waar langzame en snelle delen elkaar afwisselen. Händel varieert in het aantal delen per sonate van 3 tot 5 met in zijn 'Sonata in D minor' een uitbreiding tot zeven delen waardoor deze sonate iets meer weg heeft van een suite. Op 'The Complete Recorder Sonatas' laat Händel zich horen van zijn breekbare, zachte en majestueuze kant, schitterend vertolkt door Muriel Rochat Rienth en Andrés Alberto Gómez die met twee instrumenten het volledig scala bestrijken; klein en intens maar ook groot en breed als een orkest. Dit album wordt opgedragen aan Michel Piguet, de leermeester van Muriel Rochat. Een musicus die veel heeft bijgedragen aan de Barok-revival uit begin jaren '60 en met zijn Ensemble Ricercare (met o.a. Jordi Savall) grote successen boekte.
English version
In 1725/1726 composer Georg Friedrich Händel (1685-1759) wrote six recorder sonatas for members of the English Royal Family. This complete collection is now released on CD and performed by the Swiss recorder player Muriel Rochat Rienth and Spanish harpsichordist Andrés Alberto Gómez. A beautiful coherent collection!
Generally recorder sonatas are accompanied, (in the Baroque designated as B.C. (Basso Continuo)) on harpsichord (for the harmonies) and viola da gamba for the bass lines. On this record 'The Complete Recorder Sonatas' by G. F. Handel, Muriel Rochat Rienth and Andrés Alberto Gómez chose for the harpsichord to play the accompaniment. This choice makes the music transparent and lucid and gives the musicians more musical freedom, mainly in the improvisations. Themes and variations are written down in the score but varied and beautifully played by Muriel Rochat with ornaments, like the flattement; 'bending' of the tone, very popular in the French Rococo. The musical freedom is also expressed in the B.C. in which is only one bass note is written down and the harpsichordist has to create his own accompaniment, with decorations and harmonic colours. A way of making music that requires a special skill and a lot of practice. Andrés Alberto Gómez switches effortlessly between accompaniment and solo phrases. In addition, the CD opens with a composition written by Gómez 'Preludio': fast arpeggios, beautiful rolling coloured music. Like the 'Preludio' (also by Gómez) at the start of Sonata in F major. The sonata-form (later the symphony) is generally a four-part composition where slow and fast sections alternate. Handel varies in the number of parts per sonata from 3 to 5. His 'Sonata in D minor' expans into a seven part composition, so this sonata is more like a suite. On 'The Complete Recorder Sonatas' we hear Handel in a fragile, gentle and majestic way, wonderful played by Muriel Rochat Rienth and Andrés Alberto Gómez covering the full range with two instruments; fine and intense but also magnificent and as wide as a full orchestra. This album is dedicated to Michel Piguet, the teacher Muriel Rochat. A musician who has contributed much to the Baroque revival of the early 60s with his Ensemble Ricercare (with, among others Jordi Savall) and achieved great successes.
Muriel Rochat Rienth and Andrés Alberto Gómez: 'The Complete Recorder Sonatas' by G. F. Händel (Vanitas/New Arts International)
© Mattie Poels.