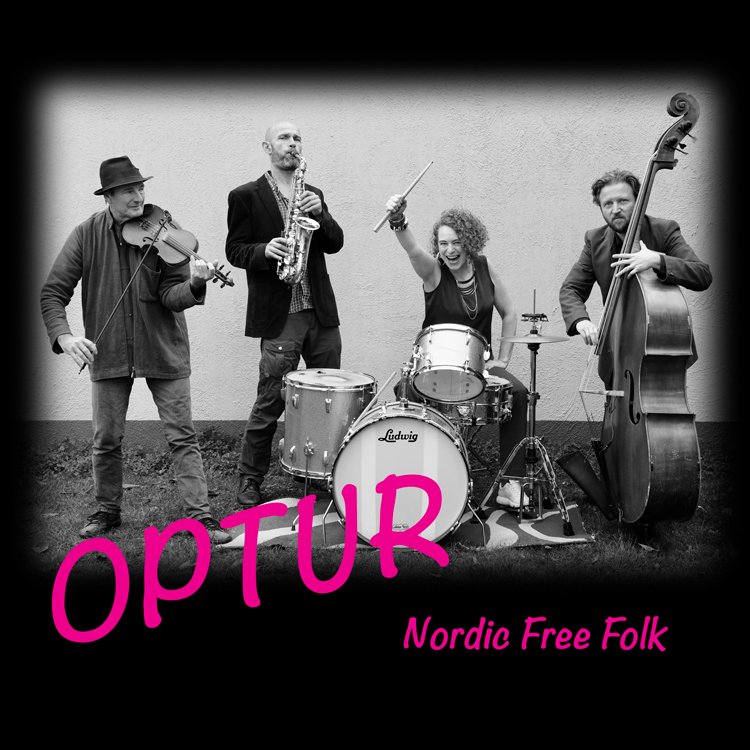 Nordic Free Folk is de debuut-CD van OPTUR. Een kwartet dat de folkmenigte op de dansvloer krijgt
English version below
Het kwartet OPTUR werd opgericht door de Deense violist Søren Korshøj (voorheen van de band Instinkt) en bestaat verder uit Mikael Fleron, Jens Kristian Andersen en Heidi Luke, respectievelijk op saxofoons, contrabas en drums. Het kwartet stelt zich als doel dansbare folkmuziek te spelen. Tegen een Scandinavische folk-achtergrond componeerde Søren Korshøj nieuw werk.
Bijzonder is de bezetting van OPTUR die ongebruikelijk is binnen de folk-signatuur. De combinatie viool en saxofoon(s) is ronduit uniek en biedt een nieuw klankbeeld. Beiden instrumenten spelen simultaan, tweestemmig en blinken uit in (tweestemmige) solo's, stevig ondersteund met doortastend bas- en slagwerk. De drums worden namelijk bespeeld op percussieve wijze waarbij het instrument wordt benaderd als één trommel. Hierdoor krijgt het drumritme een heel uniek en speels timbre en valt het op door zijn beweeglijkheid.
De opbouw van de arrangementen is identiek als die binnen de jazz-muziek (be-bop). Ook daar wordt eerst het thema gespeeld en wordt er daarna op geïmproviseerd, waarbij de medemuzikanten de solist ferm en met repliek ondersteunen. Daarnaast heeft OPTUR geen akkoordinstrument, wat de muziek transparant maakt. De thema's en melodieën hebben een duidelijke Scandinavische flair en lijken soms wel traditionals, of kunnen het zomaar worden. Zo af en toe schemert er wat humor door in de muziek. Gelukkig weet OPTUR dit te begrenzen, want humor en muziek is gevaarlijk spel.
English version
Nordic Free Folk is OPTUR's debut CD. A quartet that gets the folk crowd on the dance floor
The quartet OPTUR was founded by the Danish violinist Søren Korshøj (formerly of the band Instinkt) and also consists of Mikael Fleron, Jens Kristian Andersen and Heidi Luke, on saxophones, double bass and drums respectively. The quartet aims to play danceable folk music. Søren Korshøj has composed new work against a Scandinavian folk background.
Special is the line-up of OPTUR, which is unusual within the folk signature. The combination of violin and saxophone(s) is truly unique and offers a new sound image. Both instruments play simultaneously, in two voices and excel in (two-part) solos, firmly supported by bass and vigorous percussion. The drums are played in a percussive way where the instrument is approached as óne drum. This gives the drum rhythm a very unique and playful timbre and it stands out for its agility.
The structure of the arrangements is identical to that in jazz music (be-bop). Here, too, the theme is played first and then enter the improvisations, while the fellow musicians support the soloist firmly and with a reply. In addition, OPTUR has no chord instrument, which makes the music transparent. The themes and melodies have a clear Scandinavian flair and sometimes seem like traditionals, or can just become so. Every now and there's some humor in the music. Fortunately, OPTUR knows how to limit this, because humor and music is a dangerous game.
*OPTUR: Nordic Free Folk (GO' Danish Folk Music / Xango)
© Mattie Poels.