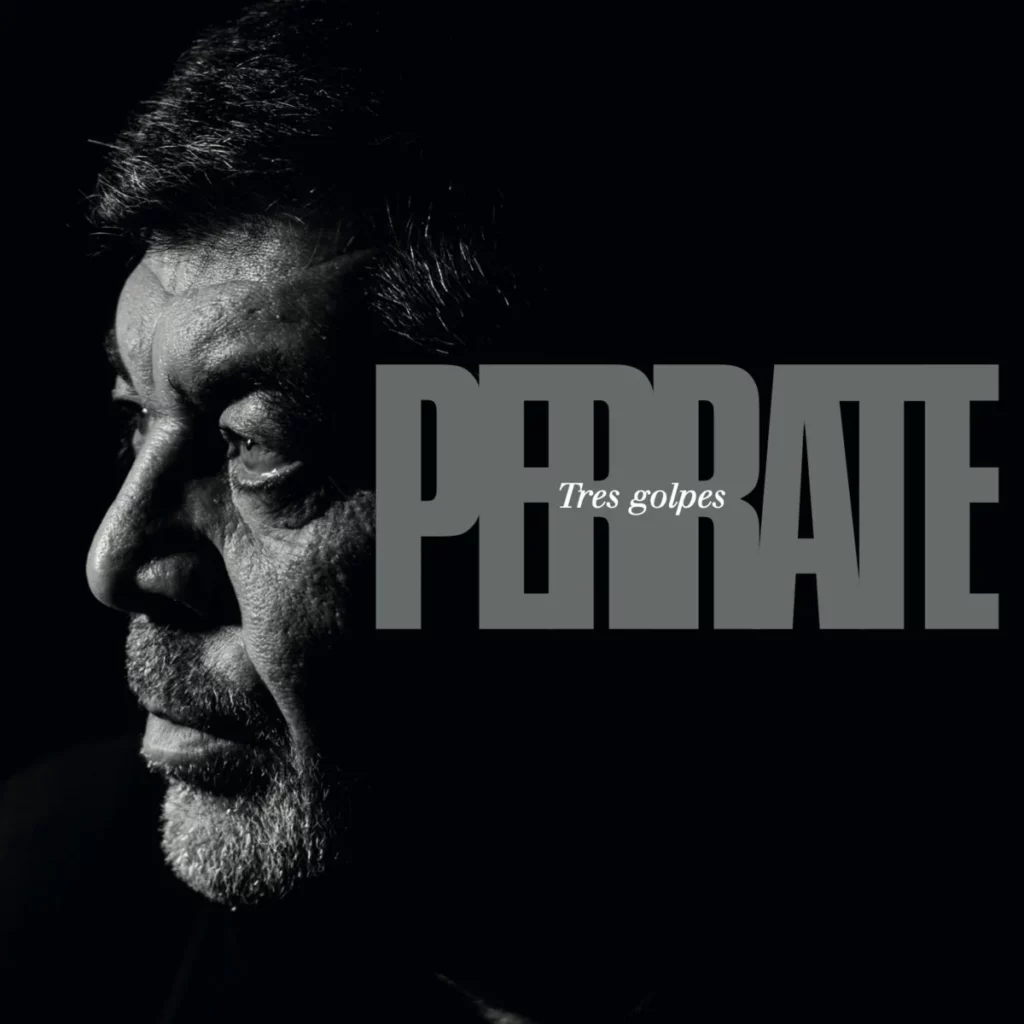 Na elf jaar is er weer een nieuw album van flamenco-zanger Perrate…en dat was het wachten waard!
English version below
Perrate (Tomás Fernández Soto) uit Utrera (nabij Sevilla) is een zanger uit de Andalusische flamenco-traditie. Hij hield zich bezig met de canto jondo, het diepe lied. Een ernstige en zeer expressieve flamenco-stijl met aangrijpende teksten. Naast de canto jondo bestaan er ook de canto intermedio en het lichtere canto chico. De kern van de canto jondo is duidelijk hoorbaar in de zang Perrate, die ontroert en doorspekt is met emotie. Dat begint meteen met het openingsstuk Boa Doña, chacona de negros y gitanos dat start met een synthesizer-drone en groeps-zang gevolgd door de vocalen van Perrata. Zijn stem klinkt doorleefd, krachtig en een beetje rauw, maar vooral zo oprecht en eerlijk. Een stem waar je gedurende dit gevarieerde album Tres Golpes van gaat houden! Geproduceerd werd de CD door Raül Refree. Een breed georiënteerd musicus die veel eigen albums uitbracht, muziek componeerde voor Spaanse TV-series, werkte met Argentijnse en Mexicaanse musici en in 2008 de show OJO con la Mala produceerde, samen met het Original Jazz Orchestra del Taller de Músics.
Op Tres Golpes horen we een mix van muziek uit de doorwrochte flamenco-traditie met fraaie hedendaagse invloeden. Veel gebruik van palmas (handgeklap), groepszang, flamenco-gitaarspel, contrabas en synthesizers en orgel, die als een soort ambiance in enkele arrangementen zijn verwerkt. Zijn stem beweegt zich over een bijna vrije metriek, waardoor hij af en toe over de melodie heen lijkt te zweven. Prachtig onbelemmerd, als in een rubato-setting. Perrate is een echte verhalenverteller die de tijd neemt om zijn relaas te doen. En ook al ben je het Spaans wellicht niet machtig, deze diepgaande liederen komen toch wel over door de indringende uitvoeringen en schitterende begeleidingen. De arrangementen zijn sober van aard, weliswaar veel percussie en gitaarwerk, maar steeds in bescheiden variaties, waardoor het vocale werk van Perrate voorop blijft staan. Deze zanger zíngt geen flamenco, hij ís flamenco, in hart en ziel. Dat zie je, proef je en hoor je!
*Luister hier naar TRES GOLPES – via BANDCAMP
English version
After eleven years there is a new album by flamenco singer Perrate…and it was worth the wait!
Perrate (Tomás Fernández Soto) from Utrera (near Seville) is a singer from the Andalusian flamenco tradition. He was engaged in the canto jondo, the deep song. A serious and very expressive flamenco style with poignant lyrics. In addition to the canto jondo, there are also the canto intermedio and the lighter canto chico. The core of the canto jondo is clearly audible in the singing of Perrate, which is moving and peppered with emotion. It starts right away with the opening piece Boa Doña, chacona de negros y gitanos with a synthesizer drone and group vocals followed by Perrata's voice. He sounds lived, powerful and a bit raw, but above all so sincere and honest. A voice that you will love throughout this varied album Tres Golpes! The CD was produced by Raül Refree. A broadly oriented musician who released many albums of his own, composed music for Spanish TV series, worked with Argentinian and Mexican musicians and in 2008 released the show OJO con la Mala, together with the Original Jazz Orchestra del Taller de Músics.
On Tres Golpes we hear a mix of music from the well-crafted flamenco tradition with fine contemporary influences. Extensive use of palmas (handclaps), group vocals, flamenco guitar playing, double bass and synthesizers and organ, which have been incorporated into some arrangements, as a kind of ambiance. His voice moves over an almost free metric, making it seem to hover over the melody at times. Beautifully unobstructed, as if in a rubato setting. Perrate is a true storyteller who takes the time to tell his tale. And even though you may not be fluent in Spanish, these profound songs will come across through the penetrating performances and beautiful accompaniments.The arrangements are sober and natural. Although there is a lot of percussion and guitar work here, these are always put in modest variations, so that Perrata's vocal remains paramount. This singer does not síng flamenco, he ís flamenco, in heart and soul. You can see, taste and hear it!
*Listen here to the entire album TRES GOLPES – via BANDCAMP
*Perrate: Tres Golpes (Lovemonk Discos Buenos / Xango)
© Mattie Poels.