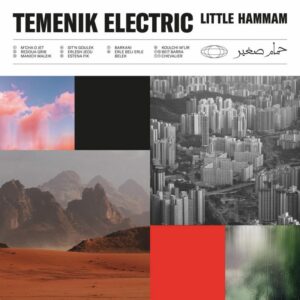 Little Hammam is het derde album van Mehdi Haddjeri met zijn groep Temenik Electric.
English version below
English version
Little Hammam is the third album by Mehdi Haddjeri with his group Temenik Electric.
Mehdi Haddjeri, who lives in Marseille (South of France), is a singer and guitarist who recorded the energetic album Little Hammam with his music mate the (double) bassist player Jérôme Bernaudon. In addition to being a musician, Haddjeri is also director of the Nomad Cafe at Marseille, where he organized concerts for adults as well as for children. He is assisted on Little Hammam by solo guitarist, Arab lute (ûd) and dobro player Christopher Isselée (great solo in Estena Fik), drummer Florent Sallen and programmer Frédéric Alvernhe. A CD where pop and rock are mixed with electronics, against an Arab / Maghreb background. This is done by the melody (sung in Arabic and French) and Arabic scales as well as by the used instruments such as the bendir, ûd and the zurna. Striking are the melodic melodies that are carefully poured into inventive arrangements. Truly delightful are the opening sounds of the Arabic lute of M'Cha o Jet, where strings are added after the first verse, supported by wonderful, languid drumming. The same maghreb feel can be found in the 2nd song Redou Grib where you can feel the Sahara sand grinding between your teeth. Yes, and then the darabouka (vase drum) intro of the 3rd song Manich Maleik supplemented with Arabic lute and tight drums again. The voice of singer Khera Haddjeri is special, occasionally as kind of ghost vocals as in Erle Beli Erle Belek, Sit'n Goulek and reciting in Chevalier. This album is full of uplifting, steaming pieces that will easily take you to the warm and sultry south where the sun is sizzling and sweltering, even though autumn has already started in Northern Europe.
Temenik Electric: Little Hammam (Nomad Cafe Prod/Xango).
© Mattie Poels.