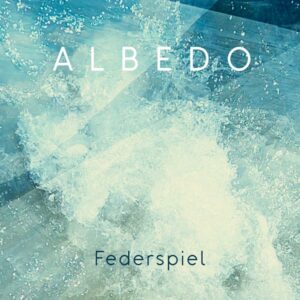 Spits je oren voor Federspiel. Een Oostenrijks blaasensemble dat het muzikaal cultureel erfgoed op sublieme wijze transformeert naar een hedendaags blaasspektakel van ongekende schoonheid.
English version below
Federspiel is een Weens blaasseptet dat met Albedo hun 9de album uitbrengt. Het albedo is de weerspiegeling, de weerkaatsing van licht op materialen die wordt uitgedrukt in procenten. Zo is de lichtweerspiegeling op ijs zo'n 90% en op aarde 25%. Federspiel gebruikt het als metafoor voor hun muziek die zich karakteriseert in donkere en lichte momenten. De composities zijn zowel luchtig, met eenvoudige harmonieën die tegen de volksmuziek aanleunen (>0.90 en Anthem), als doortastender werk, met ingewikkelde akkoorden en metrum zoals in Kronos, dat in zijn bewerking zelfs orkestrale vormen aanneemt. De stukken zijn zo gearrangeerd dat de zeven blazers elkaar afwisselen en aanvullen wat voor een uitgekiende eenheid zorgt. Dat maakt de muziek speels en gevarieerd. Duidelijk hoorbaar is de vakkundigheid, de souplesse en het spelplezier. Hier zijn vakmensen aan het werk, dat is evident. Federspiel klinkt als een harmonische eenheid, die je alleen kunt bereiken met voortreffelijke musici. Alle stukken zijn originele werken en werden door heren zelf gecomponeerd en prachtig gearrangeerd, zoals het swingende Flow, met een fraaie afwisseling in instrumentatie. En verdomd, ze kunnen nog zingen ook. En hoe!, zoals in Calor, Schützentänze en in de verbluffend mooie Freedom Waltz. Een aan de volksmuziek gerelateerd thema waar de blazers zich ontpoppen tot sacrale zangers, ondersteund door klarinet en tuba. Buiten is het zomers-warm, maar dit is kippenvel. Ga dat horen!
English version
Listen carefully to Federspiel. An Austrian wind ensemble that transforms their musical cultural heritage in a sublime way into a contemporary brass music with unparalleled beauty.
Federspiel is a wind septet, based in Vienna, that releases Albedo, their 9th album. The albedo is the reflection of light on materials, which is expressed as a percentage. For example, the light reflection on ice is about 90% and on soil 25%. Federspiel uses this as a metaphor for their music, which is characterized by dark and light moments. The compositions are both light-hearted, with often used harmonies, that lean towards folk music (like >0.90 and Anthem) and more vigorous work, with complex chords and rhythms as in Kronos, which even takes on orchestral forms in the arrangement. The pieces are arranged in such a way that the seven wind players alternate and complement each other, ensuring a sophisticated unity. That makes the music playful and varied. Clearly audible is the skill, the flexibility and the enjoyment of these wonderful musicians. Professionals are here at work, that's obvious. Federspiel sounds like a harmonic unity that you can only achieve with excellent musicians. All the pieces are originals and were composed and beautifully arranged by the musicians, such as the swinging Flow, with a nice variety in instrumentation. And listen, they can sing as well. Great!, as in Calor, Schützentänze and in the stunningly beautiful Freedom Waltz. A theme related to folk music where the wind players develop into sacred singers, supported by clarinet and tuba. Outside it's summer-warm, but this music gives you goosebumps. Amazing band!
Federspiel: Albedo (O-Tone Music)
Photo's © Maria Frodl
© Mattie Poels.