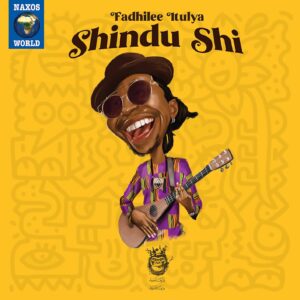 De Keniaanse muzikant, gitarist en zanger Fadhilee Itulya is een promotor van de muziek uit zijn land. Op zijn nieuwe album Shindu Shi horen we hem in de voetsporen van Omutibo-pionier George Mubaki.
English version below
In de jaren 1950/'60 was Omutibo een zeer populaire muziekstijl in West-Kenia. Een fingerpicking (tokkel) gitaarstijl die veel bekendheid kreeg door George Mukabi. Hij was de eerste artiest die opnames maakte in Kenia. Helaas maar zo'n 30, want deze pionier stierf tijdens een familievete in 1963, slechts 33 jaar oud. Zanger/gitarist Fadhilee Itulya treedt nu in de voetsporen van Mukabi. Op zijn nieuwe album Shindu Shi is hij geïnspireerd door de Omutibo en mengt deze met folk, pop en dansmuziek. Iets soortgelijks vinden we ook terug in de muziek van Thomas Mapfuma uit Zimbabwe, die de mbira-klanken (duimpiano) transformeert naar gitaar en er opzwepende muziek mee creëert.
Fadhilee Itulya schreef alle stukken op zijn album Shindu Shi, met teksten in het Swahili en Engels die handelen over geloof, liefde, sociale werkomstandigheden, kinderen en een ode aan George Mukabi in het prachtig lied Pombe. Itulya heeft een mooie heldere stem die soepel door de melodie beweegt en af en toe meerstemmig wordt ondersteund. Zelf speelt hij gitaar en keyboards en wordt bijgestaan op (bas)gitaar, elektrische gitaar, drums, percussie. Aangrijpend mooi is Aoko. Een lied dat handelt over gedwongen werk van de man, ver van thuis, ver van vrouw en kinderen. In dit lied raakt Fadhilee Itulya de kern van de muziek waarmee hij moeiteloos de luisteraar aan zich bindt. Eenvoudig en puur met prachtige meerstemmige zang die fraai om elkaar krult. Ook het tokkelende Marashi Ya Pempa, of het stuwende Watoto Wa Kenya met orgel en jazz-invloeden zijn bijzonder. Prachtig is ook Jamriambo over eerlijk- en oprechtheid. Naast zijn muziekcarrière is Itulya de host van Fadhilee' Garage in Nairobi. Een maandelijkse sessie waar muzikanten elkaar treffen, live spelen, ideeën uitwisselen en zo de Keniaanse muziek levend houden en ontwikkelen. Een sympathiek en laagdrempelig initiatief waarin Itulya zich manifesteert tot de hedendaagse ambassadeur van de Keniaanse muziek.
English version
Kenyan musician, guitarist and singer Fadhilee Itulya is a promoter of the music from his country. On his new album Shindu Shi he's inspired bij the George Mubaki, the great Omutibo pioneer.
In the 1950's/60's Omutibo was a very popular style of music in Western Kenya. A fingerpicking (plucked) guitar style that became popular by George Mukabi. He was the first recording artist in Kenya. Sadly, he recorded only about 30 songs. This pioneer died during a family feud in 1963, age 33. Singer/guitarist Fadhilee Itulya is now following in Mukabi's footsteps. On his new album Shindu Shi he is inspired by the Omutibo and mixes it with folk, pop and dance music. We also find something similar in the music of Thomas Mapfuma from Zimbabwe, who transforms the mbira sounds (thumb piano) into his guitar playing and creates exciting music with it.
Fadhilee Itulya wrote all the pieces on his album Shindu Shi, with lyrics in Swahili and English. He sings about faith, love, social working conditions, children and an ode to George Mukabi in the beautiful song Pombe. Itulya has a beautiful clear voice that moves smoothly through the melody and is occasionally supported with vocal harmonies. He plays the guitar and keyboards and is assisted on (bass) guitar, electric guitar, drums and percussion. The song Aoko is grippingly beautiful. A song about the forced work of a man, far from home, far from his wife and children. In this song Fadhilee Itulya touches the core of the music, effortlessly binding the listener. Simple and pure music with beautiful polyphonic vocals that beautifully curl around each other. Also the plucking Marashi Ya Pempa, or the driving Watoto Wa Kenya with organ and jazz influences are wonderful. Jamriambo is also splendid. A song about honesty and sincerity. In addition to his music career, Itulya is the hosts of Fadhilee' Garage in Nairobi. A monthly session where musicians meet, play live, exchange ideas, keeping the Kenyan music alive and developed. A sympathetic and accessible initiative in which Itulya manifests himself as the contemporary ambassador of Kenyan music.
Fadhilee Itulya: Shindu Shi (ARC Music / Naxos World)
© Mattie Poels.