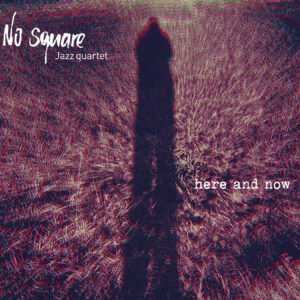 Het Zwitsers/Frans/Duitse jazz-kwartet No Square levert met hun nieuwe CD Here and Now een strak album af. Levendige en energieke jazz in piano, saxofoon, bas en drums bezetting.
English version below
No Square werd in 1994 opgericht door bassist André Hahne. Het kwartet heeft sindsdien bepaald niet stilgezeten, nam 11 albums op, maakte tournees over de hele wereld en ontwikkelde zich tot een voortreffelijke band die nieuw gecomponeerde jazz speelt. Hahne schreef de meeste stukken die excelleren in schitterende melodische thematiek. Daarnaast zijn twee stukken van saxofonist Matthieu Durmarque en componeerde pianist Michal Haudenschild een compositie. In de muziek zijn raakvlakken te herkennen met het werk van Keith Jarrett en de Israëlische contrabassist Avishai Cohen met pianist Shai Maestro. Het album Here and now is een terugblik op een corona-jaar. Een bewogen jaar waarin reflectie, rust, hoop en ontzetting een grote rol speelde maar ook een jaar waarin No Square componeerde, arrangeerde en opnames maakte. Het kwartet klinkt als een eenheid waarin de muzikanten elkaar mooi aanvullen en als een puzzel de muziek inkleuren. Prachtig hoe zelfverzekerd en compact de arrangementen klinken, waar de instrumenten equivalenten van elkaar zijn. Piano, sax, bas en drums zijn gelijkwaardig. Heel anders dan bijvoorbeeld in de be-bop waar het ene instrument het andere begeleidt. Deze werkwijze geeft de muziek enorme kracht en energie en maakt bovendien de muziek een stuk avontuurlijker. Er klinken unisono thema's, onregelmatige maatsoorten, maatwisselingen, gedempte piano…etc. Alle leden van dit prachtige kwartet hoor je in solo's die zich organisch ontwikkelen: starten vanuit een kort motief en verder transformeren tot een bruisend geheel. No Square betekent letterlijk Geen Vierkant. Inderdaad, geen vierkante muziek, No Square klinkt zo rond zoals je je dat graag voorstelt bij jazz- en geïmproviseerde muziek.
English version
The Swiss/French/German jazz quartet No Square recorded the tight new album Here and Now. Lively and energetic jazz played on piano, saxophone, bass and drums.
In 1994 No Square was founded by bassist André Hahne. Since then, the quartet has certainly been active: recording eleven albums, touring all over the world and developing into an outstanding newly composed jazz quartet. Hahne wrote most of the pieces that excel in brilliant melodic themes. In addition, two pieces by saxophonist Matthieu Durmarque and pianist Michal Haudenschild wrote one composition. In the music, interfaces can be recognized with the work of Keith Jarrett and the Israeli double bassist Avishai Cohen with pianist Shai Maestro. The album Here and now is a retrospect on a corona year. An eventful year in which reflection, peace and hope played a major role. But it was also a year in which the quartet composed, arranged new music and made recordings. This band sounds like a unity in which the musicians complement each other and excellent color the music like a puzzle. It's wonderful how confident and compact the arrangements sound, where the instruments are equivalents. Piano, sax, bass and drums are equally important. Very different from, for example, be-bop where instruments accompanies the other. This method gives the music enormous power and energy and it makes the music much more adventurous. There are unison themes, irregular time signatures, time changes, muted piano….etcetera. All members of this beautiful quartet develop their solo's organically, from a short motif and further transform into a vibrant music. No Square sounds like a circle, beautifully balanced music as round as you can imagine in jazz and improvised music.
No Square: Here and Now (Altrisuoni / pbr-record.com)
© Mattie Poels.