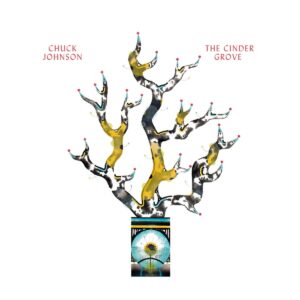 Chuck Johnson tilt met gemak de pedal-steelguitar-signatuur uit zijn Country- en Americana-metier en plaatst het instrument moeiteloos in de ambient-/ minimal music-hoek, waar het schittert in een blinkend muzikaal prisma.
English version below
Pedal steel gitaarspeler Chuck Johnson werkte mee aan meer dan 50 CD's en componeerde veel muziek voor film en TV. Hij woont in Oakland, een stad in Californië in de V.S. Op zijn nieuwste album The Cinder Grove staat de steelgitaar centraal en wordt aangevuld met synthesizer, orgel en elektronica. De muziek straalt een warme kristalblauwe ambiance uit van legato-tonen die het universum vullen met zeer subtiele kleuren van pasteltinten die bestaan uit lange klanken en trage melodieën. Dat doet hij overwegend met de pedalsteel gitaar. Bijzonder daarbij is zijn speelwijze. Hij speelt/tokkelt een noot of akkoord en zet daarna (d.m.v. een volumepedaal) langzaam het volume aan. Daardoor verdwijnt de attack van de toon en glijden de klanken heel langzaam en subtiel in elkaar over en worden ze omarmd door synthesizerklanken. Er ontstaat een warme volle cohesie die als een bries door de lucht zweeft. Maar er is meer. Zoals in track 4: Red Branch Bell waar Chuck Johnson wordt hij bijgestaan door een groep strijkers; de violisten Hilary Lewis en Marielle V. Jakobsons, celliste Crystal Pascucci en toetseniste Sarah Davachi. Maar ook deze toevoeging is breekbaar en licht van kleur. De strijkers spelen veelal legato dat een mooi contrast vormt met de pedal-steel-getokkelde-tonen. De muziek op The Cinder Grove heeft een langzaam verloop. De composities glijden, strelen en stralen een vitaliteit uit die weliswaar traag is maar toch vol van energie en levenskracht zit. Een schijnbare tegenstelling waar de muziek zijn kracht uit put en het album meer dan de moeite waard maakt.
English version
Chuck Johnson lifts the wonderful pedal steel guitar out of the Country and Americana métier. He puts the instrument effortlessly in the ambient / minimal music corner, where it shines in a fine musical prism.
Pedal steel guitar player Chuck Johnson has contributed to over 50 CDs and has written a lot of music for film and TV. He lives in Oakland, California. On his latest album The Cinder Grove the steel guitar is the central instrument, the heart of the music. It is supplemented by the use of synthesizer, organ and electronics. The music shines in a warm crystal blue ambience of legato tones filling the universe with very subtle colors of pastel tones consisting of long chords and slow melodies. He mainly uses the pedal steel guitar and his way of playing is very special. He plays / strums a note or chord and then turns up the volume, slowly by using a volume pedal. As a result, the attack of the tone/chord disappears and the tones subtly slide into each other and are embraced by the synthesizer sounds. A warm full ambiance is created that floats through the air like a fine breeze. But there's more. Like in track 4: Red Branch Bell where Chuck Johnson is accompanied by a group of strings; violinists Hilary Lewis and Marielle V. Jakobsons, cellist Crystal Pascucci and keyboardist Sarah Davachi. But this addition is also fragile and light in color. The strings play long legato tones over which the pedal-steel plucked tones can be heard. A lovely contrast. The music on The Cinder Grove has a slow progression. The compositions slide, are delightful and breathe a life spirit that might be slow, but is also full of energy. An apparent contradiction from which the music draws its strength and makes the album more than worthwhile.
Chuck Johnson: The Cinder Grove (tak:til Glitterbeat Records / Xango)
© Mattie Poels.