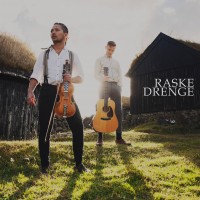 In 2017 ontmoetten gitarist Ragnar Finsson uit de Faeröer Eilanden en de Vlaamse violist Oscar Beerten elkaar. Beiden studeerden ze traditionele muziek aan het Conservatorium in Malmö (Zweden). Nu, drie jaar later, is hun inspirerend groovy debuut folk-album een feit.
English version below
De muzikale chemie spat er vanaf. Twee doorgewinterde musici zijn echt aan elkaar gewaagd. Ragnar Finsson speelt gitaar, zingt en wordt bijgestaan door Oscar Beerten die de Noorse hardangerviool (hardingfele) bespeelt. Een viool met vier extra resonantiesnaren die meeklinken en de viool een breder en typisch Noors timbre bezorgt. Samen zijn ze Raske Drenge. Ze spelen optimistische (new) folk met invloeden uit de Faröer Eilanden, Noorwegen, Ierland, Frankrijk, Galicië (Noord Spanje) en Amerika. Heldere composities met een duidelijke folkstructuur van thema en variatie/improvisatie. De stukken zijn met zorg en smaak gearrangeerd. Knap hoe ze, door hun ferme en doortastende manier van spelen, met z'n 2-en een gedetailleerd en volwaardig bandgeluid creëren. Soms subtiel dan weer pittig door het staccato-spel van gitaar en viool. In enkele stukken worden ze bijgestaan door gastmusici op keyboard, achtergrondzang en didgeridoo. De instrumentale composities worden afgewisseld met schitterende vocale stukken. Deze worden gezongen door Finsson in het Deens en Faeröers, zoals het lied Gindavísan (uit begin 19de eeuw over de walvisvaart). Het lied Her met een weergaloos mooie melodie naast de twee traditionele melodieën uit de Faröer Eilanden Skrímsli∂ en Sigmundskvae∂i. Raske Drenge betekent snelle jongens. Dat zijn ze: snel op hun snaren die met enthousiasme en vakkundigheid worden bespeeld.
English version
In 2017, while studying traditional music at the Conservatory in Malmö (Sweden), guitarist Ragnar Finsson from the Faroe Islands and the Flemish violinist Oscar Beerten met each other. Now, three years later, their inspiring groovy début folk album was released.
The musical chemistry is overwhelming. Two great musicians who really well match. Ragnar Finsson plays guitar / sings and is assisted by Oscar Beerten who plays the Norwegian hardanger violin (hardingfele). A violin with four extra resonance strings that sound along and provides a wider and typically Norwegian timbre. Together they are Raske Drenge. They play optimistic (new) folk with influences from the Faroe Islands, Norway, Ireland, France, Galicia (Northern Spain) and America. Clear compositions with a clear folk structure of theme and variation / improvisation. The pieces are arranged very tasteful. It is amazing how they create a detailed and full band sound with almost only two musicians. Sometimes subtle, then spicy due to the staccato playing of guitar and violin. In some pieces they are assisted by guest musicians on keyboard, backing vocals and didgeridoo. The instrumental parts are interspersed with beautiful vocal songs. These are sung by Finsson in Danish and Faroese. Such as Gindavísan (an early 19th century song about whaling). The song Her with an unparalleled beautiful melody next to the two traditional melodies from the Faroe Islands Skrímsli∂ and Sigmundskvae∂i. Raske Drenge means fast boys. That's what they are: fast on their strings, played with enthusiasm and skill.
© Mattie Poels.