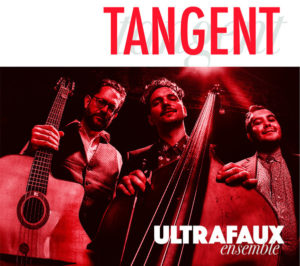 Tangent is alweer het vierde album van het Manouche, Gypsy-jazz, of Hot Club de France trio Ultrafaux Ensemble van gitarist Michael Joseph Harris. Dit is het eerste album waar Harris zijn trio heeft uitgebreid met een aantal fantastische gastmusici, met een geweldig resultaat!
English version below
Naast de drie leden van het Ultrafaux Ensemble; gitarist en leider Michael Joseph Harris, gitarist Sami Arefin en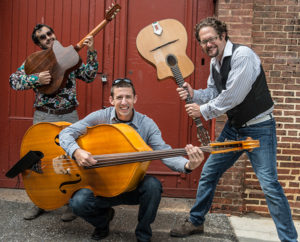 bassist Zach Serleth wordt de groep uitgebreid met een aantal gastmusici: de violisten Jason Anick en Patrick McAvinue, klarinettisten Giacomo Smith en Connor Stewart, bassist Geoff Saunders en accordeonist Dallas Vietty. Dat geeft de groep een boost en verbreedt het muzikale spectrum aanzienlijk. Naast Gypsy-jazz horen we jazz, funk (in; Dame Ivre), tango (in; Tangent en Alcatraz), Balkan en de Franse musette (in; Je ne sais pas) die met zijn snelle drie-tels-maat heerlijk opzwepend is. Geen enkele compositie heeft één duidelijke stijl. De combinatie en het snel wisselen tussen diverse stijlen geeft de muziek een bijzonder charme.
De Hot Club de France stijl werd begin 20ste eeuw ontwikkeld door de Belgische gitarist Django Reinhardt (1910-1953). In Parijs startte hij 1934, samen met violist Stéphane Grappelli, zijn Quintette du Hot Club de France. Ritmisch sterke muziek met grote nadruk op de afterbeat en virtuositeit van zowel viool als gitaar. Zeer opmerkelijk voor Django Reinhardt, die zijn pink en de ringvinger van zijn linkerhand verloor tijdens een brand in zijn woonwagen. Na twee jaar revalidatie ontwikkelde hij zijn heel eigen Reinhardt-gitaarstijl.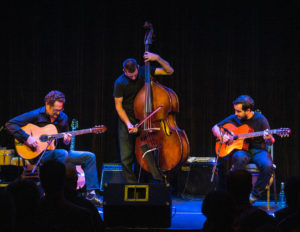 Deze door het Quintette du Hot Club de France ontwikkelde Gypsy-jazz wordt door Michael Joseph Harris met Ultrafaux Ensemble verder uitgediept en doorontwikkeld. Fraaie thema's met heerlijke chromatiek en gebruik van de hele-toonstoonladder die de muziek vederlicht maakt. Geoliede solo's op gitaar, klarinet en viool zorgen voor transparante muziek. Virtuoos, melodieus en spontaan energieke muziek met een voortreffelijk gebruik van de accordeon in Dame Ivre en het filmische Alcatraz.
English version
Tangent is the fourth album by the Manouche, Gypsy-jazz, or Hot Club de France trio Ultrafaux Ensemble by guitarist Michael Joseph Harris. This is the first album where Harris has expanded his trio with some fantastic guest musicians, with a splendid result!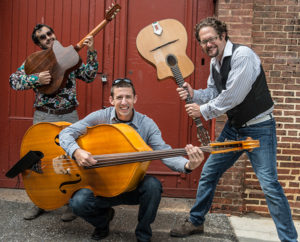 Besides the three members of Ultrafaux Ensemble; guitarist and leader Michael Joseph Harris, guitarist Sami Arefin and bassist Zach Serleth, the group is expanded with a number of guest musicians: violinists Jason Anick and Patrick McAvinue, clarinettists Giacomo Smith and Connor Stewart, bassist Geoff Saunders and accordionist Dallas Vietty. These musicians gives the group a boost and the musical spectrum is considerably broadened. In addition to Gypsy jazz, jazz, funk (in; Dame Ivre), tango (in; Tangent and Alcatraz), Balkan and the French musette (in; Je ne sais pas), which is wonderfully uplifting with its fast three-beat beat, are included. No composition has one clear style. The combination and the rapid change of styles gives the music a special charm.
In the early 20th century the Hot Club de France style was developed by the Belgian guitarist Django Reinhardt (1910-1953). In 1934 he started his Quintette du Hot Club de France together with violinist Stéphane Grappelli in Paris. Rhythmically strong music with great emphasis on the afterbeat and virtuosity of both violin and guitar. Very remarkable for Django Reinhardt who lost his little finger and the ring finger of his left hand during a fire in his caravan. After two years of rehabilitation, he developed his own Reinhardt guitar style.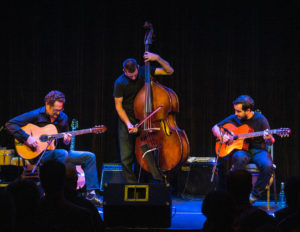 This Gypsy jazz, developed by the Quintette du Hot Club de France, is further explored and developed by Michael Joseph Harris with Ultrafaux Ensemble. Beautiful themes with wonderful chromaticism and use of the whole-tone scale that makes the music light as a feather. Solid solos on guitar, clarinet and violin provide transparent music. Virtuoso, melodic and spontaneously energetic music with an excellent use of the accordion in Dame Ivre and the cinematic Alcatraz.
Ultrafaux Ensemble: Tangent (Eigen Beheer / Xango)
© Mattie Poels.