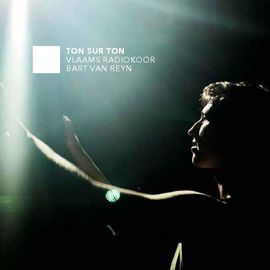 Prachtig is de nieuwe CD van het Vlaams Radiokoor van onze zuiderburen. Een album vol ingetogen schoonheid. Tegen een spirituele achtergrond horen we op Ton sur Ton werken van negen componisten. A capella koormuziek gecomponeerd door onder andere Morten Lauridsen, Francis Poulenc, Arvo Pärt en Samuel Barber.
English version below
Een koor laten klinken als een eenheid, is zo ongeveer de belangrijkste taak van een koordirigent. Sopranen, alten, tenoren en bassen moeten samen klinken als één kleur, als één gemêleerd gezelschap. Sinds 2019 is Bart van Reyn de chef-dirigent van het Vlaams Radiokoor. Als een charismatisch leider houdt hij zich bezig met breed koorrepertoire dat zich uitstrekt van Barok, oratoria, opera en orkestliederen. Op de nieuwe CD Ton sur Ton heeft hij gekozen voor a capella koorrepertoire uit de 20ste eeuw. Het album opent met het schitterende eerste deel uit de Messe pour double choeur van de componist Frank Martin. De lange melodie-lijnen en de crescendi zijn van een spirituele schoonheid en worden overtuigend gebracht door het Vlaams Radiokoor. Het heeft een hele tijd geduurd voordat de Zwitserse componist het stuk wilde laten uitvoeren. Hij zag het werk als een spirituele relatie tussen hem en God. Aanzwellende dynamiek treffen we aan in het Magnificat van de Estlandse componist Arvo Pärt. Ook hier kleurt het Vlaams Radiokoor voortreffelijk in harmonie. Wat overigens ook geldt voor het O Magnum Mysterium van de Amerikaanse Morten Lauridsen en het op tekst gezette stuk Agnus Dei van Samuel Barber, dat Barber componeerde als het instrumentale Adagio for strings. De meest opvallende compositie is Wie liegt die Stadt so wüst (met unisono gezongen stukken). Een ode aan Dresden van componist Rudolf Mauersberger. De stad die aan het begin van de IIde Wereld Oorlog werd verwoest. We gaan nog verder terug in de tijd met Hampstead Heath van Maarten Van Ingelhem, dat werd gecomponeerd ter herdenking van de Iste W.O. Pakkende akkoorden, dissonanten en chromatiek worden subtiel en met een warm timbre gezongen. Na Never pain to tell thy love van Kurt Bikkemberg en Take Him, Earth for Cherishing (ode aan president John F. Kennedy) van Herbert Howells sluit het  album af met vier korte werken van Francis Poulenc. Een van de zes componisten uit de Groupe des Six. Als in de jaren '30 Poulenc's vriend Pierre-Octave Ferroud na een dodelijk auto ongeluk overlijdt, keert het Rooms Katholieke geloof terug in het leven van Poulenc en gaat hij religieuze werken schrijven waaronder het Gloria, het Stabat Mater en zijn weergaloze opera Dialogue des Carmelites. Het afsluitende werk op het album Ton sur Ton, de 4-delige liederen-cyclus Un Soir de Neige, sluit heel goed aan bij dit religieuze repertoire. Weliswaar handelen de teksten over winter, kou en eenzaamheid, toch is het de bezinning en inkeer die in deze muziek zo mooi wordt weerspiegeld.
English version
Beautiful is the new CD of the Vlaams Radiokoor (Flemish Radio Choir) in Belgium. On the new CD Ton sur Ton are compositions written by nine composers on a spiritual background. A cappella choral music composed by, among others, Morten Lauridsen, Francis Poulenc, Arvo Pärt and Samuel Barber.
One of the main task of a choir conductor is to make a choir sound like one colour. Sopranos, alts, tenors and basses must sound together as one unity, as one mixed group. Bart van Reyn is the chief conductor of the Vlaams Radiokoor since 2019. As a charismatic leader who engages in a broad choral repertoire spanning Baroque, oratorios, opera and orchestral songs. On the new CD Ton sur Ton he has chosen for a cappella choir repertoire from the 20th century. The album opens with the beautiful first movement from the Messe pour double choeur by the composer Frank Martin. The long melody lines and the crescendi are of a spiritual beauty and performed with conviction by the Vlaams Radiokoor. For more than 20 years the Swiss composer didn't want to perform this piece because he thought this work was a spiritual relationship just between him and God. We see climbing dynamics in the Magnificat by the Estonian composer Arvo Pärt. Also here, the Vlaams Radiokoor colours beautifully in harmony. This also applies to the O Magnum Mysterium of the American Morten Lauridsen and the text Agnus Dei by Samuel Barber. A piece which Barber composed as the instrumental Adagio for strings. The most striking composition is Wie liegt die Stadt so wüst (pieces sung in unison). An ode to Dresden by composer Rudolf Mauersberger. The city which was destroyed at the beginning of the Second World War. We go even further back in time with Hampstead Heath by Maarten Van Ingelhem that was composed in commemoration of the Iste W.O. Catchy chords, dissonances and chromaticism are sung subtly and with a warm timbre. The next compositions are Never pain to tell thy love by Kurt Bikkemberg and Take Him, Earth for Cherishing (ode to president John F. Kennedy) by Herbert Howells. The album closes with four short works by Francis Poulenc. One of the six composers of the Groupe des Six. When Poulenc's friend Pierre-Octave Ferroud died after a fatal car accident in the 1930s, the Catholic faith returns to Poulenc's life. He started writing religious works including the Gloria, the Stabat Mater and his incomparable opera Dialogue des Carmelites . The closing work on the album Ton sur Ton is the 4-part song cycle Un Soir de Neige. This composition fits in very well with this religious repertoire. Although the lyrics are about winter, cold and loneliness, the music is a reflection that is so beautifully put into music, great performed by the Vlaams Radiokoor.
Vlaams Radiokoor: Ton sur Ton (Evil Penguin Records / Challenge Records International)
Foto's: Wouter Van Vaerenbergh
© Mattie Poels.