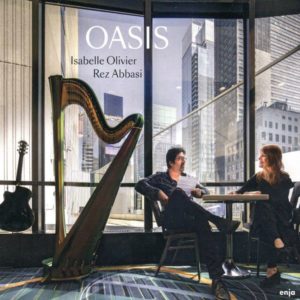 Een prachtige combinatie van harp en akoestisch gitaar vinden we op het album Oasis van harpiste Isabelle Olivier en gitarist Rez Abbasi. Zij worden bijgestaan door drummer David Paycha en tabla (handtrommel)speler Prabhu Edouard. Twee snaren-musici en twee percussionisten die elkaar naadloos aanvullen in een verbluffende combi.
English version below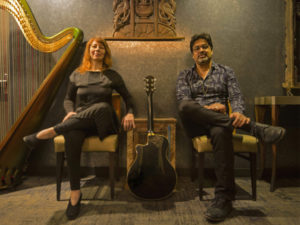 Alleen al de combinatie van harp en gitaar maakt dit album het beluisteren waard. De harp, die we nauwelijks tegenkomen in de geïmproviseerde muziek, klinkt innemend. Een instrument met haar warme maar ook twinkelende klanken die fraai mengen met het akoestisch en elektrisch gitaarspel. De fusie grijpt soms zó in elkaar, dat de instrumenten volledig versmelten. Harpiste Isabelle Olivier en gitarist Rez Abbasi schreven bijna alle stukken op het album Oasis, dat overigens staat voor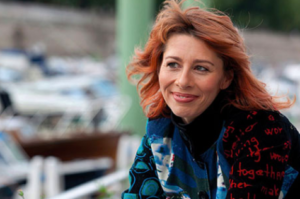 Oliver-Abassi-Sound-In-Sound. De CD opent met My favorite things. De klassieker uit The Sound of Music die door John Coltrane tot een standard werd geblazen.Op Oasis wordt het stuk op geheel eigen wijze tot leven gebracht met tabla, drums, harp-thema (met fraai arpeggio's) en gitaarbegeleiding. Een werkelijk verbluffende combinatie. Mooi zijn sowieso de linken naar de diverse stijlen en kenmerken op dit album. Zo klinkt het impressionisme door in Timeline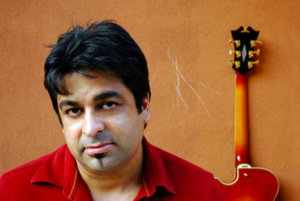 en Lemongrass, de psychedelische muziek in Other Tones, de pentatoniek in Cherry Blossom. En dan heb ik het nog niet gehad over de tabla (de Indiase handtrommels), die in diverse stukken de Indiase signatuur zo ritmisch inkleurt, met een prachtig strakke solo-intro in Coeur qui bat. Oasis is een verrassend album met avontuurlijke muziek in een afwisselend metier.
English version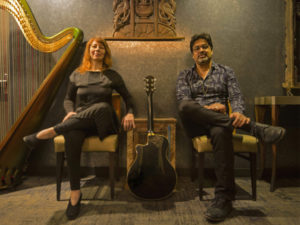 There's a wonderful combination of harp and acoustic (and electric) guitar on the album Oasis by harp player Isabelle Olivier and guitarist Rez Abbasi. They are assisted by drummer David Paycha and tabla (hand drum) player Prabhu Edouard. Two string musicians and two percussionists who complement each other seamlessly in a stunning combination.
Already the combination of harp and guitar makes this album worth listening to. The harp, which we hardly find in improvised music, sounds endearing. An instrument with warm but also twinkling sounds that blend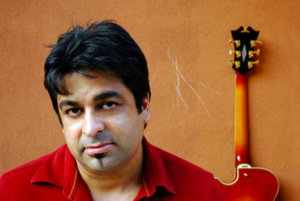 beautifully with the acoustic and electric guitar. The fusion sometimes interlocks in such a way that the instruments completely merge. Harpist Isabelle Olivier and guitarist Rez Abbasi wrote almost all the pieces on the album Oasis. And, yes indeed, the name stands for Oliver-Abassi-Sound-In-Sound. The CD opens with My favorite things. The classic song from The Sound of Music that was blown to a standard by John Coltrane. Oasis plays this piece on its own unique way with tabla, drums, harp theme (with beautiful arpeggios)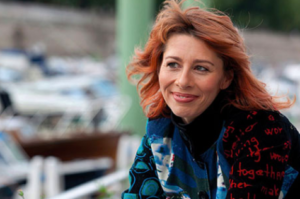 and guitar accompaniment. A truly stunning combination. Beautiful are the links to the various styles and characteristics on this album. This is how the French impressionism resounds in Timeline and Lemongrass, the psychedelic music in Other Tones, the pentatonics in Cherry Blossom. And I haven't even mentioned the tabla (the Indian hand drums), which rhythmically colours the Indian signature in various pieces, with a beautifully tight solo intro in Coeur qui bat. Oasis is a surprising album with adventurous music in a varied ways. Absolutely great music!
Isabelle Oliver / Rez Abbasi: Oasis (Enja Records)
Picture: Piero Ottavino