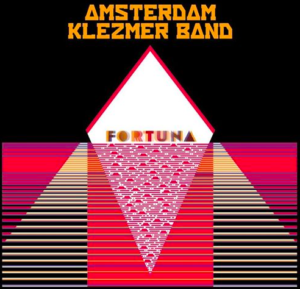 De Amsterdam Klezmer Band is nog steeds een van meest swingende bands uit Nederland. Het septet tourde de hele wereld over en nam in 20 jaar, 15 CD's op. Daar kan nu het prachtig nieuwe album Fortuna aan worden toegevoegd, geproduceerd door Stefan Schmid (Zuco 103 /  New Cool Collective).
English version below
De Amsterdam Klezmer Band (AKB) brengt al jaren een strakke cross-over van klezmer, rap, reggae en Oost-Europese muziek (Bulgaars) op de markt. Muziek die danst, flirt, beukt, zwiert en huilt. Bijzonder is dat de AKB voor Fortuna Stefan Schmid heeft uitgenodigd om hun album te produceren. Schmid gaf alle leden van de AKB de opdracht een lied voor elkaar te schrijven: dat brengt de leden weer dichter bij elkaar, zo vertelt Stefan Schmid. De muziek op Fortuna is zeer toegankelijk met heerlijk pakkende melodieën. Er wordt gezongen door frontman (en saxofonist) Job Chajes, die de AKB in 1996 oprichtte. Daarnaast horen we de stem van Alec Kopyt, een emigrant uit Odessa die sinds 2001 werkt met de AKB. Al jaren heeft de Amsterdam Klezmer Band dezelfde bezetting. Naast Chajes en Kopyt horen we bassist Jasper de Beer, trompettist Gijs Levelt, trombonist Joop van der Linden en clarinettist Janfrie van Strien, aangevuld met enkele gastmusici. De vaste accordeonist Theo van Tol moest vanwege gezondheidsreden vlak voor de opname van Fortuna afhaken, maar werd tijdelijk fantastisch vervangen door accordeoniste Ellen van Vliet. De lange en intensieve samenwerking van de AKB maakt de band hecht en compact. Arrangementen klinken doorleefd, geolied, transparant en door alle virtuositeit heen sijpelt het spelplezier en de lol. Want Klezmer is van oorsprong dansmuziek die wordt gespeeld tijdens (Joodse) bruiloften waar spel- en feestplezier voorop staat en dat zijn deze briljante musici nog lang niet vergeten!

Concerten 2020:
21 februari Beest, Goes / 27 februari Club Amsterdam Klezmer, Mezrab, Amsterdam / 28 februari Vera, Groningen / 29 februari Lantaren Venster, Rotterdam
English version
The Amsterdam Klezmer Band is still one of the most swinging bands from the Netherlands. The septet toured around the world and recorded 15 CDs in 20 years. Now the beautiful new album Fortuna can be added, produced by Stefan Schmid (Zuco 103 / New Cool Collective).
For years the Amsterdam Klezmer Band (AKB) is a tight crossover band who plays klezmer, rap, reggae and Eastern European music (Bulgarian). Music that dances, flirts, hits, swirls and cries. The AKB has invited Stefan Schmid to produce their album for Fortuna. Schmid asked all the members of the AKB to write a song for each other: that brings the members closer together again, says Stefan Schmid. The music on Fortuna is very accessible with lovely catchy melodies. The Amsterdam Klezmer Band has had the same line-up for years. First we hear the frontman, saxophonist and vocalist Job Chajes, who founded the AKB in 1996. We also hear the voice of Alec Kopyt, an emigrant from Odessa who has been working with the AKB since 2001. In addition to Chajes and Kopyt, the next members are bass player Jasper de Beer, trumpet player Gijs Levelt, on trombone Joop van der Linden and clarinettist Janfrie van Strien, supplemented by a few guest musicians. Due to health reasons, the regular accordionist Theo van Tol had to drop out just before the recording of Fortuna, but was temporarily replaced by the fantastic accordionist Ellen van Vliet. The AKB's long and intensive cooperation makes their sound tight and compact. Arrangement sounds like thrier played live. Transparent and through all virtuosity you still hear their musical fun. Klezmer is originally dance music, played during (Jewish) weddings, where party and musical fun are very important. That's what these great musicians never forget!
Amsterdam Klezmer Band: Fortuna (Vetnasj Records)

Picture: Bokkie Vink.