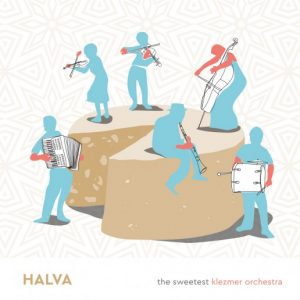 Het getuigt van lef om je nieuwe album 'The sweetest Klezmer Orchestra' te noemen. Maar eerlijk is eerlijk, het Belgisch-Duits-Letse ensemble Halva van violist Nicolaas Cottenie klinkt als een klokje en draait inmiddels volop mee in Klezmer-scene aangevuld met invloeden uit de Griekse, Hongaarse en Westerse klassieke muziek.
English version below
Alhoewel de Klezmer-hoos in Nederland alweer op zijn retour is, sluit Halva prachtig aan bij deze traditie. De klezmer, de bruiloftsmuziek van de Ashkenazische Joden uit Oost-Europa. Het woord klezmer is een samenvoegsel van kley ('gereedschap') en zemer ('muziek maken'). Maar de muziek van Halva gaat veel verder dan klezmer alleen en is ook geen dans- maar meer luistermuziek. Fraai zijn de Hongaarse ('de pompende bas') en Griekse (de tonaliteit) stijlkenmerken in 'Desert Moon'. Of de Roemeense kleuren in het stuk 'Doina', die prachtig worden omspeeld door violist Nicolaas Cottenie. Een werk dat een soort opmaat is voor 'Tsvey Struenen Terkish' waar pianist Ilya Sheyveys zijn klavier laat ronken als een cimbaal. Halva verstaat de kunst van de klezmeriaanse muziek die niet alleen een goede instrumentbeheersing en (natuurlijk) ook het spelen van de juiste noten vergt. Ook de versieringen, de ornamenten zijn van groot belang. Zeker voor de klarinet en de viool zijn trillers en glissandi die het instrument zo intens kunnen laten 'huilen' en 'wenen' van levensbelang. Prachtig vertolk door George Brinkmann en Cottenie, die ook het opmerkelijke slotstuk 'Song for a Dance' schreef. De enige vocale compositie met een fraaie melodie en een schitterend B-gedeelte waar dit gevarieerde sextet weer heel anders klinkt dan de rest van dit album.
English version
You must have a great band to call yourself 'The sweetest Klezmer Orchestra'. But, to be honest, the Belgian-German-Latvian ensemble Halva by violinist Nicolaas Cottenie sounds excellent. They play wonderful klezmer music, supplemented by Greek, Hungarian and Western classical music influences.
The klezmer, the original wedding music of the Ashkenazi Jews from Eastern Europe. The word klezmer is a combination of kley ('tool') and mer ('making music'). But Halva's music goes much further than klezmer and their music is no dance music but more music to listen to. Fine are the Hungarian ('pumping bass') and Greek (tonality) inlfuences in 'Desert Moon'. Or the Romanian colors in the piece 'Doina', beautifully surrounded by violinist Nicolaas Cottenie. A work that is a kind of prelude to 'Tsvey Struenen Terkish' where pianist Ilya Sheyveys makes his piano sound like a cymbal. Halva really understands the art of klezmerian music that not only requires good instrument control and (of course) playing the right notes. But especially the ornaments are very important. Certainly for the clarinet and the violin, vibrations and glissandi are of vital importance to make the instrument 'weep' so intensely. Beautiful interpretation by clarinet player George Brinkmann and violinist Cottenie, who also wrote almost all the music on 'The sweetest Klezmer Orchestra', as well as the remarkable final piece 'Song for a Dance'. The only vocal composition with a beautiful melody and an excellent B-part. Halva shows again to be a sextet with a lot of diversity.
Halva: 'The sweetest Klezmer Orchestra' (Galileo)
© Mattie Poels.